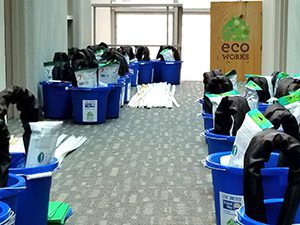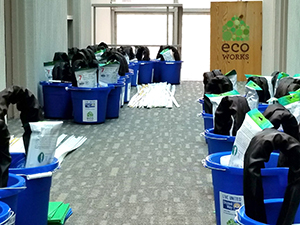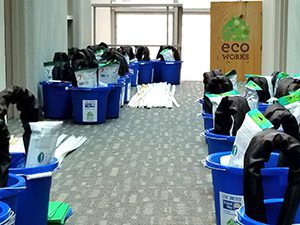 In 2017, EcoWorks moved into a beautiful but outdated building.
The building, located on 7 Mile Road in Detroit, was designed by Minoru Yamaski, the architect of the first World Trade Center. It was outdated and inefficient, which went against the grain of the EcoWorks mission.
"As soon as we moved into the building, we formed the internal green building committee," explained Henrik Mader, energy analyst, Strategic Energy Initiatives, EcoWorks. "We decided to target the energy efficiency in the building. A lot of what we're working toward is decarbonizing."
EcoWorks partners with low- to moderate-income families and businesses to offer energy conservation and sustainability options for new and existing homes as well as commercial buildings.
As a non-profit organization, EcoWorks isn't exactly flush with cash for capital projects and converting a 60-plus-year-old building into the energy-saving community example they wanted it to be wouldn't come cheap. Fortunately, Michigan has the first green bank in the nation ready to help: Michigan Saves.
"We were created to break down barriers," said Mary Templeton, president and CEO, Michigan Saves. "The way we do that is by partnering with private lenders to offer financing terms to make energy efficiency reachable. Our partnership allows lenders to offer longer terms and financings that otherwise might not be possible."
And so, an ecologically friendly relationship began.
"We share their values," said Templeton of EcoWOrks. "They're very active in all types of sustainability initiatives, yet it's a nonprofit. Sometimes nonprofits face more challenges when they want to invest in really big projects. Our job as a green bank is to pretty much make sure everyone with a building has access to funding."
Michigan Saves first funded EcoWorks in 2018 for an LED retro fit of the building.
"This building was built for the American Concrete Institute in 1954," said Mader. "The new lighting was 65% more efficient and payback was slightly more than one year."
EcoWorks approached Michigan Saves again in 2019. During the "fixing up" phase of moving into a new building, the EcoWorks team discovered roof leaks, HVAC issues and more. This pushed them to want a roof solar array.
After the solar array was installed, it was time to tackle the HVAC.
"EcoWorks has been a long-standing customer and partner of ours. When they moved into their new building, they made a real commitment to living their sustainability goals," said Templeton. "We financed the solar on their roof, then when they were doing this very large HVAC project, they reached out to us to explore financing options. We're really excited they did."
Mader recalled, "When we moved in, the systems weren't efficient. We knew we had to do this, but we wanted to take a step back and do it in the right way. We looked at a few alternatives and landed on an air-source heat pump, which is an all-electric heating and cooling system."
Just as the plans were set in motion, the pandemic hit, disrupting financial, labor and supply markets.
"We were looking for financing to get this project moving. Michigan Saves gave financing for previous projects. They were able to help us out for the entire project. Michigan Saves was a really amazing partner," said Mader.
Mader expects the $520,000-HVAC project to be complete this spring, a little more than a year after starting.
"Working with a lender that offers longer terms makes that payment lower," said Templeton. "That's the magic in our lending. When the terms are long enough and the payments are low enough, the enhancements begin to pay for themselves."
Michigan Saves was able to partner with Inclusive Prosperity Capital for the financing, and the Detroit Economic Growth Corporation funded the loan-loss reserve.
This project was so impressive, the Great Lakes-St. Lawrence Governors and Premiers took note.
"Michigan Saves is driving real impacts. We're trying to bring more attention to these exemplary projects," said Mike Piskur, program manager, Great Lakes-St. Lawrence Governors and Premiers. "Michigan Saves has a $300-million portfolio in Michigan and EcoWorks was one of them. This project provides an example for sustainability for different states in the region. It's these types of innovative projects that our platform seeks to encourage."
EcoWorks hopes others will take advantage of the work they did and will allow them to show what decarbonization looks like in Michigan. And Michigan Saves will be right there.