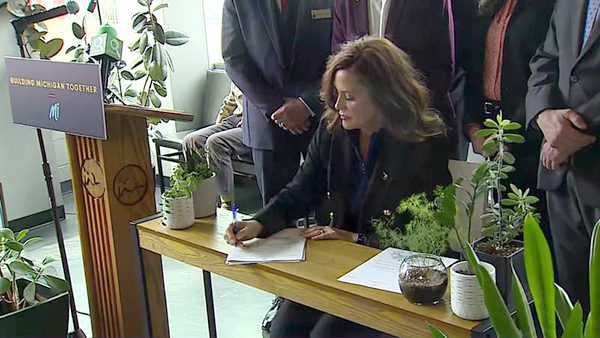 GRAND RAPIDS, Mich. – Gov. Gretchen Whitmer on Wednesday signed the Building Michigan Together Plan, a bipartisan plan to invest nearly $5 billion in Michigan's infrastructure, grow the economy, create jobs, and benefit families in every region of the state.
The plan is designed to improve transportation, water, and high-speed internet infrastructure in every region of the state, building on progress achieved since Whitmer took office by initiating dozens of projects and supporting tens of thousands of jobs across Michigan.
"The (plan) includes some of the largest investments in our infrastructure in Michigan history," Whitmer said. "With this plan, we're building on our work to improve our roads, water, and high-speed internet. I'm particularly proud of the fact that this plan makes the single largest investment in Michigan history in our state and local parks, empowering hundreds of local economies."
In Grand Rapids, Whitmer gathered with local and state officials, outdoor recreation enthusiasts, and community members in downtown Grand Rapids to celebrate the plan's record investment in Michigan's local parks and recreation facilities.
More details about the Building Michigan Together Plan can be found on Michigan.gov.
Whitmer said the plan's investment in parks will benefit thousands of local parks and "drive progress on ambitious and creative projects" in three "uniquely Michigan settings," including the Grand River Greenway in Grand Rapids.
"Together, we can take advantage of this once-in-a-generation opportunity to invest in the outdoor places at the heart of many Michigan cities and towns that encourage play, connect neighbors, and anchor communities," she said.
U.S. Senator Debbie Stabenow said the federal government has delivered funding to fight COVID and rebuild infrastructure.
"Now, we are partnering with (Whitmer) to use this funding and make meaningful investments for Michigan residents," Stabenow said. "This means fixing our roads, replacing lead pipes, and finally tackling our spotty internet service. The best part is we can do all of this all while creating good paying jobs. Bottom line: it's a win for Michigan"
Grand Rapids Mayor Rosaly Bliss called it "an exciting day for our community."
"For years we have envisioned the expansion of our riverfront park system and linking all of our riverfront green spaces together with a recreational trail that also connects regionally. This substantial investment from the state will allow us to do just that," Bliss said. "It will transform public spaces throughout our community, which will have far reaching social, recreational and economic benefits for generations to come.
Building Michigan Together Plan
The bipartisan Building Michigan Together Plan includes some of the largest infrastructure investments in Michigan history. The plan will protect clean drinking water, begin dozens of new road and bridge projects, build more affordable housing, expand high-speed internet, improve state and local parks, and support tens of thousands of jobs. More details can be found on Michigan.gov.