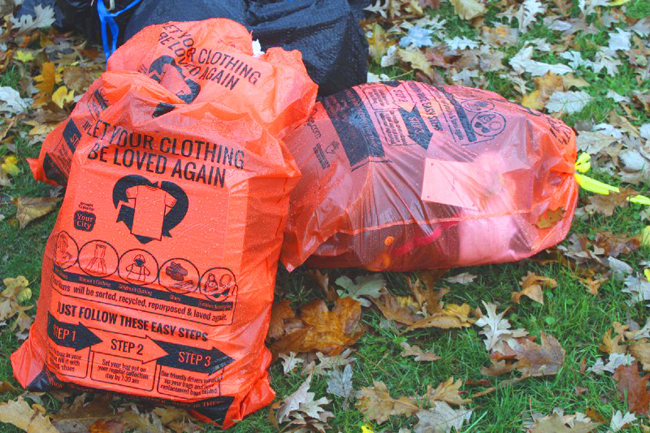 A five-year-old Ohio company is helping more than two dozen Michigan communities reduce the amount of waste sent to landfills and make a little money in the process.
Simple Recycling, based in Solon, Ohio, has contracted with 29 municipalities – from Harrison in Clare County to Canton Township in Wayne County – to collect used textiles and thus keeping them out of landfills.
"The idea is to help the municipality become a better place to live by diverting more material," said Sonny Wilkins, Simply Recycling's vice president of municipal relations.
Here's how the program works: Residents in municipalities that partner with Simple Recycling can get a bag by requesting one on the company's website. Once they fill the bag and put it out on the scheduled recycling day, a driver leaves a replacement bag after the pickup.
Simple Recycling is a for-profit company, so it makes money by diverting material from landfills at no cost to its municipal partners.
That's the attractive part of the equation for Canton Township Supervisor Pat Williams, whose municipality signed a four-year agreement to have Simple Recycling collect its soft recyclables that began in September 2016.
"Every ounce of material that doesn't go into the landfill is a win for the Canton community," Williams said.
Municipalities can actually reap some financial benefit – granted it's not a ton of money — from the contract. For every pound of textiles Simple Recycling picks up, the municipality gets a penny.
In East Lansing, for instance, Simple Recycling collects some 4,000 to 5,000 pounds a month, bringing in $40 to $50. That money helps pay for educational materials related to recycling.
More importantly, some officials point out, it's a way to keep communities clean.
"It was an opportunity we saw to help with contamination," said Cathy DeShambo, East Lansing's environmental services administrator. "It's just such a convenient service."
The most recent estimate by the Environmental Protection Agency tells another part of the story: of 16 million tons of textiles generated in 2015, 10.5 million tons went to landfills, 3 million tons were incinerated, and about 2.5 million tons – or about 15 percent – were recycled.
In Michigan alone, textiles made up 2 percent of the recycling stream in 2014, according to the state's Department of Environmental Quality.
Textiles could become a valuable market for Michigan if the volume of material that is recycled or donated increased. As recently as 2016, the state, in its 2016 Economic Impact Potential and Characterization of Municipal Solid Waste in Michigan estimated the potential value of discarded textiles to be close to $25 million.
Lansing partnered with Simple Recycling after receiving questions from residents about how to donate textiles.
"It's a question we get all the time, and it's just one of those things that we don't take on a weekly basis in our recycling program," Lansing environmental specialist Lori Welch said. "It gave residents a really easy and convenient way to properly dispose of that stuff or donate it."
On average, about 15,000 pounds of textiles are collected monthly in Lansing, bringing the city an average of $150, funds that go toward projects involving recycling and beautification.
"Our biggest challenge is really letting people know that the program exists," Welch said. "I think if more people knew, we would certainly be collecting a lot more material."
About 25 percent of the material stays in the U.S., while 50 percent is sold overseas and 15 to 20 percent is sold to companies that break down the textiles. The rest goes to landfills because it's not usable.
Wilkins said the company collects several million pounds of textiles every year that he "absolutely" believes would otherwise be sent to the landfill.
"Charities aren't able to handle all this material, or else they would be getting it," he said. "There's a lot more going to the landfill now than there was ever."
Kalea Hall of Capital News Service contributed to this report. Read the CNS story at
http://news.jrn.msu.edu/2019/02/most-clothes-end-up-in-the-trash-this-company-wants-to-change-that.