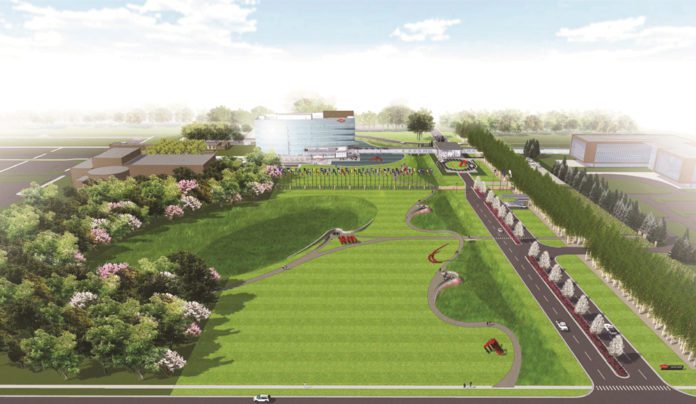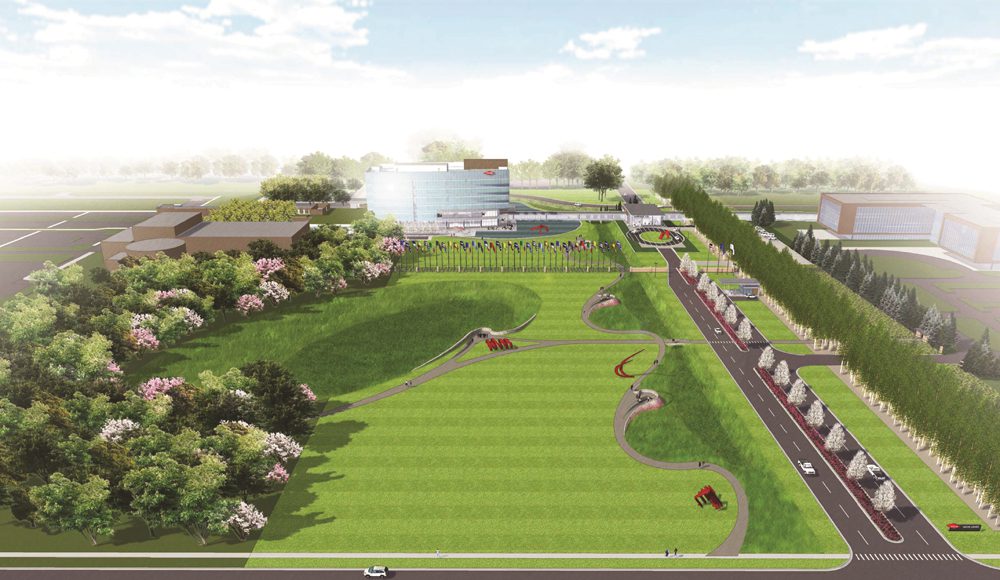 For years, DTE Energy looked across the street from its Detroit headquarters to see a fence, a six-foot hedge, a vacant lot and a city looking for a spark. It wasn't the view the energy company wanted to present to the public, its vendors or, most importantly, its employees. Fast forward to July 2017, and DTE Energy chairman and CEO Gerry Anderson, along with Detroit Mayor Mike Duggan, the Downtown Detroit Partnership, and company employees, applauded as the grand-opening ribbon was cut on Beacon Park, a 1.5 acre gathering space on Cass Avenue and Grand River, adjacent to the firm's headquarters campus.
Gone is the chain link. DTE Energy now had a world-class public green space where its employees and the public can work, eat lunch, hang out with friends and enjoy all that comes with the new facility, officials say, the goal being to present a catalyst for Detroit, now accomplished.
Beacon Park also offers its workers a way to connect with one another, boost their energy and be more creative at the same time.
The park features a year-round restaurant and a central lawn with intimate walking paths and areas to sit, relax and recharge; a multiuse space for outdoor, programmed activities; a roll-in stage for performances; areas for food truck vendors; and bicycle parking.
Sited between the entertainment district – home of Little Caesars Arena, Comerica Park and Ford Field—and the Central Business District, Corktown, Motor City Casino and MGM Grand Casino—Beacon Park is centrally located within walking distance to many of Detroit's sports and entertainment venues.
"It's a new destination point for our employees and their families," said Dave E. Meador, vice chairman and chief administrative officer of DTE Energy, a diversified energy company involved in the development and management of energy-related businesses and services nationwide. DTE Energy's operating units include an electric utility serving 2.2 million customers in Southeastern Michigan and a natural gas utility serving 1.3 million customers in Michigan.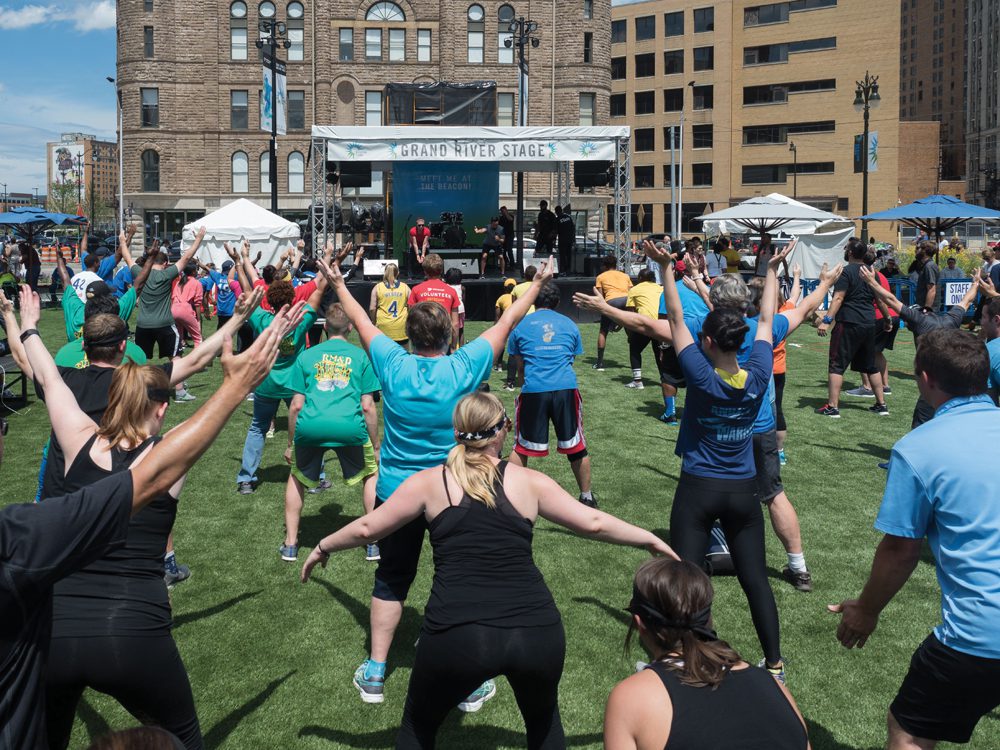 "There's a buzz about it in the hallways," Meador said. "(Beacon Park) is for the employees and the city, and it brings us a sense of pride. We've had hundreds of thousands of people visit, and we expect that number to top 1 million in 2018. There are activities there, there's a full-service restaurant there. It's a cool place to be."
Placemaking. Activating exteriors. Experiential landscaping. Developing public spaces for visitors, residents and nearby workers. Whatever you call it, there is a renewed focus among businesses across Michigan and the nation to take the simple outdoor bench or flowerbox and supersize it to create destinations just outside their doors.
Whether it is a life-size chess board on your building's front lawn, a flower-filled alleyway, a tree-lined pocket park or a wholesale development of a public gathering space like Beacon Park, companies including Bedrock Detroit, Planterra, Open Systems Technologies, real-estate developer Kirco, Dow Chemical Company and DTE Energy are among those beefing up their exteriors, landscaping and nearby green spaces for the benefit of their employees and the company bottom line.
Placemaking, according to the group that helped coin the term, "inspires people to collectively reimagine and reinvent public spaces as the heart of every community," says the New York-based group Project for Public Spaces (PPS). Although PPS began consistently using the term "Placemaking" in the mid-1990s, some of the big thinking about outdoor spaces in cities and near corporate buildings started in the 1960s. That is when PPS mentors and urbanists including Jane Jacobs and William H. Whyte started talking about grand experiments around designing cities for people, not just cars, malls and parking lots.
PPS has worked with cities around the globe, including Detroit, to come up with strategies to make office settings and downtown areas more people friendly. Their innovative approach, known as "Lighter Quicker Cheaper," is a small-scale way of bringing people outside of the building and into the natural environment alongside pedestrians and bicyclists.
Bedrock Detroit, the real-estate development arm of Dan Gilbert's massive bet on the Motor City, has invested in this concept for years now. As a result, Bedrock's buildings around Detroit started putting things like pianos in front of its doorways, encouraging people of all walks of life to sit down, play a tune and enjoy being out and about. It was revolutionary for Detroit, which for decades had fought stereotypes (some truthful and others far from it) about the safety and development potential of its downtown area and beyond.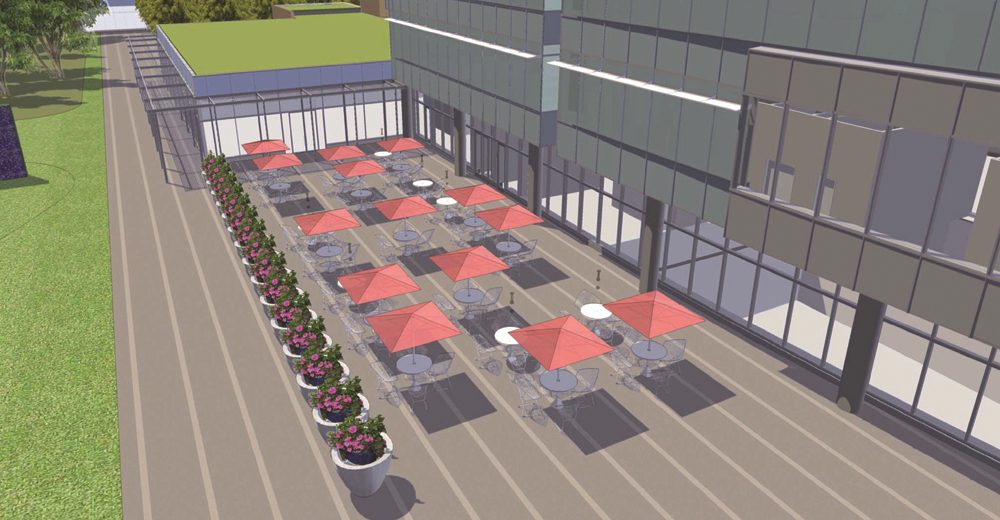 What makes this effort different than just throwing a planter outside the front door is that it is based in part on research, human-resource principles, health and safety guidelines and much more. Businesses now understand that efforts to enliven their exterior and landscaping are investments that have long-term dividends in terms of worker energy and workplace engagement, said Shane Pliska, president of Planterra Corp., a nature-centric company in West Bloomfield known for integrating plants and greenery into built environments.
Planterra serves Fortune 500 companies, building owners, hotels and hospitals as a supplier of interior foliage, replica plants, horticultural maintenance and interior landscape design services. Pliska, who supervises the company's three divisions—corporate plantscaping, floral and display production, and events services—says he is genuinely passionate about how people interact with plants, the natural world and office environments.
He also calls what is happening across Michigan, the Midwest and elsewhere a bit of "urban horticulture."
"Suddenly, there is competition to make buildings look better from the curb to the front door," Pliska says. "Previous to the past decade or so, building owners and company executives might have stuck to the minimum of what was expected. You might have had a bench or some flower pots. Hotels might have been showier. But you didn't see outdoor living rooms, activities in the parks like Bedrock has or light-up seesaws like those at Beacon Park's grand opening."
So whereas park benches of old might have been built to curtail people loitering, today's top companies are creating multiple environments for their employees, customers and visitors to explore the interior and exterior of their facilities and campuses, Pliska adds.
"You can see the difference in philosophy as to how people should interact with these outdoor spaces," Pliska says. "You want to make your building, your downtowns, your cities attractive to young workers and millennials. But you also want it to appeal to, attract, retain and revitalize anyone who is human."
When the afternoon stretches far ahead, employees can take a walk along the landscaped paths of a nearby green space rather than head for the indoor coffee machine, Pliska adds. It's all about escaping the cube for the fresh air outside.
"Moving around is important for creativity and productivity," Pliska says. "Not every meeting space has to be in a conference room or office with four walls. You need variety to stimulate the brain. Humans, when exposed to natural sights, feel more comfortable. It's what we value. It's part of being a human being."
It also makes your real estate more valuable, Pliska adds. Views of water, trees and nature are one aspect of the old mantra "location, location, location," he notes. Think about New York's Central Park or Chicago's river and the Lake Michigan waterfront.
"A view doesn't go out of style," Pliska says. "It's an investment that appreciates over time."
So what can a business do if they're not next to a natural water feature or beautiful forest? Small, simple changes are worth doing as much as grand gestures, Pliska said. A big trend right now for Planterra is living walls, or tall installations of plants such as succulents. These are low-cost methods of bringing greenery into a workplace or onto a large expanse of exterior wall.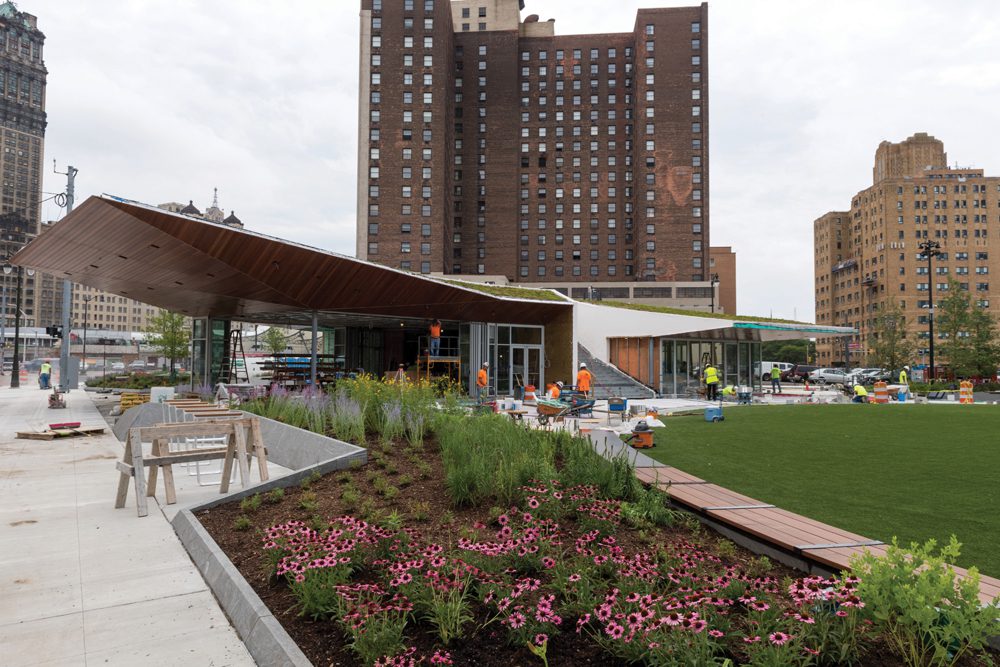 Planterra also can help companies soften fences with ivy screens that are already grown to six feet tall, instantly changing the feel of an environment. Prop up three walls of these screens, add a picnic table and you've got an instant outdoor conference room.
In the mid part of Michigan, Dow Chemical was looking at its entire campus when starting a new headquarters project in Midland, with an eye on how exteriors, landscaping and employee interaction with the natural environment would inform how its massive building project would take shape.
Dow looked to Kirco Development LLC, a Troy-based full-service commercial development, construction and property management company, where Quinn Kiriluk serves as vice president of development.
Kiriluk, along with his father, founder Alan, and two brothers, Matt and Dean, form the company's leadership team.
Elements of the Global Dow Center include a six-story, 184,390 square-foot, steel-frame and curtain wall structure; 21,000-square-feet of vegetative rooftop and a nearly one-acre decorative pond that wraps one-third of the building, helping to dramatically reduce heat islands and storm water runoff; and an enclosed employee walkway connecting occupants to parking and other campus facilities.
The building's two-story atrium lobby with floor-to-ceiling glass has technology features that will enrich customers' and visitors' appreciation of Dow's distinguished history and innovative market solutions.
"It's such an investment they're making in their employees," Kiriluk said. "We were the general contractor and the developer on the project, so we were part of the entire design process. We knew what Dow's vision was, and it was to create this dynamic, collaborative environment that enhanced the overall employee experience inside and out."
Having green areas all around the facility was a key part of that design process. Kirco brought in Northville-based landscape architects Grissim Metz Andriese Associates to put together a master plan for the headquarters, a decision that Kiriluk says was among the best ones made for the project.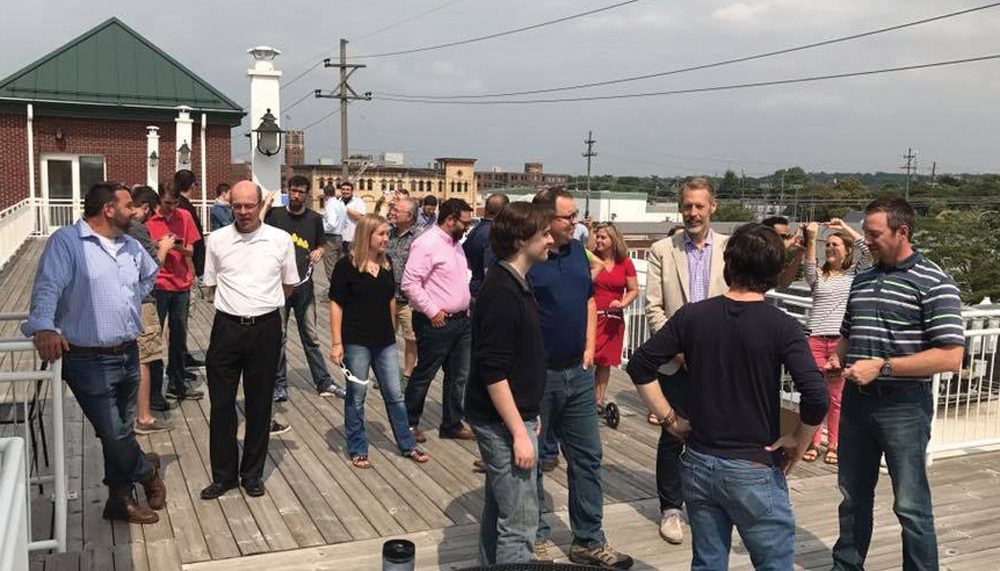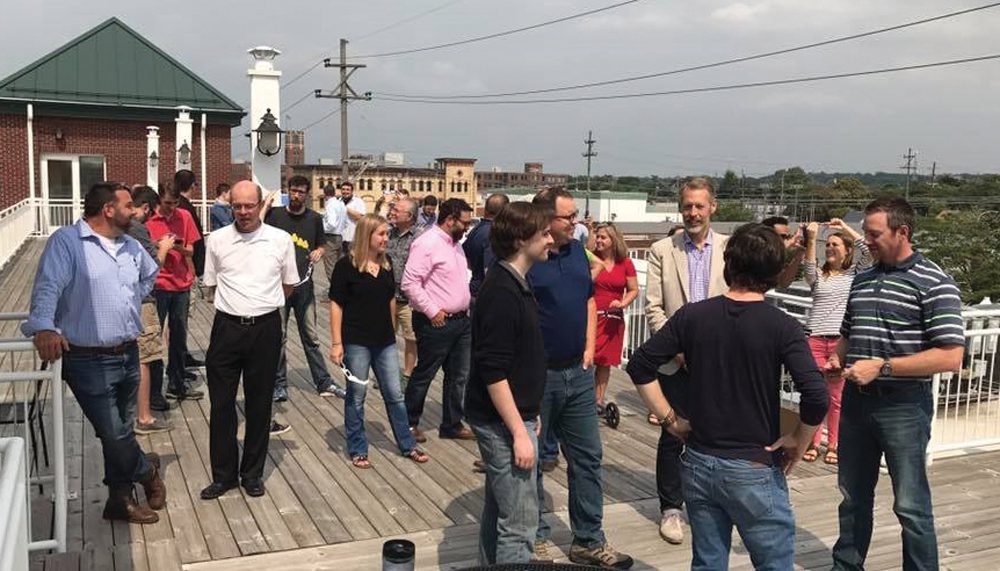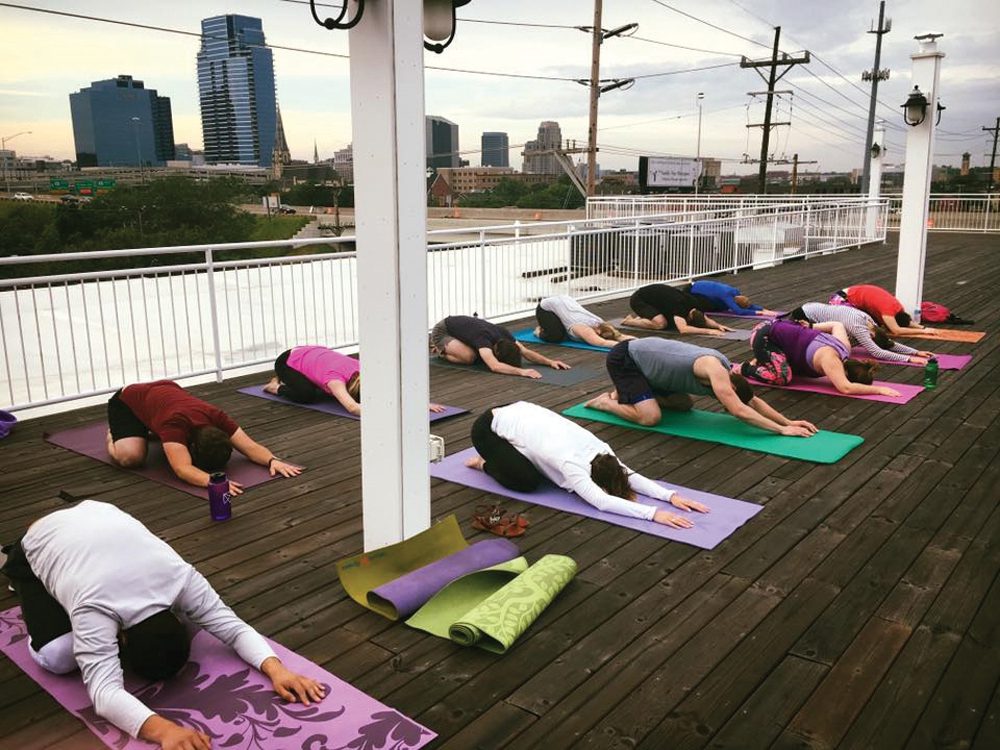 "It transformed the entire campus," Kiriluk says, one that helped create a unified vision for the natural elements of the property and the employee experience.
Now, instead of empty grass, there are pocket parks, walkways and a unique hardscape with trees, seating areas and even audio-visual capabilities so employees can have events, concerts and presentations outside of the building.
Further west, in Grand Rapids, Open Systems Technologies (OST) has developed its headquarters' rooftop into a space where workers can relax, work on their laptops with Wi-Fi, and absorb some sunlight while they breathe in fresh air.
As Mike Lomonaco points out, working at a technology company can be time consuming and stressful with constant changes, so having outdoor spaces where employees can get fresh ideas and fresh air is essential.
OST has had its rooftop area available informally to employees for years, but it has developed into a gathering space thanks to worker suggestions and employer investment, Lomonaco says. The 360-degree views are so outstanding that it made sense to add outdoor furniture. Then the company added lighting. Then they added power and Wi-Fi. Employees also can forward their desk phone to their cell phone so they can take calls from the rooftop and work there.
"We had the space and we knew it was unique. So we wanted to enhance the value of what we had," Lomonaco said. "Now, we're looking at other ideas and we're doing the research into the value of outdoor spaces to work in." In planning the way it would work to improve the status quo, OST involved all of its wellness committees in the research, finding insightful data about employee well-being in terms of accessing the outdoor environment.
Having public and private spaces both inside and outside of its offices has proven successful with employees, who say they appreciate these efforts to give them sunlight and cool breezes when needed, Lomonaco says.
"We have 230 employees and we know this can be a stressful job. If we can, we try to create spaces where employees feel safe, welcome and comfortable," said Lomonaco. "At the end of the day, the health and well-being of our employees is critical and we want to invest in that."
For DTE Energy, Beacon Park has indeed been a spark for the city and employees simultaneously, Meador said. The company, which prides itself on making its installations and company campuses attractive for the consumer and employees alike, is looking at putting in additional green space or grassy areas for its millennial and Generation X employees to play sports, gather as groups and hang out together. The company also is looking at expanding area bike paths to include DTE Energy's outdoor areas, boosting the health and wellness of its workers alongside the development of Detroit as a bicycling destination.
"There's still more to do downtown," Meador said. "In some ways, we're just getting started."