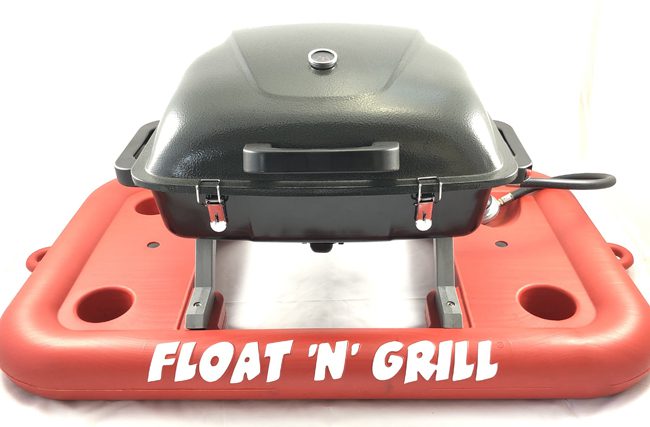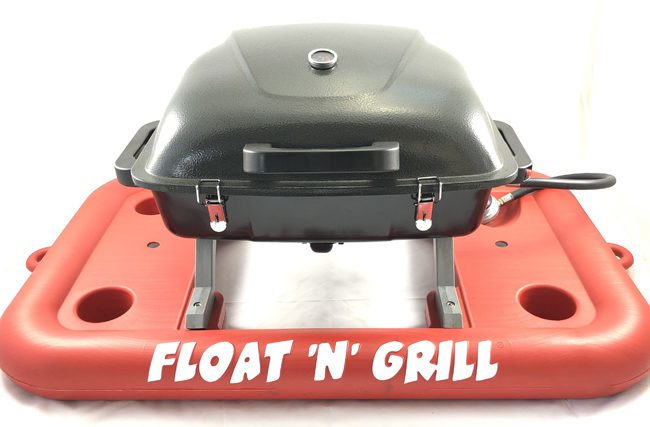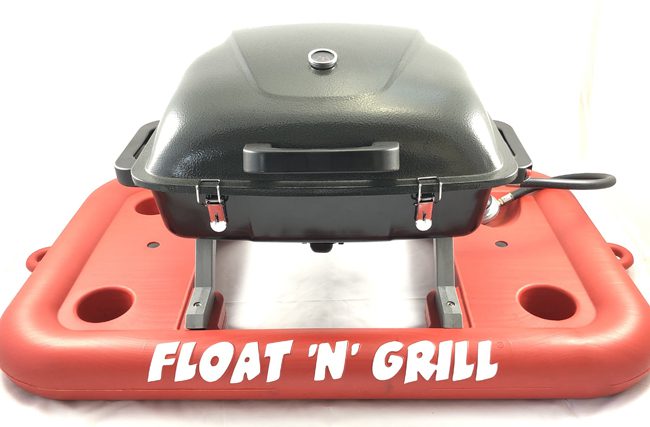 Michael Bashawaty wanted to find a new way to cook for himself and friends during a Pure Michigan day on the water. He took that idea one step further and created it, too.
As a co-owner of Float 'N' Grill, along with his business partner Jeremy Quillico, these Michigan inventors combined a love of boating on area lakes with a taste for burgers, brats and all things grilled. After three years of research, the duo has finalized the first-ever operational floating grill. Now, they are ready to share it with the masses.
Float 'N' Grill is set to launch this winter at The Detroit Boat Show. Expect a chance to see the Float 'N' Grill in action and meet the founders in person on Saturday, Feb. 16-24, 2019 at Cobo Center in Detroit.
Bashawaty freely admits he would rather be boating on a lake in Michigan than almost anywhere else. That's why in 2016 he purchased a 16-foot jet boat to make this outdoor hobby a regular occurrence. Bashawaty planned summers on the water and days spent out on the sandbar with good friends and good food. That's when it struck him.
"There was nowhere on the boat for me to cook," said the 28-year-old entrepreneur. "I thought – why not put a grill on the water?"
Prototype city
Bashawaty, an engineer by trade, got to work quickly. He built a prototype for the portable, floatable grill he imagined he – and others – needed. Early iterations involved a floating PVC pipe that weighed 28 pounds in total – far too much to make this dream a reality for boat enthusiasts.
Bashawaty sought advice from a longtime friend, Quillico, sharing his concept and the prototype for the product that would become Float 'N' Grill. Quillico provided his expertise on the technical and financial side of the project.
"We did our research and nothing like this existed," Bashawaty said. "We started this project together. We share it 50/50. I managed the design and Jeremy pushed forward for a patent."
The Float 'N' Grill evolved through four prototypes to become the product that is set to hit the market today. Replacing PVC with plastic and perfecting a hinge that secured the grill to the floating device itself, the Float 'N' Grill base weighs in at just 9 pounds. Its full dimensions are 35. 5 inches long by 26. 5 wide by 6. 5 inches tall.
The float in Float 'N' Grill is manufactured at International Mold Corporation in Clinton Township. Every piece of the Float 'N' Grill is modular, making it easy to carry and to use on the water. "I like to design things that are as simple and user-friendly as possible," said Bashawaty.
Float 'N' Grill features textured marine-grade vinyl, a built-in igniter, cup holders, a dual latch that locks the grill lid tight, a secure and removable grease trap and a slot to hold the propane tank in place. Float 'N' Grill sells for $279 and is available to ship across the United States.
The Detroit Boat Show is owned and produced by the Michigan Boating Industries Association (MBIA), the voice of boating in Michigan. Revenue generated from this event is returned to fund boater's interests via MBIA's programs and services.