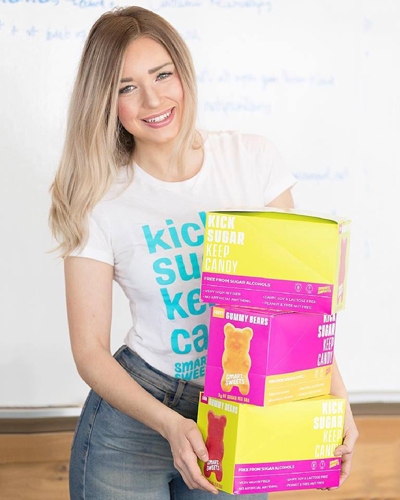 Tara Bosch, like so many kids, loved candy so much that the people behind the counter at her local convenience store who sold her those sugar snacks knew her by name when she came in to make yet another purchase.
Bosch knew she had what she describes as an unhealthy relationship with food. She knew many of her then college-age friends were the same way. What shocked her was when her beloved grandmother related how she had similar food issues and body-image issues.
That put Bosch on a quest to create something that was sweet, but still good for you to eat. She left college at age 21 with a mission—she would test recipes until she found something that satisfied her sweet tooth without taking out all of her teeth. It started with a gummy-bear mold she bought on Amazon and grew and grew.
The result was SmartSweets. Over the past two years, Bosch's fledgling company has grown massively, mostly because of her hard work marketing it, but also because there is a growing movement among people to use less sugar and find new ways to enjoy sweets.
Taking candy to the next level
So far, SmartSweets has raised more than $6 million in financing and has product in more than 6,000 stores across the United States. Retailers include GNC, Whole Foods, and Bed, Bath and Beyond.
"It feels like it's been 10 years" since its launch, laughs Bosch. "It's been such an adventure!"
She's also launching a "kick sugar" subscription box service, a unique model in the foodie world, she says. The next step is to take what she calls "the future of candy" to another level by starting the first plant-based candy products—these goodies would have about 80 calories per bag and only three grams of sugar.
Finding a way to bring smarter sugary treats to the masses is a key part of her work. Bosch doesn't want people to avoid or give up sugar entirely; she believes that completely kicking it out of your diet can backfire. Rather, she wants to change people's habits by putting new products and new dietary habits into their every day.
"I had to find a balance. I wanted to enjoy what I wanted to eat. Change has to be sustainable to work," Bosch says. "I decided not to cut out sugar or restrict. I decided instead to change my life."
Epicenter of food industry
Candy, Bosch says, seems like the epicenter of the food industry. If you look at most products, there is a high amount of sugar, especially those that are processed. So finding a substitute and creating new products became her focus.
She decided to work with stevia, a plant-based, non-GMO, low-glycemic sweetener extracted from leaves of the Stevia Rebaudiana plant. It provides great tasting calorie-free sweetness. Also, she made sure there were no sugar alcohols or artificial sweeteners in SmartSweets.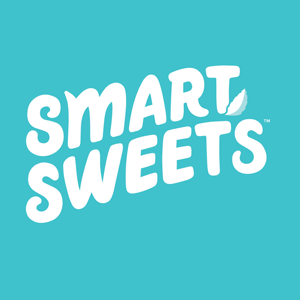 As a result, her main product, a Gummy Bear, has 85 percent less sugar than the leading gummy bear company. That means a lot to this Canadian and former sugar addict – as well as to the many people she has met through social media, on-site visits and meetings.
Her success comes from one thing, Bosch says, and that is working at the highest level she can at everything she does.
"You have to be relentless in pursuit of the unknown," Bosch says. "That can be challenging when you have a vision and you believe in it, but you have no idea of how you're going to go from that vision to something real. But that's where you have to be relentless.
"What I've learned is that it is ok not to have everything figured out—in business, you likely are going to be in a perpetual state of not knowing," Bosch says. "But I'm at peace with that. I know I've put everything out there and I'm meant to go down this path. … You cannot control the outcome; you can only control your effort."