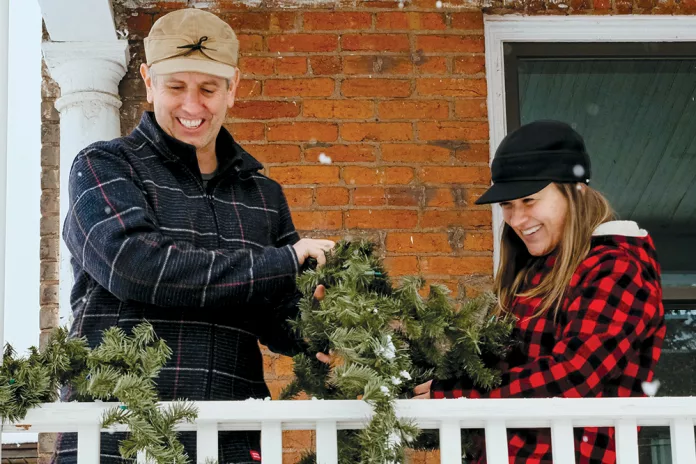 When a teenager is looking to start a career and her family runs a successful company, it's natural to assume the teenager would take the leg up and go into the family business.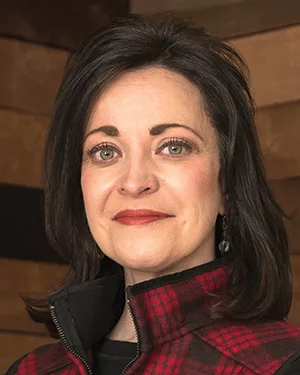 Gina Thorsen is now the CEO of that family company, Stormy Kromer, the 120-year-old clothing and accessories outlet located in the Upper Peninsula city of Ironwood. But her career path took an entirely different direction to begin with, although eventually it did lead her back home.
"Surprisingly, my first job was not at my family's company … And it wasn't a typical first job either," Thorsen said. "My first job was working at an art gallery and custom framing shop here in Ironwood. I learned how to work in the frame shop and hang art on the walls, and I was a retail clerk ― a little bit of everything.
"The gallery also organized exhibitions and, as a high school senior, I was given the opportunity to completely plan, organize, market and execute an exhibit," she added. "It was essentially a college-level internship in arts administration, which I would eventually study in college. It was an amazing experience in being self-directed."
And while at first she skipped out on one cliché ― taking over the family business ― she eagerly followed another: doing something for love.
That's what took her to Dallas, where her fiancé (now her husband of 25 years) had transferred to the University of North Texas in 1997.
"I went on the adventure with him," she said. "I had already graduated from college and found a great job at a nonprofit in Dallas called (at the time) Young Audiences of Greater Dallas."
Thorsen shared her views on business and other issues with Corp! Magazine:
Corp! Magazine: What brought you back to Michigan and to Stormy Kromer?
Gina Thorsen: Believe it or not, after 12 years in Texas, I really missed four seasons ― even the snow! But all joking aside, what brought me back was the legacy of employing people in the western UP that my father and grandfather had committed to. I wanted to be a part of keeping that going for a third generation.
Corp!: What is unique about your business?
Thorsen: I might be biased, but we have the most passionate workforce that I have ever encountered. In one week, I had our inventory manager show me a photo of three generations of his extended family wearing Stormy Kromer caps, our HR generalist tell me how he impressed a friend by commenting on his cap in a photo and then casually mentioning that he works here, and a sewing machine operator tell me about her nephew who was visiting and how, of course, she had to get him a cap.
From top to bottom, our employees take amazing pride in their work and in the fact that this cap, which shows up in movies and on celebrities, is made right here in Ironwood.
Corp!: What are the challenges that face a family business? Are they different from other kinds of businesses?
Thorsen: I would say that 90% of our challenges are the same that any business our size would face ― growth, capital, cash flow, staffing and supply chain. However, there are certainly unique challenges and they almost all center around communication.
I often have to think (no pun intended), "What hat am I wearing in this conversation?" Is this the CEO talking to the chairman, or a father-daughter chat? Is the emotion I'm feeling business-related or does it link back to the dynamics between an older and younger sister?
And, in addition to this being a literal family business, there are employees here that have worked here so long (30+ years), that they practically are family. It's been an interesting process to go from the little girl in pigtails they remember, to build up the trust and respect in their eyes to be the one leading the company.
Corp!: Studies show women are having a hard time climbing the corporate ladder. Do you find that to be true, although you're in a family business?
Thorsen: I have to be honest, inside the business I have never felt limited by my gender. My dad was a fantastic girl dad and he never, ever let us believe in limitations. I think you see this playing out across the organization ― over half of our managers are women. Where I do run into issues is externally ― both manufacturing and the outdoor industry typically have more male leaders, and I have run into plenty of skepticism about my ability to lead an outdoor industry manufacturing business.
Corp!: In Dallas, you helped run a nonprofit. How is that different from running a family business?
Thorsen: At least in my particular experience, they were surprisingly similar. I joined Young Audiences when there were fewer than 10 staff people, many of whom had known each other since college. I knew no one in the Dallas Metroplex, so my coworkers instantly became my family, too. In the 12 years I was with the organization, we grew tremendously, going through some of the same challenges you might go through with a family business — the organization outgrowing people, having to make tough decisions that are right for the organization and not for the people, etc. It was also decidedly not corporate, which I think is another hallmark of a family business.
However, at the end of the day, I wasn't working with my dad or my sister or suddenly having to manage older relatives who had known me since I was a little girl. Even in a place that has a family feel, it's still different than actual family.
Corp!: You serve on a variety of boards and associations. Why is that kind of work important to you?
Thorsen: My dad set a fantastic example for me of giving back and it has always stuck with me. I'm involved with both local and statewide organizations, and I believe that offering my time and expertise locally is a must. This is our home and where our people are, so being involved and supportive in community efforts is a great way of giving back. On the flip side, I love getting involved with statewide organizations to be sure that the voices of the western UP are represented, and I also see that as a way of giving back.
Corp!: Where did you grow up, and what influence has that had on you?
Thorsen: I grew up right here in Ironwood and I wouldn't change that for the world. I didn't realize it at the time, but growing up skiing, on the shores of Lake Superior and just generally outside, was amazing. I also grew up in the home of an entrepreneur, which I think was even more formative than my geography. I grew up hearing about the business around the dinner table for as long as I can remember, spending Saturdays with my dad at the shop and riding along on deliveries with him. I was getting a business education back then without even realizing it.
Corp!: What is the best advice you can offer to others?
Thorsen: Never stop learning.
Corp!: What has been your best business decision?
Thorsen: Jumping in immediately to transition our company to manufacturing PPE in March 2020. There were so many unknowns and we had to design and cost face masks and hospital gowns with limited information and much faster than we would normally take on a new product. However, there really wasn't time to think. We just had to do ― and we had transitioned our factory in less than a week, which allowed us to keep our doors open and our people employed.
Corp!: What was your worst business decision?
Thorsen: With the seasonal nature of our business, we have to build product year-round to have enough stock for when fall comes. This means forecasting how many of each of our 1,400 SKUs (and more) we need almost a year in advance. Several seasons back, I let the unrealistic optimism of a team member override my more practical gut instinct on the numbers ― by a lot ― and we ended up with inventory that sat on the shelves for YEARS.
Corp!: What is the most important lesson you have learned in business?
Thorsen: You need to balance the input of "experts" very strongly with your own instincts and insights for your business. I'm a networker and a student at heart, so I love connecting with people, both formally and informally, who might have expertise to share that could help Stormy Kromer grow. There are times in the past when I took advice from them simply because they felt like experts or they were older than me, without really checking that advice against my gut, my own experience and my deep understanding of our business. And there were times when that was a big mistake.
Corp!: If you had to start all over again, would you choose the same career? Why or why not?
Thorsen: I have no regrets about my career path. 100%, if I had it to do over again, I would have started my career outside the family business and would eventually come back to be a part of this brand I love, alongside my family. Starting my career somewhere else gave me such a strong foundation and confidence in myself that was extremely beneficial to my success here at Stormy Kromer.