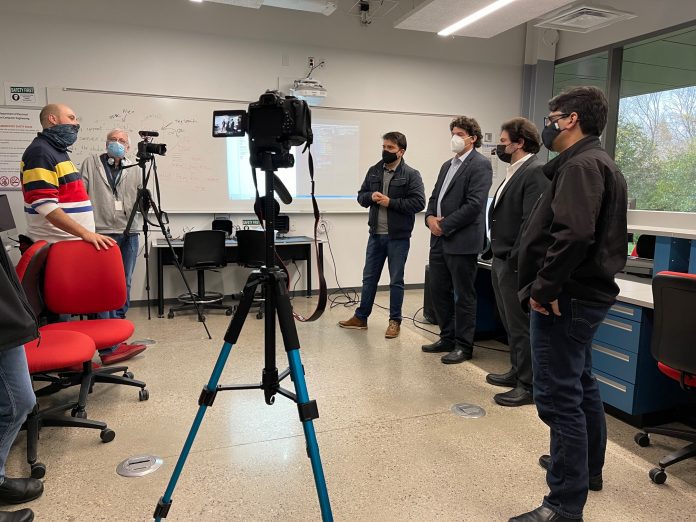 SOUTHFIELD — Like a lot of new workers, Sophie started out performing entry-level work. As she gained experience, she got promoted and learned new skills. Now she's running factories, through a partnership between Stefanini Group and Lawrence Technological University.
Sophie is a virtual artificial intelligence (AI) assistant developed by Stefanini, a $1 billion global technology company specializing in digital solutions with an office in Southfield and numerous locations around the world. LTU students and faculty are now helping Stefanini teach Sophie how integrate into smart manufacturing environments on LTU's campus with self-adaptation and contextual automation, which is made possible by Stefanini partner, Rockwell Automation. This project bridges the gap in student understanding between theoretical and real-world AI implementation. From building architectural design and codes to analyzing Sophie's mind map flow chart and more, students are interacting with AI implementation in every step of the process from A to Z.
"We began partnering with Lawrence Tech about three years ago and we're thrilled how our collaboration efforts have grown," said Fabio Caversan, vice president of digital business and innovation at Stefanini. "Using natural language and machine learning, Sophie can simplify interactions with complex systems like smart manufacturing environments. LTU students have played a critical role in making this integration process as smooth as possible."
Designed with an original set of artificial intelligence algorithms and replacing script-based human service with automation, Sophie is well trained in voice processing, text interpretation and self-learning initiation and is easy to train and implement into business. Sophie can achieve the same results as other AI technologies with five percent of the training required by other tech tools.
"From the first-day students interacted with Sophie, we began to see their knowledge exponentially increase," said George Pappas, assistant professor and director of the Master of Science in AI (MSAI) graduate program. "This project is paving the way for students to take off and apply what they are learning beyond the lab using real AI technology in real-world environments."
Stefanini has supported other young adults in their skill development through the Stefanini Institute which was founded in 2001 to offer educational opportunities for young, underprivileged members of the community, to equip them with the skills that they need to develop and move forward in life. To date, 95,000 young people have been mentored through the Stefanini Institute to build a career. Stefanini also recently partnered with Suffolk University in Boston for a case study on financial technology.
Stefanini Group offers organizations of all shapes and sizes a broad portfolio of digital transformation services and solutions, including industrial automation, cognitive computing, workplace of the future development, customer experience, business consulting, digital marketing and artificial intelligence.
To learn more about Stefanini Group, please visit www.stefanini.com and for more information about Lawrence Technological University visit www.ltu.edu.