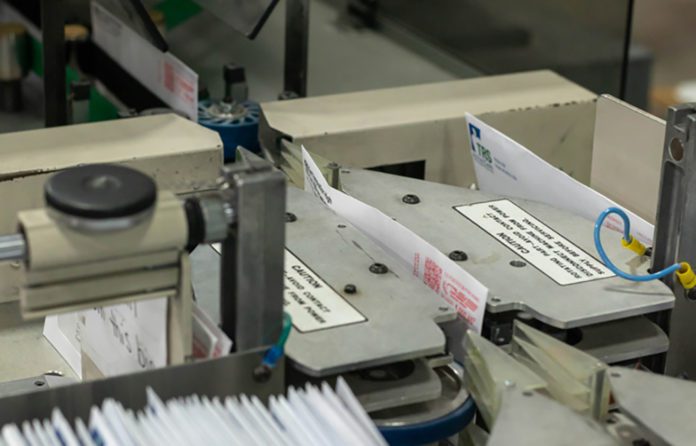 In the time of the coronavirus and a stay-at-home order signed by the governor, Brian Quist was watching what was happening as Wisconsin voters tried to go to the polls for that state's presidential primary in April.
Watching as lines lingered and voters risked exposure to COVID-19 in a state where lawmakers refused to make it a mail-in election, Quist kept coming back to one thought.
"I was watching that mess in Wisconsin and I kept thinking, 'Michigan can do better than that,'" said Quist, the founder and president of Grand Rapids-based Kent Communications Inc.
Quist set out to do just that. KCI has become the first company in Michigan to work with local election officials to add a new layer of integrity and accountability to the vote-by-mail process.
The product, TrackMIBallot, uses a service from the United States Postal Service called Informed Visibility to track each piece of ballot mail as it travels through the postal system.
"TrackMIBallot is designed to help Michigan's clerks run the safest, most transparent absent voter election in history," Quist said. "TrackMIBallot allows election officials to track every piece of mail from the voter and back again with a real-time UPS/FedEx-style tracking system. We are excited to be the first to market with this product that will allow a new level of transparency for voters and election officials."
So far, four municipalities – the cities of Lansing and Walker and Grand Rapids and Cannon Townships — have signed on to use TrackMIBallot in upcoming elections.
Voting officials will be able to see when ballots are being delivered to voters and to look up inquiries when a voter is wondering where their ballot is. The system also is capable of giving each voter their own secure web link where they can track their own ballot.
When the ballot is placed back into the mail by the voter, TrackMIBallot will identify and track that ballot as it enters the postal mail stream, so the voter can be sure the Postal Service has the ballot and is delivering it.
More: Researchers: PPP Loans Saved Up to 3.2 Million Jobs
More: Unemployment Claims Take a Slight Climb
More: Housing Prices, Other Key Home Stats Take 'A Big Step Forward' in June, Market Experts Say
The TrackMIBallot system also can let officials know that a ballot was put in the mail before the mailing deadline and confirm that each ballot traveled through the Postal Service.
Quist said TrackMIBallot should be able to quell any thoughts that mail-in voting is problematic.
"The big benefit (for clerks) is peace of mind," Quist said. "It provides 100% traceability. If a voter calls and says I didn't get my ballot, we've gone in and typed in the tracking information. In a couple of cases, there was a problem, and they can rectify the problem, spoil that ballot and get (voters) a new one.
"Once the election is done, it creates a complete picture of what happened," he added. "If there was a fraud allegation, (clerks) can say, 'Here's the data.'"
The product is available in two tiers: TrackMIBallot and TrackMIBallot Premium. The Premium offering provides full-service, round-trip mail pickup, sorting and delivery at the discounted nonprofit rate and will be offered to the central and West Michigan counties of Kent, Muskegon, Ottawa, Ingham, Ionia, Newaygo, Allegan, Barry, Van Buren, Berrien, Cass, St. Joseph and Kalamazoo.
The city of Walker was one of the first municipalities to sign on with TrackMIBallot with the transparency factor being a selling point.
"This tool will be a great benefit to voters by giving them the opportunity to track their ballot to its destination," Walker City Clerk Sarah Bydalek said.
Lansing City Clerk Chris Swope said his community also benefitted from TrackMIBallot. Swope called TrackMIBallot a "fabulous tool" that improves the voting process.
"I have already used it to track down several post office issues and help get ballots in the voters' hands," Swope said. "I can see this quickly becoming a must-have for every community."
Although the product is aimed at election officials, citizens also ca request that their municipality use a vote-by-mail tracking service by contacting their local clerk.
"Voters are interested, too," Quist said. "They want to know their vote counted."
Aside from the four communities that already signed on, Quist said there's plenty of interest in the system. Most clerks are buried in election preparations at the moment, but Quist figures he'll draw a lot of interest when their busy season ends.
"It's a new product, and the clerks right now are just buried with the primary," he said. "But everyone I've shown it to has said, 'this is what we need.' It takes away the whole fraud allegation about voting by mail.
"It's a new concept for them," he added. "We'll see what happens. I firmly believe our company will be tracking ballots for years to come. We're in it for the long haul. For me, it's a passion project."