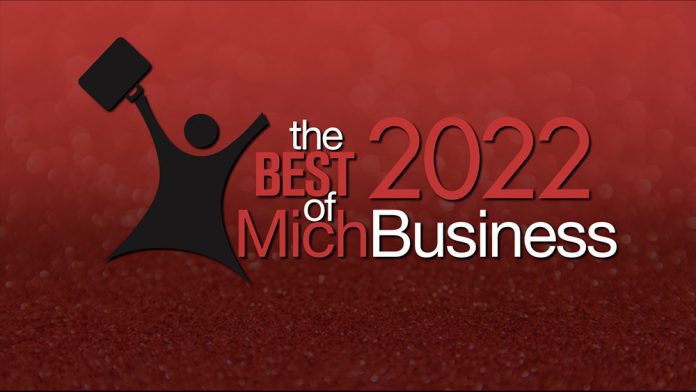 The best businesses the state of Michigan has to offer were on display Thursday as MichBusiness championed its 2022 Best of MichBusiness award honorees in a virtual celebration.
The program is presented annually by Corp! and celebrates the programs and companies that make Michigan a great place to live and work. The program honors companies that made a difference in 2022 and showed outstanding leadership.
"The awards honor success as the most exciting, connected business awards and networking opportunity in Michigan," said MichBusiness Vice President Sara Scheffer. "The Best of MichBusiness Awards Program is committed to recognizing companies and individuals that make Michigan a top notch place to do business."
Awards are made in five different categories: Enterprise, Large Businesses, Medium Businesses, Small Businesses and Startups. The winners were recognized in the virtual awards ceremony Thursday.
Overall winners in each category were also announced:
Enterprise Businesses:
Plante Moran – While the workforce continues to struggle with staff retention, Plante Moran's retention rates are back to pre-pandemic levels. They prioritize diversity, equity and inclusion and their 2023 goal is to create a deeper sense of belonging and inclusion throughout the firm.
Here's a shout-out to the other Enterprise winners:
Flex Automotive
Huntington Bank
Jarvis Property Restoration
Plante Moran
Sun Communities Inc.
Team Rehabilitation
Physical Therapy
TEAM Schostak Family
Restaurants
Tyler Technologies
Large Businesses:
Genisys Credit Union – a strong, financial foundation that creates an environment to support member success while working hard to advance their financial goals and aspirations. Their workplace has changed to continue to meet the needs of the workforce and their priorities to include listening to what really matters to them, making changes to benefits and policies, and continuing a flexible work arrangement.
Other Large Business winners included:
Alro Steel & Plastics
Frankenmuth Insurance
Genisys Credit Union
MSU Federal Credit Union
Medium Businesses:
MMS Holdings – an award-winning, innovative, data-focused CRO that supports the pharmaceutical, biotech, and medical device industries with a proven, scientific approach to complex trial data and regulatory submission challenges.
Other Medium Business winners included:
All-Ways Care Services
AlphaUSA
Angela Hospice Home Care, Inc.
Bowman Auto Group
Consumers Credit Union
Detroit Wing Company
Forward Corporation
Grand Traverse Plastics
GreenPath Financial Wellness
Infusion Associates
May Mobility
Michigan Orthopeadic Surgeons
MMS Holdings
National Coney Island
R.L. Deppmann
SEEL, LLC
Services To Enhance Potential
Tamaroff Jeffrey
Automotive Group
Tech Defenders
Towne Mortgage Company
Yeo & Yeo
Small Businesses:
Energy Sciences – founded in 2008, Energy Sciences provides tailored energy consulting services and solutions with pride and integrity. A certified Women's Business Enterprise headquartered, they practice and promote sustainability and strive to be socially responsible for the benefit of the planet and its inhabitants.
Other Small Business winners included:
Adaptive Environments
Apex Digital Solutions
BairdTech
Bromberg & Associates
Brooklyn Outdoor
Bundled
CCI Industrial Constructors
CrossFire Group
DG Technologies
Dorsay Advertising Services
Eclipse Window Tinting
Energy Sciences
Enertron
Express Employment Professionals
of Southwest Michigan
First Independence Bank
Globe Midwest
Adjuster International
Gold Coast Doulas, LLC
Great Lakes Segway LLC
Great Lakes Wealth
HRPro/BenePro
Innovative Learning Group
Integral
IPS Technology Services
ISAIC – Industrial Sewing and
Innovation Center
Kapstone Employment Services
MDI Worldwide
Michigan Science Center
Motor City Center for Hope, LLC
New Detroit
Regal Holdings, LLC
Revela
Schluter & Hughes Law Firm, PLLC
St. Vincent & Sarah Fisher Center
Tek Labs Inc.
The Learning Experience of
South Lyon
TrialAssure
Universal Solutions
Management
Waymark
Work Skills Corporation
Start-Ups:
Array of Engineers – A woman-owned engineering firm that provides automated testing, embedded software, PCB design, FPGA design, and model-based development for the aerospace, medical device, agriculture, and defense industries.
Other Start-Up winners included:
All Things Marketplace
Avalanche Creative
BAMF Health
Baobab Fare
Nicole Tamer Art
Quality Roots
Robotire
Signal Advisors
The Bryson and Baker
Batt Foundation