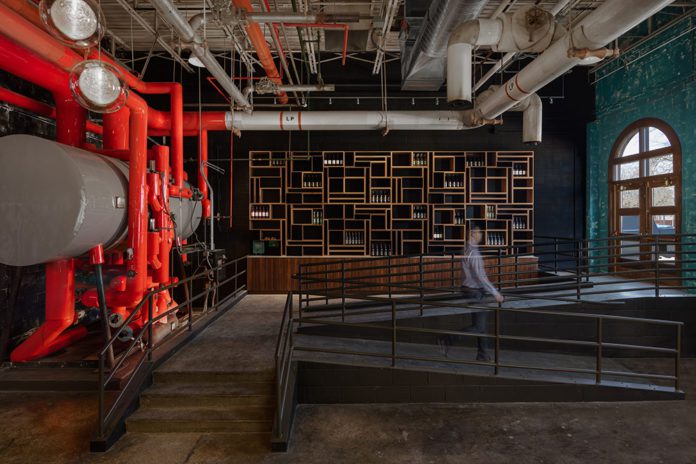 Michigan wine is a growing business with wineries adding new kinds of beverages alongside their namesake vintages, boosting tourism with agri-tainment and development events that draw connoisseurs from around the state and Midwest.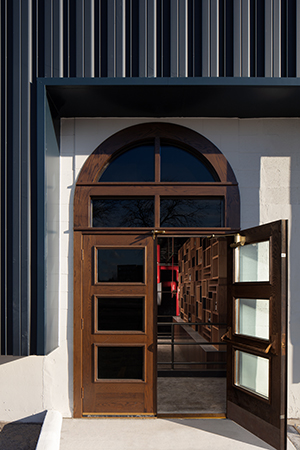 However, business as a winemaker changed dramatically for many hospitality-focused companies around Michigan are learning how to operate their tasting rooms and wine-making facilities in the age of coronavirus. Some changes are small – like more Zoom-hosted virtual events – but others are going to alter the way wine is made in the state as well as how it is marketed.
All in all, sales are up across the nation and somewhat in Michigan, based on data and anecdotal evidence. For example, According to Nielsen data, sales of red wine blends shot up 35% from March to May 2020 compared to the same period last year. Orange wine sales grew 39%, while sparkling wines and Pinot Noir each saw a 25% uptick, as reported in Wine Enthusiast magazine.
At Detroit Vineyards, its May reopening is now going strong, and officials say there is a heady buzz going on at its tasting room and wine-making facility on Gratiot. The business brought on a new winemaker and general manager in October 2019, and the first wines under his direction are being released next month.
Chris Southern and his assistant Thomas Roberos are about to begin bottling by hand the much-delayed Spring 2020 release. It is a painstaking process that the two will do by hand, but it also is a time to think about how they prepare, serve and present wine, something that Southern said he appreciates in this new moment in history.
"We try to find the opportunity (in this moment)," Southern said. "We had our best first quarter before we had to close; it was the first time we made a profit. … I'm hoping we'll come out stronger from this and be better for it."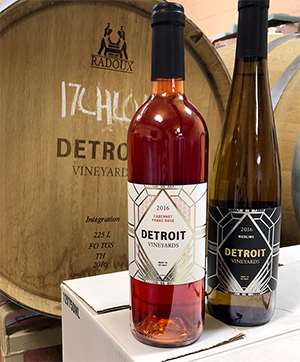 Wine boom
As reported by the Michigan Craft Beverage Council, the state has a rich history in wine grapes, which are said to occupy more than 3,000 acres of Michigan farmland through about 150 commercial wineries. Moreover, Michigan wine industry has an economic impact totaling $5.4 billion in the state of Michigan, including providing 47,000-plus jobs equaling $1.8 billion in wages, according to a 2017 study conducted by John Dunham & Associates.
The state's vintners make around 3 million gallons of wine annually, ranking Michigan among the top five producers in the nation. As such, Michigan's winemakers and associations are working together with the Michigan Craft Beverage Council and other organizations to maintain a strong social presence and marketing plan throughout 2020, especially because of the coronavirus pandemic.
Detroit Vineyards, which opened in 2018, is a winery and tasting room near Eastern Market in downtown Detroit. It offers wines, ciders and meads using Michigan-grown fruit and honey in its upscale and state-of-the-art production facility, which formerly served as a Stroh's Ice Cream facility.
Its 120-person tasting room now is socially distanced with fewer chairs and areas for congregating. The staff has been reduced from about 15 or so people to about three or four, depending on the staff and the day, Southern said. The business did receive a Paycheck Protection Plan loan as well to keep staffing in place as much as possible.
Southern grew up outside of Detroit and spent 10 years in management for Trader Joe's company before relocating to San Luis Obispo, Calif. and earning a Bachelor's of Science in Enology from Cal Poly, San Luis Obispo. Since then, he has managed winemaking and operations in iconic regions including Paso Robles, Sonoma, Napa, Santa Barbara, and Edna Valley in California, as well as Walla Walla, Washington, New Zealand and Northern Michigan.
With such a varied background, Southern is happy to do small tastings and building tours each Saturday with socially distanced guests as well as Zoom events so people can try its wines, ciders and meads. Detroit Vineyards also is still doing carry-out orders, curbside pickup as well as delivery within a reasonable distance from its shop. It also can ship wine within Michigan and to Florida.
"We're a school as much as a winery and we're going to lean on that," Southern said, so he hopes to add more events and tastings as time and space allow.
There have been challenges. When a piece of specialty equipment recently needed service, Southern had to learn to fix it himself with the repair person via a Zoom call from Canada – the person could not come into the United States to do the job because of the travel restrictions between the two nations.
One of the new things Southern and the business added this year is the new Detroit Vineyards Wine Club, which gives members access to exclusive products and parties, complimentary tastings, and discounts. Memberships include two shipments per year three bottles for $90; six bottles for $150; and 12 bottles for $225.
It's a challenging time, but it is a time to grow and learn, Southern said. Michigan's wineries, grape growers and label makers as well as a variety of related businesses all depend on people shopping locally and buying state-made wine and related products, so he hopes people will continue to buy, sip and savor.
"It's definitely a time to be hands on," Southern said. "I'm always learning (and) you can only focus on what you can do versus what you cannot do."