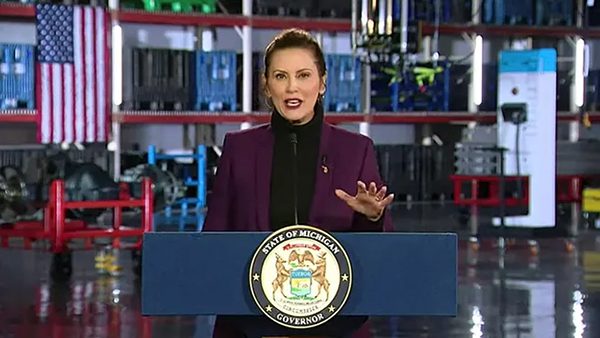 Fresh off General Motors' announcement Tuesday that it would invest $7 billion in the electric vehicle and battery production industry in Michigan, Gov. Gretchen Whitmer took her fourth State of the State address on the road Wednesday to tout past accomplishments and preview future proposals.
For the second straight year, Whitmer delivered her address virtually, this time from the Detroit Diesel manufacturing facility in Redford Township. The bulk of the speech focused on job incentives, tax cuts and other economic issues.
The GM investment will create and retain 5,000 jobs manufacturing electric vehicle batteries in Lansing and Orion Township.
"The future of the auto industry is being built in Michigan, in plants like this one by union members. And we are just getting started," Whitmer said. "(Tuesday), the world saw what we can accomplish together. Democrats, Republicans, businesses, utilities, and labor joined forces to equip Michigan with solid economic tools to attract big projects and create thousands of jobs."
She also hit on several proposals:
Restoring the state's Earned Income Tax Credit. Whitmer is proposing increasing the credit, saying it would deliver an average combined tax refund of $3,000 to 730,000 Michiganders, helping them pay the bills and put food on the table.
"Raising the state EITC puts Michiganders first by putting nearly $3,000 back in their pockets when paired with the federal EITC," Whitmer said. "Michiganders who work full-time but still can't get ahead deserve to keep more of their hard-earned dollars. This refund for working families is a game-changer for so many Michiganders, and I know we can work together to get this done."
Lowering the cost of EVs. Whitmer proposed an electric vehicle rebate, saying the $2,000 for a new electric vehicle and $500 for at-home charging infrastructure can be paired with the $7,500 federal tax credit, knocking nearly $10,000 off the price of a new electric car, including those being built in Michigan.
"Michigan put the world on wheels, and we will electrify it too. This new rebate will put Michiganders first and help families purchase an electric vehicle by lowering costs," Whitmer said. "With this rebate and federal, Michiganders can knock off nearly $10,000 off the purchase price of an electric or plug-in hybrid car."
Repealing the retirement tax. Whitmer proposed a repeal of the tax on retirement income, including pensions, 401(k) accounts, and IRAs would save half a million households $1,000 a year.
"Repealing the retirement tax will put Michiganders first and save half a million households $1,000 a year," she said. "Michiganders who have worked hard, played by the rules, and budgeted for their whole lives should be able to retire and keep all of their hard-earned dollars. Putting money back in the pockets of retirees will help them afford the essentials from prescriptions, rent, utilities, car payments, to gifts for their grandkids."
Increasing access to mental health care. She called for an expansion of the Michigan State Loan Repayment Program program to focused on behavioral health providers and an increase to funding for mental health professionals in our schools.
"We need to invest in our mental health workforce, so we can put Michiganders first and ensure they have the support and resources they need to thrive," she said. "Every Michigander deserves access to both mental and physical healthcare."
Whitmer said she planned to propose the "biggest state funding increase" in two decades. Last year, Whitmer joined with the GOP-led Legislature in approving a $17.1 billion funding plan for schools, calling it the "the "largest investment in education" in state history."
At a moment when some school districts have returned to remote learning in the face of the omicron surge, Whitmer strong discouraged the practice.
"I want to be crystal clear," Whitmer said. "Students belong in school. We know it's where they learn best. Remote learning is not as fulfilling or conducive to a child's growth."