West Michigan is known for its art, maker mentality, small-town atmosphere and natural beauty, and those are all attributes that community leaders, business owners and developers hope will draw people to the region through a new marketing campaign called "Opportunity Awaits."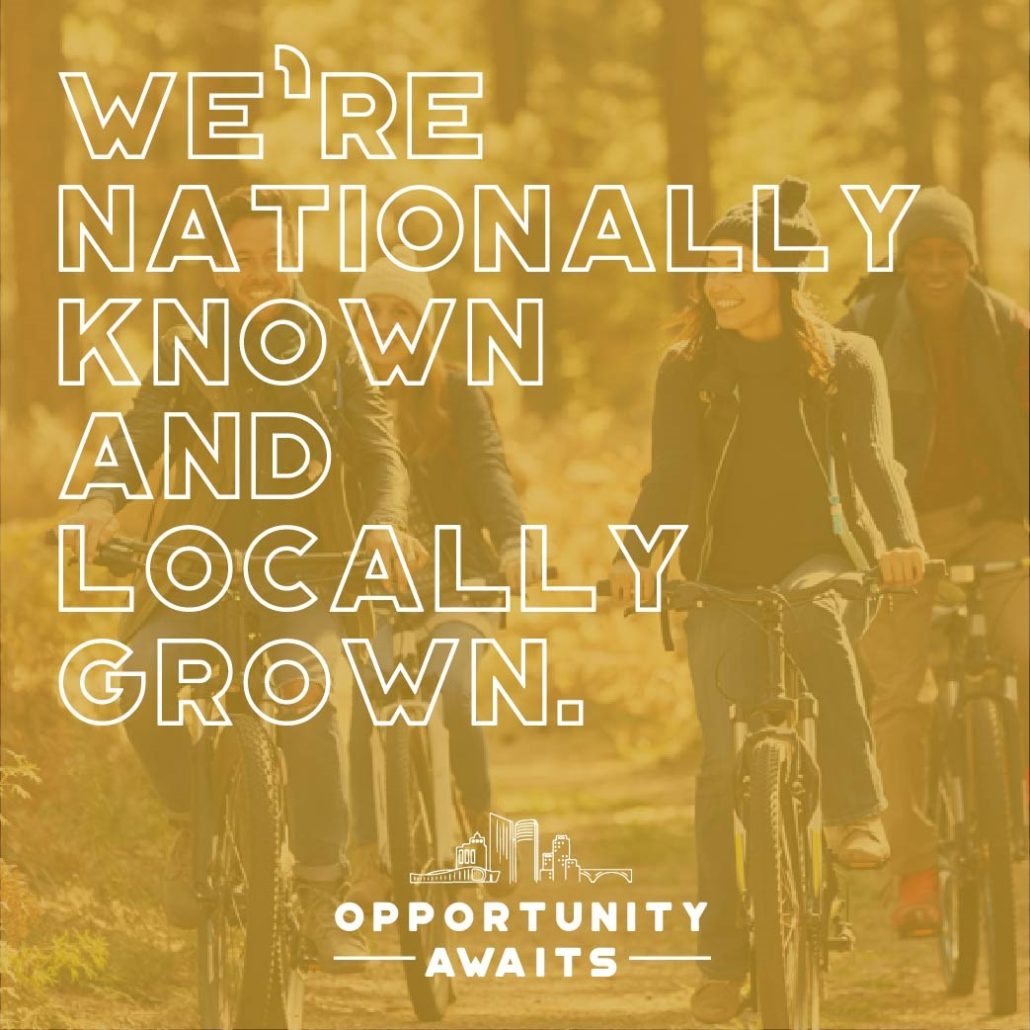 In a Tuesday announcement, the Grand Rapids Chamber, its board members and area CEOs gathered for a media event via Zoom to announce the new initiative. The goal, participants said, is to encourage people who are working remotely or have previous connections to West Michigan to take another look at living in the region.
"This campaign will showcase who West Michigan is," said Rick Baker, President and CEO of the Grand Rapids Chamber. "It's time to put a face to all the top 10 lists we continue to make."
The Grand Rapids Chamber and Experience GR launched the Opportunity Awaits campaign as part of the virtual West Michigan CEO Summit. According to organizers, "the campaign … aims to empower business and community leaders to share the story of how West Michigan has grown even in the face of a pandemic."
Two other West Michigan executives — Nelson Sanchez, Chief Operating Officer, RoMan Manufacturing and Board Chair, Grand Rapids Chamber, and Meredith Bronk, Chief Executive Officer, OST, and Incoming Board Chair, Grand Rapids Chamber – joined Baker in the Tuesday announcement.
Bronk said coronavirus and its overall impact on the economy has created a "new reality" for many individuals and businesses. They can move to other locations because many people are working from home and businesses have adapted to virtual workplaces.
Companies may want to consider relocating to West Michigan and individuals as well, discovering what's new in the region "which offers large-city amenities with a small-town feel" and set up a home, business or more, Bronk said.
"We have some smart growing to do together," Bronk said.
Sanchez, who said he immigrated from Cuba and is happily settled in West Michigan, said the region is unique because it gives you "room to breathe" as well as a "place where we can pursue our dreams." He said he sees the Opportunity Awaits campaign as a way to invite people and other businesses to come where he lives and see what he loves about it.
"We need them and we need you to continue the positive trajectory of this place, this place we call home," Sanchez said. He noted that people can "work in the big little city and play by the lakeshore – we've got it all."
Organizers said the Opportunity Awaits community initiative also is designed to bring former Michiganders home to West Michigan. The idea is to promote the region's economic, social and cultural opportunities to these ex-pats so they consider moving back and bringing their families, investments and business developments as well.
"Our region has the fastest growing economy in the United States and is home to over 130 international companies," Baker said. "This campaign is meant to provide those individuals with the tools and initiative to relocate successfully."
The Opportunity Awaits campaign is designed to be a community-wide effort, supported by other businesses and organizations in the area. The initiative will promote West Michigan's opportunities, cultural benefits, and resilience in the face of COVID-19.
Baker also emphasized that Opportunity Awaits seeks to draw a diverse audience to West Michigan, promoting the region as a place that is open, welcoming and equitable.
More information on the campaign can be found at http://opportunityawaitswm.org.