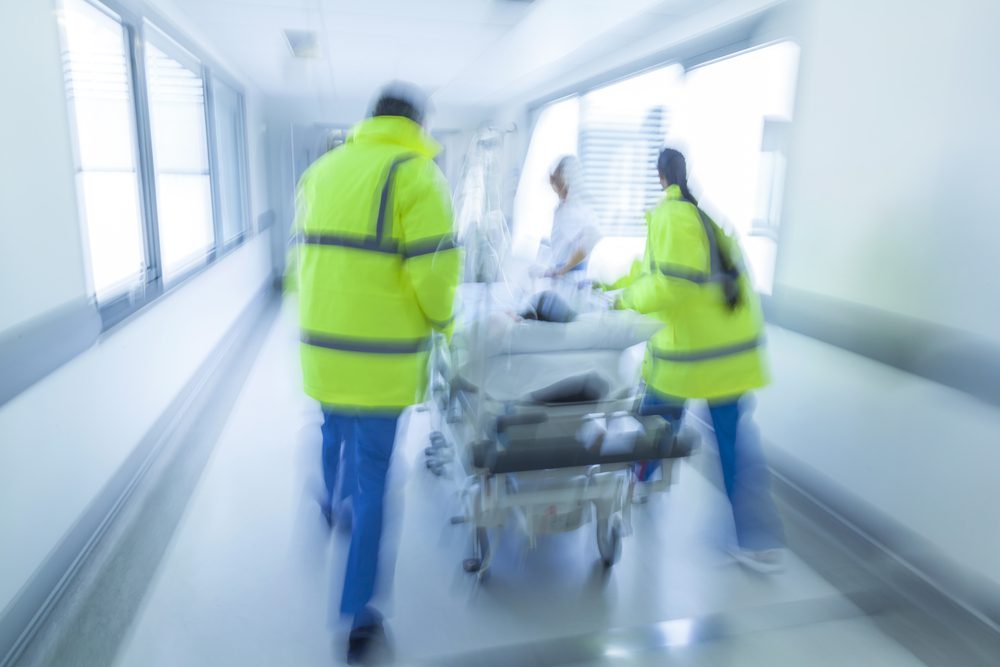 Healthcare systems across Michigan are balancing the exponentially higher workloads coming as a result of coronavirus alongside the economic impacts of postponed or canceled procedures – and it is a balance that is sometimes failing, according to some hospital employees.
On Tuesday, OPEIU Local 40, which represents nearly 1,000 hospital employees, held a virtual press conference to address what it sees as life-threatening issues at McLaren Macomb hospital in Mt. Clemens. The union brought nurses, healthcare workers and local government officials onto the Zoom meeting to talk about its petition submitted to the hospital asking for more Personal Protective Equipment or PPE, additional sick leave and hazard pay.
Union leaders alongside U.S. Representative Andy Levin, State Representative Bill Sowerby and Mt. Clemens Mayor Laura Kropp praised healthcare workers in general as well as at McLaren Macomb specifically for working under stressful and sometimes dangerous circumstances throughout the COVID-19 health crisis in Michigan.
"These are trying times. … We're having to endure tremendous situations," said McLaren Macomb RN and OPEIU Local 40 President Jeff Morawski. "I'm proud to be a nurse (but) I've seen things that I don't ever want to see again. … It's all about money with McLaren. It's not about employees."
His statements were backed up by other union leaders. "All of our healthcare workers deserve good PPE and new PPE. … This isn't the way healthcare should be run," said Dina Carlisle, McLaren Macomb RN and OPEIU Local 40 Vice President.
In response, McLaren Macomb through its communications department provided a statement from Tom Brisse, McLaren Macomb's president and CEO. The statement, in part, said: "During this unprecedented time, it is disturbing that the union that represents McLaren Macomb nurses has chosen to issue a statement that includes false information."
The statement highlights the national PPE shortage as well as McLaren's efforts to get more equipment. "We worked with our corporate leadership to secure additional masks to allow our staff to get new N-95 respirator masks on a more frequent basis," the statement read. "OPEIU was notified of this change on April 27, 2020."
The statement also notes "McLaren provided comprehensive COVID-19 benefits to all staff and offered these benefits to all union on April 14, 2020. This included a bank of 80 hours of PTO used by staff who tested positive for COVID-19 and are off work. … Rather than accepting the offered benefits, OPEIU is bargaining those benefits as they are not willing to accept the benefits offered by McLaren for our nursing staff."
Healthcare crisis
Since March, healthcare providers have been slammed with patients who need testing or are suffering from coronavirus. Healthcare workers overall are working more hours and have had to make concessions with equipment as there was a limited amount available and attempts to get more has been hampered by production or distribution.
These systems also are feeling the economic impact of the virus. Over the past month, Beaumont Health announced it was laying off nearly 2,500 employees and permanently cutting 450 jobs. Henry Ford Health System also said it was "temporarily furloughing" approximately 2,800 employees across the six-hospital system – those not directly involved in patient care, from areas where workloads have been drastically reduced or where operations have been temporarily closed.
Additional resources
OPEIU Local 40 asked via the Zoom meeting for McLaren Macomb to step up and open discussions with the union as well as provide additional resources, more PPE, hazard pay and other needed help per its original petition. It also said it is considering other options beyond the virtual press conference to get further attention for these issues, but he did not go into any detail on what this might look like.
According to Morawski and other union officials, McLaren issued very limited "Covid-19 Employee Benefits" document on April 14 that "fell far short of what the petition called for, but even these benefits are explicitly denied to unionized nurses and frontline workers." He noted that the union received additional communication via email recently but that it still doesn't fully address the petition and these additional resources for healthcare workers.
U.S. Rep. Levin said during Tuesday's Zoom meeting that he has kept in contact with the union, state representatives and national sources during this crisis. He underscored the need of institutions such as McLaren Macomb to provide the necessary levels of sick leave and PPE to its staff.
"Let's take of each other in this crisis to the best of our needs," Levin said. "I thank the leadership of Local 40 for all of your efforts. It's been heartbreaking to talk to Jeff and others when they come off of their shifts and what they see every day."
State Rep. Bill Sowerby said he also applauded Local 40 for bringing these issues forward. "The public needs to know and the failures in the system now and in the past," he said.
According to the union, hospital service employees voted to form a union with OPEIU Local 40 last year. It said McLaren also has continued a legal battle to deny the 330 service workers union representation, even as they rely on them to respond to Covid-19.
Newly elected Mt. Clemens Mayor Laura Kropp said she was proud to have "this leading medical facility" in her city – but with reservations.
"It would be just a building without the people in there. It wouldn't care for anyone if we didn't have the incredible staff that does everything," Kropp said. "We should take care of those people who are taking care of our community."
In its statement, McLaren Macomb closed with the following: "As we continue to navigate this issue with OPEIU, we encourage them to research more thoroughly and/or provide accurate information. During a time when all healthcare personnel should be working together to support our patients, OPEIU's divisive and inaccurate statements do nothing to support and uplift our staff, our organization or our community."