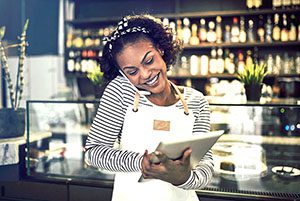 Private payroll employment rose 455,000 in March according to payroll processing company ADP. This was near the 450,000 consensus forecast. ADP revised up its count of private job growth in February to 486,000 from 475,000 in the prior release.

There was a notable rebound in job growth at small and medium-sized establishments in March after it softened in January and February amid the Omicron surge (See chart on second page). Employment at establishments with less than 20 workers rose 0.2% on the month in March or 37,000; employment at establishments with more than 1,000 workers also rose 0.2%, or 118,000. Job growth was fastest at companies between 20 and 999 workers, rising 0.6% or 300,000.

The biggest job gains by industry were among manufacturers, adding 54,000 jobs; healthcare added 62,000; leisure and hospitality added 161,000; and wholesale/retail/transport/utilities added 49,000.

The ADP jobs report was consistent with the consensus' as well as Comerica's forecasts for April 1st's release of the official March jobs report by the Bureau of Labor Statistics. Both Comerica and consensus expect the unemployment rate to fall to 3.7% from 3.8% in February. Comerica forecasts a 500,000 increase in nonfarm payroll employment versus a consensus forecast of 490,000. If so, nonfarm employment will have jumped about 550,000 per month in the first quarter of the year. That is a robust job gain, signaling continued rapid recovery from the pandemic-driven recession.

March's solid job gains will bolster the Fed's resolve to withdraw monetary stimulus near-term. Comerica forecasts for a half percentage point hike in the federal funds target at the Fed's next scheduled decision May 4, raising it to a range of three quarters to one percent. With Russia-Ukraine raising energy prices and worsening the inflation outlook, the Fed is in a hurry to normalize interest rates.

However, the pace of rate hikes could slow by the end of the year. High inflation is eroding consumers' purchasing power, so real household spending growth is set to slow in the next few quarters, especially spending on categories where Americans splurged in 2020 and 2021 like household durable goods. Spending was resilient to inflation in 2021, when household finances were still supported by extremely low interest rates and the mass of savings accumulated during the pandemic. But now interest rates are rising and saving rates are falling. The pullback will be most pronounced among lower- and middle-income Americans, who are coming out of the pandemic with smaller financial cushions.

The unemployment rate is almost back to its pre-pandemic level of 3.5%, which was a half-century low. But its decline is likely to stall at around 3.7% for a while. As financial pressures from inflation mount, more Americans who exited the labor force during the pandemic are likely to re-enter, fueling faster labor force growth and keeping the level of unemployment largely steady (the government measures unemployment as people who don't have a job and actively searched for one in the prior four weeks).
Bill Adams is Senior Vice President and Chief Economist at Comerica.