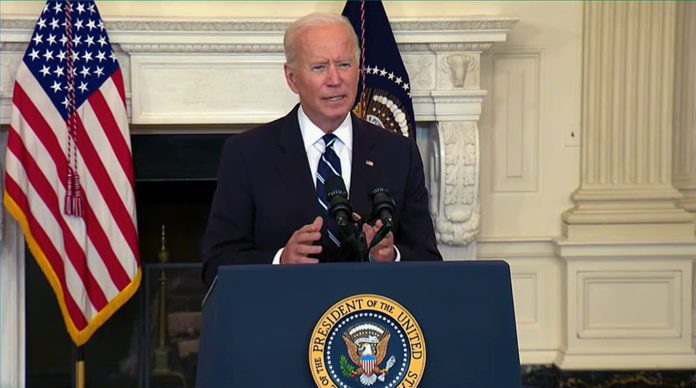 With gas prices reaching record highs across the country, President Joe Biden on Wednesday said he'll ask Congress to suspend federal gasoline and diesel taxes for three months – a move he believes will ease the burden on car owners but one met with doubt by lawmakers.
Biden is also asking individual states to suspend their own gas taxes or provide similar relief. It would take action by lawmakers in Washington and in statehouses across the country to actually bring relief to consumers.
"It doesn't reduce all the pain but it will be a big help," Biden said. "I'm doing my part. I want Congress, states and industry to do their part as well."
The federal tax on gas is at 18.4 cents-a-gallon, with a 24.4 cents-a-gallon federal tax on diesel fuel. If the gas savings were fully passed along to consumers, people would save roughly 3.6% at the pump when prices are averaging about $5 a gallon nationwide, the Associated Press reported.
Biden's push appears to face uphill odds in Congress, but a variety of lawmakers have expressed reservations. Even many economists view the idea of a gas tax holiday with skepticism, the AP said.
Democratic House Speaker Nancy Pelosi said she "will see where the consensus lies on a path forward for the president's proposal in the House and the Senate."
The president said "states are now in a strong position to be able to afford to take some of these actions," thanks to federal support from the 2021 COVID-19 relief bill. But there is no guarantee that states will tap into their budgets to suspend their taxes on gas or to deliver rebates to consumers, as Biden is requesting.
Michigan Gov. Gretchen Whitmer had as late as Tuesday lobbied Biden to suspend the federal gas tax for the rest of the year, but in April she vetoed Republican-backed legislation that attempted to suspend for six months Michigan's 27-cent-per-gallon excise tax on fuel, the AP reported.
Michigan's average price for regular unleaded gasoline was $5.13 per gallon as of Wednesday, topping the national average of $4.96, according to AAA Michigan.
Senate Republican leader Mitch McConnell called the gas tax holiday an "ineffective stunt" in a Wednesday floor speech. "This ineffective administration's big new idea is a silly proposal that senior members of their own party have already shot down well in advance," he said.
According to the AP, Rep. Peter DeFazio, the Democratic chairman of the House Transportation and Infrastructure Committee, said he would not support suspending the gas tax. "I'm going to be working against it. I have the largest committee in Congress, so we'll see."
In a statement, the White House noted other actions officials say Biden has taken to lower gas prices, including:
The release of a record 1 million barrels per day from the Strategic Petroleum Reserve.
Rallying international partners to join the U.S., releasing a combined 240 million barrels of oil on the market.
Expanding access to biofuels like E15—gasoline that uses a 15 percent ethanol blend—to increase supply and lower prices at thousands of gas stations across the country.
Engaging with oil and refining companies to ask them to work with the Administration to bring forward concrete solutions that increase refinery capacity and output. Secretary Granholm is meeting with these CEOs this week.