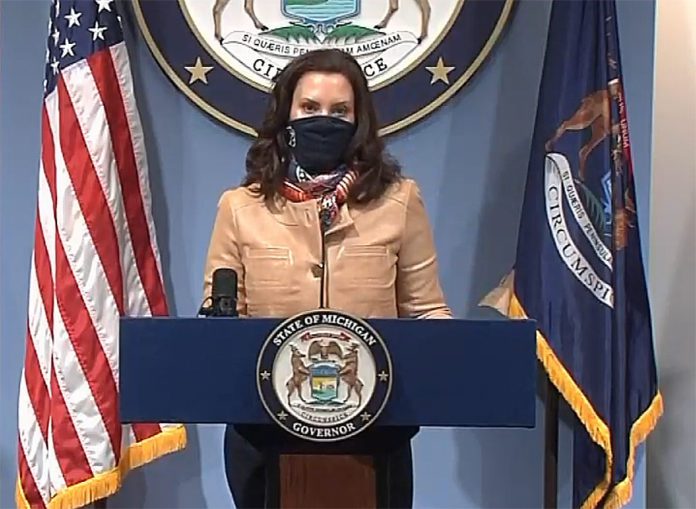 No new orders have come from the state's Department of Health and Human Services restricting business, schools or sports.
But on Friday, Gov. Gretchen Whitmer urged Michiganders to impose some of those restrictions on themselves voluntarily.
With cases in Michigan surging – it's the biggest hot spot in the country right now – Whitmer urged several courses of action, including:
Urging schools to go to remote learning for two weeks.
Youth sports to voluntarily suspend practices and games for two weeks.
Diners to eat outside or get carry-out while still supporting local restaurants.
Opting for small, outdoor gatherings with masks.
Whitmer made sure to point out these aren't "orders, mandates or requirements."
"A year in, we all know what works and this has to be a team effort," Whitmer said Friday. "We have to do this together. Lives depend on it. We all need to go above and beyond the rules that are already in place."
Whitmer has drawn fire from critics over restrictions she has put in place in the past, and she was asked Friday why she's making these "recommendations" instead of requirements.
"This pandemic has been hard on every single one of us … We're all tired of this," Whitmer said. "The actions we've taken throughout the course of the pandemic have saved lives … we know now we've got the tools we need to protect ourselves.
"It is less of a policy problem and more of a compliance and variance issue we are confronting as a state," Whitmer added. "Policy change alone won't change the tide. We need everyone to step up and take personal responsibility here.
Several Michigan school districts beat her to the punch, having already chosen to go remote. Detroit Public Schools are taking a break that runs through April 16.
Other districts such as Dearborn, Warren Consolidated School district and Utica Community Schools also moved to remote learning after spring break.
Chief Medical Executive Dr. Joneigh Khaldun warned residents that just because an activity is allowed does not mean it's safe. She urged people to continue to avoid indoor dining or gatherings.
According to Khaldun, the state's numbers are all far higher than they were in mid-February:
There are 515 cases per million Michigan resident, four times what it was two months ago.
Test positivity rate has risen to 18%, again four times the mid-February number.
Some 15.2% of the state's hospital beds are now being used to treat COVID-19 patients.
There have been 991 outbreaks across the state.
Michigan added 7,819 new cases and 73 deaths from COVID-19 on Thursday, bringing the state total to 723,297 cases and 16,400 deaths since the virus arrived in Michigan March 10, 2020.
"Today's action is an important step toward normalcy, but there's still more work to do," the governor said. "As always, mask up, maintain social distancing and wash your hands. We all have a personal responsibility to slow the spread of the virus so we can end this pandemic together."