While there's plenty of traction happening on the for-profit side of mobility, the state of Michigan also is focusing on how mobility solutions can improve access to services and public life in communities across the state.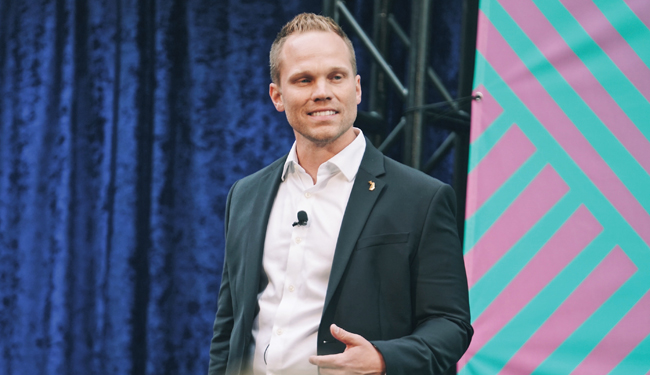 A key initiative is the Michigan Mobility Challenge, a grant initiative unveiled at the 2018 Mackinac Policy conference and seeded with an $8 million legislative appropriation to address core mobility gaps for seniors, persons with disabilities and veterans across the state. The Challenge is led by Michigan Department of Transportation and PlanetM, with collaboration from Michigan Department of Health and Human Services, Michigan Veterans Affairs Agency, The Bureau of Services for Blind Persons, and Michigan Department of Civil Rights – Division on Deaf, Deafblind, and Hard of Hearing.
The first round of nine grants was announced in October 2018. In January 2019, newly sworn-in Gov. Gretchen Whitmer announced the final round of pilot projects, bringing the total number of funded projects to 13 in urban, rural and suburban communities.
Corp! spoke with Trevor Pawl, group vice president of PlanetM, the state of Michigan's mobility-focused brand and business development program, to learn more.
Corp!: What is PlanetM's role in the Michigan Mobility Challenge?
Trevor Pawl: We try to find the right type of partner companies and then pair them up with the right transit or advocacy group to come up with a proposal that makes sense and could have an impact. MDOT was the technical lead to bring the proposals to life and we were the strategic lead to make sure the right companies were bidding and we were solving the right problems.
Corp!:How does an initiative like the Mobility Challenge support the state's business climate?
Trevor Pawl: You can get excited about government working actively in this industry to make a difference in the lives of everyday citizens. We are able to rally local partners and some of the most innovative startups in the world. Some of the pilots we launched are starting to deploy across the state. And if I was a CEO, I would say that Michigan moves fast and they have a roadmap to get technology on the road to help people.
Corp!: Do you have any updates from that first round of funding?
Trevor Pawl: For the first round, the pilots are going to start to be rolled out. Pilots run three to six months and then we will assess what went well, what did not go well, what is sustainable and what would be able to be made into a permanent part of a transit network in any given community.
Corp!: Tell us about some of the interesting partners and developments happening in connection with the Challenge.
Trevor Pawl: Some of these partnerships are really innovative. In Round One, in Ann Arbor, we worked with the Ann Arbor Area Transportation Authority and a London UK startup called What3Words, which is mapping the world into three-meter-by-three-meter increments. They are leveraging technology with Foenix Mobility Rising and SUMA to help with the "last 50 feet" problem of locating bus stops and final destinations. The resulting technology will enable passengers on fixed route transit systems to navigate the bus routes and identify the exact location (within 10 feet) of the pick-up and drop-off points for the bus stops.
Another one is the Michigan Universal Vehicle Ecosystem pilot, which is funding an autonomous shuttle designed to meet the specific needs of the Battle Creek VA hospital campus. I don't know of any other hospital in the country that is using autonomous tech like that.
Corp!: Is Michigan unique in terms of offering funding like this for mobility?
Trevor Pawl: Michigan is a leader in inclusive mobility. If we want to make transportation work, we have to make it work for everybody. This is unique in the sense that the amount of money was large — $8 million is a lot of money for mobility focused on a specific slice of the population.
Corp!: Ten years from now, where do you hope Michigan will be in terms of the adoption and implementation of inclusive mobility?
Trevor Pawl: It will be a time to assess the mobility challenge, city by city, region by region. We cannot rush into these solutions overnight. Once something gets into place, it will be there for years. I'd like to see our state continue to lead in infrastructure development and our cities to include more autonomous shuttles to allow people who don't have cars, or can't drive, to move more freely. Solving mobility barriers will open different doors for all of us.