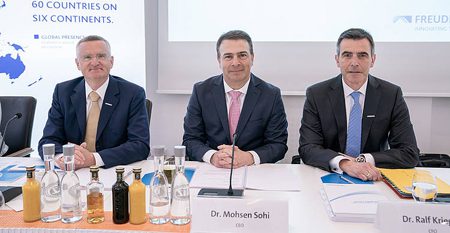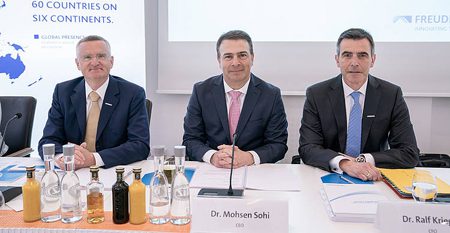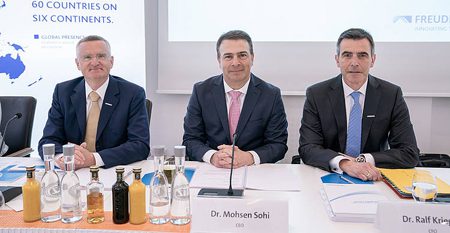 With investments in the Midwest and many other North American locations, The Freudenberg Group is looking to expand its product line, its research and development divisions as well as its projects as the international company looks toward the future.
That's what company officials said Tuesday during a media briefing in Detroit about its 2017 annual sales, reporting "steady, profitable growth" as well as plans to boost its business within Michigan and its other U.S. locations.
The Freudenberg Group describes itself as a global technology company with headquarters in Germany and the United States. The privately held company employed about 48,000 people in nearly 60 countries worldwide and had sales of $10.6 billion in 2017, a 22 percent increase over 2016.
Company officials credited the increase to both solid organic growth of 4 percent and acquisitions. Some of those new products and services it purchased were smaller investments that The Freudenberg Group hopes will grow, officials said. Others are more well known, like its addition of the Platex household glove business for its home and cleaning solutions division.
Local and international
The Freudenberg Group has 11 business groups in North America, including sites in Plymouth, South Haven and Howell, Michigan. Howell recently experienced a growth in its research and development area, a project the company is working on across its divisions locally, nationally and internationally, said Dr. Mohsen Sohi, CEO and Speaker of the Board of Management for The Freudenberg Group.
Sohi described The Freudenberg Group as a company that is "traditional yet forward looking," so it took on a project about five years ago to reduce its administrative costs while increasing its research and development spending. That has allowed its focus to center on innovation and technology – and avoid focusing on competing on price.
Focus on R&D
Last year, The Freudenberg Group spent $159 million on its manufacturing as well as research and development facilities in North American. This included an expanded R&D center at the Chem-Trend global headquarters in Howell. Those expansions will continue in 2018, Sohi noted.
Interestingly, The Freudenberg Group is nearly 170 years old as a business; it started as a producer of leather goods. But Sohi said the business itself thinks in unique ways and tries to maintain its youthful outlook.
Sohi added that he believes national and international markets are constant, so that bodes well for the rest of this year and future years. However, he noted that tariffs and geopolitical upsets could impact that. Overall, he said he was a "bit worried," but feels the general environment for his business and others is stable.