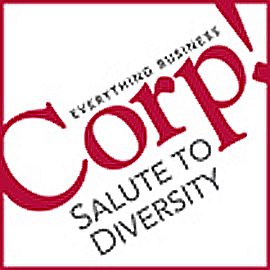 By J.D. Booth
Aug. 29, 2013
Diversity is not just good. It's better.
While few would argue with that statement-"the saying "a cord of many strings is not easily broken" comes to mind-"the reality is that firms large and small are becoming stronger by embracing diversity at all levels.
We see it every year as we examine a growing list of companies, individuals and, one of our favorite categories-"champions-"that not only demonstrate their sense of what makes us better but achieving greater success while doing the right thing.
In its most practical context-"and this might just be too obvious for some-"diversity is about people. After all, it's people that make up the essence of an organization. They drive ideas, reach out to customers, clients, the people they serve, and the people who fund what they do-"add shareholders, investors and donors to that list.
While this year's list is actually three-"Diversity Focused Companies, Individuals and Diversity Champions-"there is a common thread that runs through each.
They stand out.
Whether the winner is an organization, an individual who helps make their organization even better than might be otherwise, or the Champion groups that others will naturally look to for inspiration as they continue on their own journey toward a more diverse environment.
As one might expect, the examples for each abound.
Whether it's the training in diverse communications provided by 3D Consulting and Communications, a firm that helps its clients with ways to effectively remove cultural barriers in their organizations, or helping clients recruit a more diverse workforce (the role MCM Staffing brings to the table), each plays its part.
Sometimes that role is a technology that makes the job of enhancing diversity in the workplace easier. That's the case with DiverseNote, a "connector" that founder Tekisha Lee built to help identify candidates for her clients.
And sometimes it's a matter of a firm embracing a Minority Business Enterprise as a way for mutual benefit, as is the case with The Harmon Group's Tina Harmon linking up with Mercury Promotions and Fulfillment.
We find that schools such as Grand Valley State University and Central Michigan University are leveraging their power of influence in upcoming generations of future leaders to model great diversity practices.
In the case of Human Capital Staffing, helping clients become more diverse in their hiring practices can be a matter of bringing lessons learned to others, made possible by Human Capital's status as one of the top Native American-owned companies in Michigan and its founder's laser focus on how well applicants are likely to fit into a client organization.
But the culture of diversity applies to more than simple hiring decisions.
In the case of Peteet's Famous Cheesecakes, a family owned and operated kosher bakery, a commitment to inclusion extends to the community through a number of philanthropic initiatives, including Karmanos Cancer, the American Cancer Society, and Blue Cross Blue Shield.
And, of course, there are the people, the individuals who guide their own organizations and others when it comes to issues of diversity.
Among this year's winners are leaders such as Elizabeth Joy Fossel, an attorney who, in addition to her work with Varnum, helps others advance their own diverse culture through the Grand Rapids Managing Partners Diversity Collaborative.
For someone like Tom Watkins, a former Michigan state superintendent of schools, being active in the pursuit of diversity runs throughout his TDW & Associates work. "It's a cornerstone of our business, one that's integrated into everything we do-"from staff and contractor hiring, training, customer service and outreach."
Cheryl Kern of Amway, another individual highlighted in this year's list of Diversity winners, is helping to make sure the gains made continue. "Leveraging diversity and inclusion enables us to look at opportunities through a different lens and to overcome any 'blind spots' that may exist relative to diversity and inclusion."
There are, of course, more examples in our Salute to Diversity and we trust they will serve to inspire, challenge and bring hope to others who seek a world where differences are embraced and celebrated.
And yes, make us better.
3D Consulting and Communications
Diversity Focused Companies
Siham Awada Jaafar, CEO and founder
Dearborn Heights
www.3dconsults.com
Diversity, as important as it is to virtually every company these days, doesn't always come easy. Sometimes it requires the kind of training an organization like 3D Consulting and Communications brings to the table. 3D specializes in customized diversity training and cultural competency programs, strategies, events and initiatives, something CEO Siham Awada Jaafar understands. One example is the "Images and Perceptions Diversity Conference," which has just celebrated its signature 10th anniversary and has become an icon among diversity initiatives. An array of speakers effectively address diversity and create an atmosphere of change and progress for a target audience that includes media, educational, governmental, law enforcement and individuals from various professions. As they network to collaborate and produce initiatives that cross cultural barriers within their organizations, they benefit from the fact that employees who know and understand other cultures are poised to help grow sales, increase productivity and open up new markets. The diversity training sessions that 3D has designed and implemented for specific government and educational entities have created a conversation about client services as well as a renewed sense of commitment from those experiencing the training. Community outreach continues to be a priority and through the company's extensive volunteer initiatives, 3D creates bridges that cross cultural barriers and encourage dialogue.
Beltran Media
Diversity Focused Companies
Terry Beltran, president
Clarkston
www.beltranmedia.com
A company known for its deep connections with a number of companies and organizations that have similar goals for advancing diversity, Beltran Media is strong in a number of key areas, including branding, website development and logo design. Indeed, Beltran prides itself in being a one-stop agency providing consultation, design, photography, videos, social media, websites, event planning, trade materials, research, signage and mobile apps. DTE Energy would certainly agree after Beltran provided event planning and post event services for its Supplier Symposium at MGM Grand, a gathering that attracted suppliers from around the state and the nation. But the company enjoys helping new clients as well, one example being DICEX, a borderless to Mexico logistics company new to Michigan for which Beltran provides marketing and supplier services. Terry Beltran is justifiably proud of her team and their accomplishments. "My team comes from diverse backgrounds and experiences, and those have resulted in the group we are today."
Butzel Long
Diversity Focused Companies
Dana Wothe, chief operating officer
Detroit
www.butzel.com
A law firm with a strong commitment to promoting diversity within not only its own walls but throughout the entire legal profession and the community it serves, Butzel Long has entrenched its vision as one of its core values. A more enriching and stimulating environment in which to serve are more than words. They've lead to an environment that supports and promotes the qualities that make us unique. And its leadership sees a commitment to diversity as key to creating a work environment that allows Butzel Long to serve its clients better.
Central Michigan University
Diversity Focused Companies
Dr. Traci Guinn, interim associate vice president of Diversity
Mt. Pleasant
www.cmich.edu
Like many educational institutions of its size and geographic location, Mt. Pleasant-based Central Michigan University has had its share of challenges when it comes to diversity. But it's taken action on that front, as evidenced by a recent survey showing some 66 percent of faculty and staff of color saying there have been improvements in the climate for diversity at the school. Plus CMU won the 2013 Inclusion Cultivates Excellence Award from the College and University Professional Association for Human Professionals.
Chrysan Industries
Diversity Focused Companies
Suk-Kyu Koh, president and CEO
Plymouth
www.chrysanindustries.com
From its earliest days, Chrysan Industries, a global supplier of automotive lubricants and specialty chemicals, has had supplier diversity as one of its key objectives. Indeed, Chrysan is committed to creating an inclusive culture of diversity among its workforce and suppliers to create high performing teams and drive business success. That includes promoting and ensuring equal opportunities for Minority Business Enterprises and Women Owned Businesses in the procurement of goods and services. Chrysan also works to reflect the communities where it operates and encourages its suppliers to do the same. The firm is a member of several organizations that help it further its diversity aims, including the Michigan Minority Business Development Council and the Asian Pacific American Chamber of Commerce.
DiverseNote
Diversity Focused Companies
Tekisha Lee, founder and CEO
Ypsilanti
www.diversenote.com
It wasn't difficult for founder Tekisha Lee to see the need for DiverseNote, a career management and recruitment social network that matches diversity job candidates with the corporations actively seeking that talent. She could see it as she worked with clients such as the U.S. Navy. "There was no effective tool or process to identify those candidates," notes Lee. "At the same time, diverse candidates were (and are) continuing to look for open positions with employers who need them, but aren't easily identifying the appropriate positions with those firms desperate for talent." Enter DiverseNote, sometimes described as "LinkedIn meets Monster.com for the diversity community." By serving diversity candidates across the diversity spectrum, DiverseNote does so with a non-traditional, technology-driven platform that leverages user-provided data to recruit and prepare the best talent for careers at the companies looking for them, as well as providing career management training and mentorship programs. It's clearly working with some 85,000 members self-identified as diversity candidates. But Lee says having an increased number of companies who have enterprise-wide buy-in -"and facilitating the process-"to recruit diversity is key. The firm expects to match thousands of diversity candidates at its upcoming first annual 2013 "DiverseNote Career Management & Recruitment Conference" Oct. 18-19 at Cobo Center in Detroit. This is more than a set of technology tools, says Lee. It's a mission. "We work with employers to help them identify and implement diversity programs, both through hiring practices/processes and career mentorship and training. In other words, DiverseNote in many ways serves as the diversity program for the employers that engage on DiverseNote.com. In doing so, we also serve the candidate pool by playing an active role in helping the best and brightest build their careers."
Grand Valley State University
Diversity Focused Companies
Jeanne Arnold, vice president for Inclusion and Equity
Grand Rapids
www.gvsu.edu
Grand Valley State has come a long way since it began to act on a 2005 survey that indicated it had some significant gaps in its attitude to some of its community. Three years later, the university had organized for action-"with a division of inclusion and equity in place to provide senior leadership to the efforts. Today, it's a vice presidential level position at the university and diversity is at the heart of Grand Valley's mission to provide a liberal education that will help shape lives, professions, and societies. The university defines diversity as broadly as possible, including race, ethnicity, sexual orientation, gender identity and expression, differently abled, age, class, religion, geographic and international among the categories. "Diversity is the presence of difference," notes Arnold. "Inclusion requires genuine actions to achieve intercultural competence and a racism-free community." She adds that intercultural competency reflects an understanding of the societal oppression often experienced by individuals in those groups, the strengths that exist in all cultures and the skills to interact with others in a way that is sensitive to their cultural differences.
Human Capital Staffing
Diversity Focused Companies
Mary Oxendine Adams, president
Bloomfield Hills
www.hcsteam.com
Consistently ranked as one of the top Native American-owned companies in the state, Human Capital Staffing is nothing if not keenly aware that not all its clients are alike. Which is why the firm, launched by Mary Oxendine Adams, understands that not all clients are alike. A key to its strength and continuing success is how Human Capital Staffing works to first gain an understanding of its clients' company culture, preparing an in-depth company profile and then quickly delivering compatible matches. "This is why HCS has taken a team approach to candidate selection," notes Adams. "In the beginning, all candidates are screened as individuals; however, we further examine their ability to be an effective member of an existing staff. At HCS, we hold ourselves to a similar set of beliefs ensuring we remain team players." Adding a commitment to deliver, she adds, is the important part. "It's easy to say that we have the best people, but at HCS we pledge to deliver to you highly skilled individuals who have been screened, evaluated and classified based on the standards set for each job requirement. At HCS, we go above and beyond to exceed our clients' expectations."
MCM Staffing
Diversity Focused Companies
Courtney Morales Hofmann, founder
Southfield
www.mcmstaffing.com
As a minority and women-owned business, MCM Staffing carries on the tradition of its entrepreneurial (and bilingual) owners that goes back at least three decades. Specializing in workforce solutions that match the needs of its customers, MCM is committed to going where its customers take it.
Peteet's Famous Cheesecakes
Diversity Focused Companies
Patrick Peteet, owner
Oak Park
www.peteetscheesecakes.com
As a family owned and operated bakery specializing in you-know-what, Peteet's boasts not only some fabulous treats but a staff that is in itself one of the most diverse you could imagine-"with a broad range of ethnicities and religions making for a very inclusive corporate culture. That commitment to inclusion extends to the community through a number of philanthropic initiatives, including Karmanos Cancer, the American Cancer Society, Blue Cross Blue Shield . . . and the list goes on. Plus Peteet's is a certified kosher bakery, which is hard to beat when it comes to the world of diversity, especially when it comes to food.
The Harmon Group
Diversity Focused Companies
Tina Harmon, managing partner
Sterling Heights
www.mercuryfs.comWhat started as a $17-million a year travel office is now a $70-million operation and the first of its kind to earn Ford Motor Co.'s Q1 rating. As Tina Harmon explains, companies today need more and her firm is delivering. Having created a joint relationship with Mercury Fulfillment Services, the Harmon Group brings its status as a Minority Business Enterprise. "Our diversity program reflects our commitment to offer a broad selection of products from diversity suppliers across a wide range of categories, enabling our clients to easily meet their diversity goals," notes Harmon, who adds that turnkey systems and dedicated teams of account service, project management, fulfillment and legal manage all the intricate details of a firm's promotional assets. "Our team will improve operational efficiencies, eliminate waste, manage brand guidelines, enhance creativity and increase speed to market," adds Harmon.
Emily Aleman-McAlpine
Diversity Focused Individuals
Community Liaison, Blue Cross Blue Shield of Michigan
www.bcbsm.com
If there was any doubt that Emily Aleman-McAlpine lacked the cultural sensitivity that contributes to her success in matters of diversity, a glance at her biography would dispel that immediately. Born in South Haven, as part of a family of 15 children, she went on to graduate from Western Michigan University with two degrees: Spanish and Business, all the while working. And while Aleman-McAlpine moved out of the state (helping at-risk children make their way through school), she returned to Michigan, first as a schoolteacher in the Fennville public system, where she helped grow a bi-cultural exchange program with Mexico as well as the district's migrant education program. When she became director of the Hispanic Center of West Michigan, Aleman-McAlpine was able to continue the development of youth programs as well as running a successful capital campaign that moved the center to its original building while improving public perception of the organization. Now, at Blue Cross Blue Shield, she's able to be the one helping community agencies (like the Hispanic Center) with projects that make a real difference.
Mark Bland
Diversity Focused Individuals
Vice President, Diversity & Inclusion, R.L. Polk & Co
Southfield
www.polk.com
As head of diversity and inclusion at R.L. Polk, a premier provider of automotive information and marketing solutions, one of Mark Bland's objectives is to make it easier for his clients to reach diverse market segments. Whether it's the launch of a service that identifies new and used vehicle registration information in the Hispanic market or ethnic loyalty data from various sources, Bland is helping Polk put its expertise to work. "We value diversity and strive to create an environment that is supportive and accepting of differences," notes Bland. "We value, pursue and leverage diversity in our employees because we consider it to be absolutely essential." That also means hiring people from different countries and regions. "A multicultural workforce enables us to attract and retain the most qualified employees, develop innovative products, and better serve the needs of a wide range of customers," adds Bland. At Polk, gender balance on the executive leadership team-"fully 50 percent are women-"is another example of the firm's overall commitment to diversity. And that embracing of diversity, adds Bland, are key to helping companies like Polk succeed. "It is imperative that all companies value diversity and strive to create an environment that is supportive and accepting of differences. At Polk, we value, pursue and leverage diversity in our employees because we consider it to be absolutely essential."
James Bosscher
Diversity Focused Individuals
Senior Vice President and Chief Investment Officer, Treasury & Tax, CHE Trinity Health Inc.
Livonia
www.trinity-health.org
It takes real leadership to make a difference when it comes to advancing diversity in an organization the size of CHE/Trinity Health, the result of the consolidation of Catholic Hospitals East and Trinity. That kind of leadership is what James Bosscher, senior vice president of treasury and chief investment officer, brings to the table. A former assistant treasurer at Ford Motor Co., James Bosscher joined Trinity Health in 2002; seven years later he was promoted to his current position. He is responsible for all tax and treasury activities, including management of $8.5 billion in operating and pension investments as well as $2.8 billion in debt. Bosscher earned a bachelor's degree in finance from Michigan State University and a Masters of Business Administration from Wayne State University. He has served as a board member for the Joy-Southfield Community Development Corporation, and is a co-founder and director of the Adopt-A-School Program that provides mentors to a Detroit Elementary School.
N.Z. Bryant
Diversity Focused Individuals
President and CEO, Patterson-Bryant Inc.
Bingham Farms
www.pattersonbryant.com
As a founding member of Patterson-Bryant, a firm dedicated to providing consulting services related to employee benefits, estate planning and executive compensation, N.Z. Bryant is approaching nearly 35 years in a business that must seem like a lifetime away from his previous career. Indeed, this former teacher in the Pontiac school system, Oakland University and the Detroit College of Business went on to set industry records, speaking across the country from California to New Jersey about how to achieve similar success. And, to highlight just one example of his energy and enthusiasm, he went on give us the Bryant House, a home for battered and abused women. Bryant considers the firm to be a champion of diversity in all respects of its relationships with clients, both current and prospective. "We feel we need to lead by example and that's what we do," says Bryant. The importance of diversity, he adds, is the inclusiveness that makes up part of the picture. "It means that all people/all cultures/all economic statuses are taking a part of our ever-evolving world-"which is as they should." At Patterson-Bryant, diversity is important for at least three reasons. "First, it's just the right thing to do. Second, it makes the world go around. And third, because there's a slice of pie for everyone. No one needs it all!"
Gregory Conyers
Diversity Focused Individuals
Director of Diversity, State Bar of Michigan
Lansing
www.michbar.org
Few people in the state of Michigan are closer to the issue of diversity than Gregory Conyers, who since 2009 as served as the director of diversity at the State Bar of Michigan. Two years later, the organization's board of commissioners unanimously adopted a pledge to improve the diversity and inclusion of the legal profession in Michigan and since then more than 700 individuals and nearly 1,000 entities have signed the pledge in recognition of the importance of diversity and inclusion to the legal profession. For someone who lives and breathes the law, incorporating diversity as an attitude is critical. "Historically, our nation has turned to lawyers for answers to our most intractable problems. At the end of the day, diversity and inclusion in the legal profession is vital to the public's respect for the rule of law." But one of the challenges ahead involves increasing the number of ethnic minorities in the legal profession. "For example, the number of African-American males is low compared with most other professions. And although the percentage of women has grown steadily, women still lag in leadership roles." People who know Conyers will realize he won't take all the credit for these achievements but the State Bar is in a better place when it comes to Diversity because of his leadership.
Elizabeth Joy Fossel
Diversity Focused Individuals
Diversity & Inclusion Council
Varnum LLP
Grand Rapids
www.varnumlaw.com
As the lead attorney on issues of diversity and inclusion at Grand Rapids-based Varnum, Elizabeth Joy Fossel is working hard to make sure the firm is doing its part as a founding member of the Grand Rapids Managing Partners Diversity Collaborative. Clearly, Fossel is a strong advocate in her own right, having been selected as one of the Top 20 Women Lawyers by Lawyers Weekly, and in serving on the state's Risk Reduction and AIDS policy commission as well as the HIV/AIDS informed consent task force. She is also playing a role in guiding Varnum through a five-year plan for diversity, recruitment, and retention efforts. Fossel understands how important diversity of perspective, background and outlook mean to creating and sustaining a vibrant law practice. "Today's talent is far more diverse demographically and socially, and our firm recognizes not only the need to meet the desires of this up-and-coming talent for a diverse workplace, but the sheer power that such diversity brings," she notes, adding that diversity dovetails with recruiting, retention, and training, and clearly complements the search for the best and the brightest talent.
Janet Lynn Fulton
Diversity Focused Individuals
Client Services Officer, Comerica Bank
Livonia
www.comerica.com
For Comerica's Janet Lynn Fulton, diversity is as much about connecting as anything else. A champion of Comerica's efforts to strengthen the organization's culture of inclusion, Janet Lynn Fulton has been an early adopter of many of the bank's initiatives, including the Master of Diversity Awareness program, which focuses on nine dimensions of diversity. Reflecting a true spirit of diversity, Janet Lynn Fulton also underscores the importance of not only accepting others but going beyond what she says is mere tolerance. As a self-described "early adopter" of many of initiatives the bank has created to the Lesbian Gay Bisexual and Transgender community, Fulton points out that the business case is a strong one. "A business that's actively engaged in diversity and also has a diverse workforce is in a better position to serve the diverse segments of its customer base. Profits increase, employee retention remains high, customer service is strengthened and more prospects are expanded. When an organization can mirror the community it serves, it creates a much stronger relationship with its customer base." Fulton adds that a diverse workforce strengthens an organization's creativity. "A diverse group of people will often reach more dynamic solutions than a group of people with similar backgrounds since they are pulling from a multitude of experiences that have been influenced by many environments."
Udesh Kaul
Diversity Focused Individuals
Vice President, Global Supply Management, Delphi Corp.
Troy, Mich.
www.delphi.com
As vice president of global supply management at Delphi, Udesh Kaul has the opportunity of working on a strong team that considers diversity a key enabler for growth. Indeed, in the last six years the company has invested $6 billion in developing a strong supplier base. "This 'spend' has had a significant, positive economic impact on those suppliers and their respective tiers," notes Kaul, who adds that the company's initiatives go even further, requiring Tier One suppliers to follow Delphi's lead in doing business with minorities-"which they did to the tune of more than $100 million in 2012. With more than 100,000 employees worldwide, Kaul says Delphi's diversity efforts extend beyond traditional definitions or categories. "Our diversity focus is integral to our innovation and customer strategies," he notes. Ensuring results in its diversity efforts means taking a measured approach, including through its leadership. "Our diverse representation on our board of directors as well as in our executive ranks and succession planning allows and encourages managers and women of diverse backgrounds to advance and develop into leadership roles that impact Delphi's global success."
Cheryl Kern
Diversity Focused Individuals
Principal, Global Diversity, Inclusion and Engagement, Amway
Ada
www.amway.com
As Amway Corp.'s principal global diversity and inclusion officer, Cheryl Kern has not only watched but participated in the achievement of this direct selling company's key accomplishments in the area of diversity. From a significant increase in the percentage of women in leadership roles, to an increase in the diverse ethnic mix of distributors, notably to Chinese and Hispanic markets, to having an African-American woman in the company's C-Suite, Kern is on a roll-"and is sure to make even more contributions in her quest to advance diversity. A key leader in Amway's quest to be an even more diverse organization, Kern says a first step has already been taken. "We understand the connection of valuing diversity and inclusion as an imperative for attracting and retaining talent." That also means following through. "Our diversity efforts focus on our hiring processes, employee retention and training. In each area leveraging diversity and inclusion enables us to look at opportunities through a different lens and to overcome any 'blind spots' that may exist relative to diversity and inclusion. We more closely consider how to attract diverse talent, what it takes to actively engage employees in their work environment and what training may be required."
Maria Martinez
Diversity Focused Individuals
Community Liaison, St. Clair Shores Youth Council
St. Clair Shores
www.diversityscs.org
As a community organizer, it would be hard to find someone more energetic than Maria Martinez, whose work with the St. Clair Shores Youth Council is making a real difference when it comes to diversity and inclusion. A key to that energy and enthusiasm is highlighting the importance of education for the future, not only of the youth but for the entire community. "You can't sell homes without great schools," Maria Martinez has said, adding: "Without education, there is no way for this county to prosper." The organization, under Martinez' leadership, is clearly making inroads when it comes to creating a diverse environment, having increased its membership some 2,000 percent, hosting a first-ever Education Forum with a focus on diversity, and, for the last five years, hosting the only Martin Luther King Jr. celebration in the city of St. Clair Shores. The organization is also using unique examples of storytelling-"notably an ongoing "community quilt" that organizers expect will travel the state and, quite possibly, spawn others like it in neighboring Macomb County communities. As Martinez explains, promoting diversity ultimately creates opportunity. "The more diverse the organization or business the more opportunities that exist. It's really that simple!"
Anup Popat
Diversity Focused Individuals
CEO, Systems Technology Group Inc.
Troy
www.stgit.com
It would be hard to beat the 98 percent repeat business track record that Anup Popat and his Systems Technology Group enjoys as a technology services firm, one that specializes in software application development and management outsourcing. Anup will tell you that having a global business and a diverse workforce go hand in hand. From hiring the best talent and constantly challenging the status quo, Popat expects to continue that growth. "Our business is global. Our clients' business is global. The need to be able to understand each market our customer operates in is critical to our success," he notes. "This can only happen by having a diverse workforce that supports a diverse culture." It also means making sure the efforts are continuous. "Our goal is to make sure that we do not get comfortable with the status quo, but to make sure we challenge ourselves to think differently."
Jim Roberts
Diversity Focused Individuals
President, Jim Roberts Enterprises LLC
St. Joseph
www.jimrobertsenterprises.com
Jim Roberts is one of those individuals who has a seemingly never-ending supply of energy, a good thing really as he's got just as many ideas in his head and on his plate. Consider the fact that he's worked on projects the world, in the process saving his clients as much as $50 million. But money isn't what drives Jim Roberts. Rather, he has a heart and passion for the growth, development and promotion of diverse and inclusive business enterprises. Want proof? Last year, Jim Roberts spent more than half his time working with other minority or women-owned enterprises. Roberts sits on the board of directors for the Michigan Minority Supplier Development Council and has served on the Council for Labor and Economic Growth for the state of Michigan. Roberts believes the best way to provide an equal footing is to help people create generational wealth-"dollars they can pass down to their heirs. "That, in turn, helps to create a sustainable economic and social environment within the minority community," he adds. "Whether I am helping a client or business owner identify a new client or a potential business opportunity, helping a client restructure their business to increase profits, or doing their investing, I am hands on when it comes to creating long term value. The color that helps break down barriers is green."
Randy Walker
Diversity Focused Individuals
Chief Diversity Officer, Henry Ford Health System
Detroit
www.hfhs.org
As vice president and chief diversity officer at Henry Ford Health System, Randy Walker is putting a keen interest in issues that are key to the future of one of the region's biggest health care providers. Having already served in several key leadership roles, not only at Henry Ford Health System but elsewhere, Walker's focus on issues of diversity and inclusion make him one of the most influential leaders in the area. A past president of 100 Black Men of Greater Detroit and a former board member of University of Detroit Jesuit High School and Black Family Development Inc., Walker exudes the confidence required to make Henry Ford Health System an increasingly diverse workplace environment.
Tom Watkins
Diversity Focused Individuals
President and CEO, TDW & Associates
Northville
After a career as an educator, notably as Michigan's state superintendent of schools, Tom Watkins saw the need for an increasingly diverse workforce, one reason he formed TDW Associates to help with that monumental task. Michigan's state motto is often quoted: "If you seek a pleasant peninsula, look about you." Tom Watkins' response to that: "If we want to build a stronger company, community, state and nation, we need to look about us. The rich talent that surrounds us that may not look like us." Watkins makes it clear how important diversity is to his firm. "It's a cornerstone of our business, one that's integrated into everything we do-"from staff and contractor hiring, training, customer service and outreach." That importance is underscored, he adds, with the reality that fast-paced change is almost certainly going to continue for the foreseeable future. "Ideas and jobs can and do move around the globe effortlessly. We need a diversity workforce to understand and connect with this world. Diversity makes us stronger." Embracing diversity is also a way to grow stronger. "As my first boss told me-"'if both of us think alike, one of us is unnecessary.' Having people of different background and experienced brings strength to an organization."
Jessica Woll
Diversity Focused Individuals
Managing Partner, Woll & Woll PC
Southfield
www.wollandwollpc.com
As the managing partner in a family law firm, Jessica Woll hasn't looked back since she joined the all-female Woll & Woll practice two decades ago. Bringing a self-described love and understanding of all cultures to the workplace, Woll believes the diversity around her, coupled with her having lived abroad-"having called England, Japan and even Thailand home-"make the Detroit area a richer place to be. She admits having a staff with different ethnic backgrounds enables Woll & Woll to be better than the average law firm. "The diversity at my office allows us to be sensitive to our client's needs and cultural differences. Having a staff that comes from many different backgrounds enables the firm to meet our client's needs and provides an understanding that can impact a client's divorce. We have an inclusive work environment and actively embrace a diversity of people, ideas, talents and experiences." They also work hard at what they do, all with the client in mind. "We are available to our clients 24/7," says Woll. "We take a creative approach to problem solving and our clients always feel they have our team in their corner."
Peter Wong
Diversity Focused Individuals
President, Roy Smith Company
Detroit
www.rscmain.com
In his role as CEO of the Roy Smith Company, Peter Wong has no illusions about how being a Minority Business Enterprise helps the industrial gas and welding supplies firm he leads. "It's an added benefit. But not why they're going to do business with you." Still, Wong, who is a Certified Public Accountant, embraces diversity in a number of ways, including having served as chair of the Asian Pacific American Chamber of Commerce, and on the Advisory Council for Asian Pacific Affairs, to name just a few. Wong had previously worked for Roy Smith Company in the 1980s, eventually returning to buy the company. He has served on the board of the Detroit Executive Service Corp., Detroit Regional Chamber, Michigan Minority Business Development Council, and is an active member in other business associations, including the Economic Club of Detroit.

Data Driven Detroit
Diversity Champions
Kurt Metzger, director
Detroit
www.datadrivendetroit.com
Data Driven Detroit, formed by Kurt Metzger, a former U.S. Census Bureau analyst as a regional information resource, hopes to bring all the non-profit groups in the region together as a means to create the ultimate "big picture"-"at least as far as demographic related data is concerned. If it's successful (and who could imagine it not being?), the quest will transform the region. The initiative, made possible with granting from the Skillman and Kresge foundations, came about after Metzger had served as research director for the United Way of Southeastern Michigan. A timely initiative is an online interactive map showing demolitions in the city of Detroit, with users able to select the status of each. Data Driven Detroit worked to gather data from the city to create this window into the world of renewal.
Hispanic Center of Western Michigan
Diversity Champions
Martha Gonzalez-Cortes, CEO
Grand Rapids
www.hispanic-center.org
The Hispanic Center of Western Michigan has an impressive goal of service as it continues a legacy of service to the Latino community in the area, as well as the broader community. The Center provides an avenue for education and openness to promote discussion of the distinctions and values of different nationalities and cultures. Its stated mission: To serve. To educate. To advocate. The Center also focuses on the common thread that unites all people: a desire for understanding and respect of individual differences. "We believe that this shared human experience connects us all," says Martha Gonzalez-Cortes, who has served as CEO of the Hispanic Center on two separate occasions, having previously served from 2000 to 2003 when she left to be state director of Michigan's Office of Migrant Affairs. At the basis of the Center's success is a bilingual and bicultural staff that allows the Center to provide a culturally competent and responsive setting for its Spanish-speaking clients. Minimizing the misunderstandings among different cultures allows for a more open dialogue and effective communication.
Indo-American Chamber of Commerce-"USA
Diversity Champions
Alka Kudesia, executive director
Franklin
www.iaccusa.org
The Indo American Chamber of Commerce-USA (IACC-USA) is an association of individuals of Indian and/or American heritage, interested in starting or growing businesses. The core group comprises of residents of Southeast Michigan. IACC-USA is a non-profit organization and its main activities include the organizing of networking events in southeast Michigan (Detroit and suburbs). It is allied with other local Chambers of Commerce such as TiE and APACC and is a member of the council of Ethnic Chambers.
Lebanese American Heritage Club
Diversity Champions
Suehaila Amen, president
Dearborn
www.lahc.org
This organization actually began as an athletic organization in a community that now is home to one of the largest populations of Arab Americans. Founded in 1982 by Ali Jawad, a Lebanese business owner and community leader, the organization is now lead by Suehaila Amen, herself a beacon in the Arab American community who continues to see her influence grow through work with numerous Arab-American, Islamic and non-Arab associations. Since its inception, the Lebanese American Heritage Club has expanded to serve its members and the greater Michigan community through a variety of diverse programs, including one of the largest ethnic scholarship programs in the nation. Members volunteer their time and make financial contributions to support the programs offered. The organization serves as an institution dedicated to enhance community relations through the sponsorship of a multitude of activities in the greater community while promoting programs for Arab youth, including scholarships, athletics and children's events.
Michigan Minority Supplier Development Council
Diversity Champions
Louis Green, president & CEO
Detroit
www.minoritysupplier.org
The Michigan Minority Supplier Development Council, with more than 1,200 certified minority businesses and more than 300 corporate members in place since its founding in 1977, is clear in its mission: certify minority businesses; provide access to procurement opportunities; and develop capacity for minority business development. The organization has been recognized by the National Minority Supplier Development Council as "Council of the Year" for its work with major corporations to promote minority business development and growth. Louis Green heads the Michigan Minority Supplier Development Council, making connections with talented business owners and helping make their dreams a reality. With more than 2,000 members, MMSDC facilitates more than $12 billion annually in purchases from minority businesses. It is the largest of the 37 regional councils within the National Minority Supplier Development Council network.
Michigan Roundtable for Diversity and Inclusion
Diversity Champions
Thomas Costello, president and CEO
Detroit
www.miroundtable.org
The Michigan Roundtable for Diversity and Inclusion, an organization formed more than 70 years ago to create diversity, access and equity for all, focuses on youth development. And their track record is impressive, says president and CEO Thomas Costello, who points to the fact that more than 2,000 youths throughout the region make up part of a Youth Consortium Network. The Michigan Roundtable carries with it a proud history of providing cultural competency programs for organizations that may otherwise struggle with developing a strategy for diversity and inclusion. It helps that the organization has such strong leadership, says Costello, who served on its board before becoming CEO.
St. Vincent and Sarah Fisher Center
Diversity Champions
Diane Renaud, CEO and executive director
Detroit
www.svsfcenter.org
There's nothing quite like success-"and when we talk about St. Vincent and Sarah Fisher Center, it's the success of others. Consider the fact that the average first-time pass rate for Detroit students taking the GED high school equivalency test is about one in four. At St. Vincent and Sarah Fisher, it's nine out of 10, paving the way for a brighter future. The organization executive director Diane Renaud serves has been reaching out to the community for almost 170 years. And even with a change in focus that occurred in 2006 (the alternative was closing its doors), the St. Vincent and Sarah Fisher Center is relentless in its mission. More than half its clients are women and 98 percent are minorities. And still, it's the ability to empathize through personal experience that makes the organization's staff so effective. "Having lived within a culture often leads to potential employees being able to demonstrate a greater understanding of what our students truly face," notes Renaud. "It's not about who is the brightest, it is about who can serve the needs of our students the best."
Street Democracy
Diversity Champions
Jayesh Patel, managing attorney
Detroit
www.streetdemocracy.org
At Street Democracy, a not-for-profit organization that provides a broad range of legal services to those that would otherwise simply do without, the value of an inclusive workplace lies in what you might be missing without it. From the perspective of Jayesh Patel, allowing diverse voices to be heard and valued is part of an ongoing move toward a knowledge base that allows you to tackle future problems-"even those you can't foresee today. One of Street Democracy's current projects, Street Outreach, includes a self-help library, a freedom of information portal and Swagon, a community owned mobile store designed to support Detroit-made products by marketing and selling them to diverse populations. Swagon representatives attend a wide variety of events and festivals in and around the Detroit area and as part of Street Democracy provide a full-service nurturing of a business idea, far beyond the typical incubator or co-working model. From concept to sale, Swagon will remain an integral partner in the development of the enterprise and entrepreneur, saving prospective entrepreneurs more than $30,000 in startup costs.