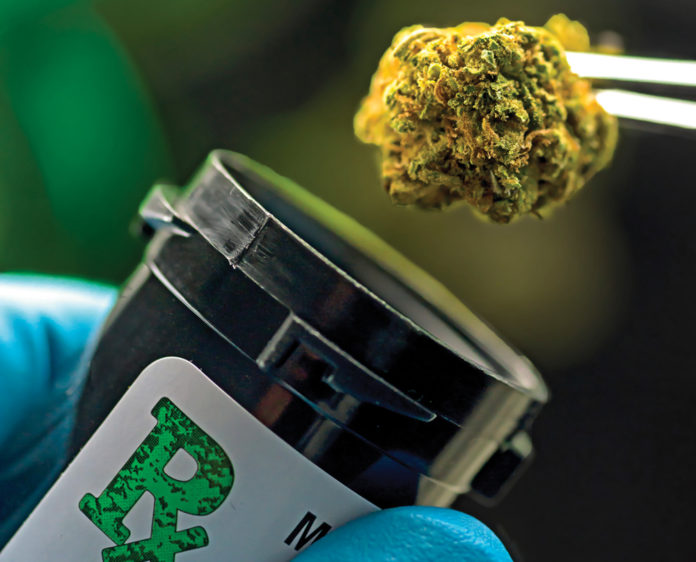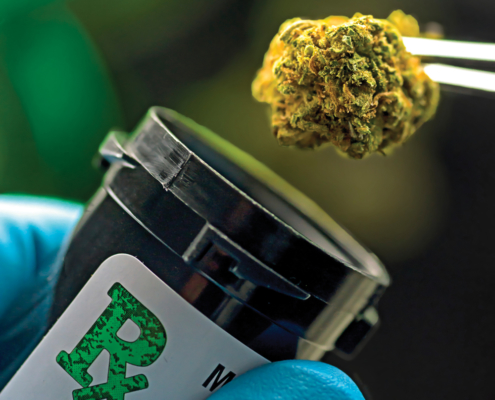 Bill Cousins started in law enforcement as a Livonia police officer in 1977. Back then, even being caught with a bag of weed was a felony.
Fast forward 41 years and Cousins is indirectly helping people sell the drug, albeit for medical purposes.
This is hardly a tale of a cop turned bad or even a quantum ethical leap in his mind. Cousins, who went on to work 22 years as a special agent with the United States Secret Service, is merely following his nose for business as a private security contractor with Troy-based W.J. Cousins & Associates.
Cousins specializes in developing security plans for a burgeoning number of medical marijuana-related operations, which is likely to include provisioning centers, grow facilities and processing outlets.
"Law enforcement has lost the war on marijuana; you can't control it," said Cousins, who led two security companies after leaving the U.S. Secret Service. "I would compare it to Prohibition, when everyone was bootlegging alcohol and beer and wine out of their homes."
History, he says, is repeating itself.
"We're having the same phenomenon now with marijuana. People are just growing it."
Cousins' security firm is one of a litany of businesses profiting from the green boom in Michigan. They represent a subsidiary of professions — ranging from architects to tax accountants — that only 10 years ago would likely have steered well clear of anything bearing even a whiff of weed.
That all began to dissipate in 2008, with the approval by Michigan voters (62 percent were in favor) for the medicinal use of cannabis.
While a 10-year battle ensued between the state courts and local authorities in how that law would be enacted and dispensaries would be regulated (since rechristened as "provisioning centers"), business is buzzing, despite the fact that no licenses have been issued, as of June.
Even so, the slow pace hasn't hastened interest in those itching to get in the game.
Growth is only expected to surge with the prospect of a state ballot proposal this November that would, if approved, allow for the recreational use of marijuana. A February poll conducted by NORML (National Organization for the Reform of Marijuana Laws) showed 61 percent of likely voters approving such a measure.
Enter Cousins, who's added the budding industry of medical marijuana security consulting to his staple of security and private investigation work that already includes security plans, background checks, finding missing people and probes into cybercrime. He has no qualms about his new line of work, either.
"In my opinion, the people have spoken," Cousins said. "The legislature has spoken on the state level and they want to decriminalize it totally, so I believe it's in everybody's best interest. It's out there."
And about the issue of quality? Cousins is equally straightforward in his opinion.
"We should regulate and control the quality so when an individual goes into buying a certain product, they know what they're getting, that they're not getting something that might be mixed with carcinogens or chemicals that you don't want in your body, that you might get off the street.
"With the state guidelines, like this and in the other 28 to 30 states, they're controlling the grow process and eliminating those hazards to the patients. We should accept, embrace and make the most of it, tax-dollar wise, medically, everything."
While Cousins started out catching offenders who were holding the "bag," attorney Matthew Abel has always been the front line in defending them.
Purple Test
Based in Detroit, Abel has never shied away from his belief that the use of marijuana should be legalized. The founder and senior partner of Cannabis Counsel, he also serves as executive director of NORML's Michigan chapter.
About 15 years ago, Abel would doggedly argue on behalf of his criminally charged clients that the law defined marijuana as "Cannabis Sativa," and it was the prosecutor's job to prove that his clients were, indeed, guilty of possession or use of that specific substance.
Because both Cannabis Sativa and Cannabis Indica turned purple on a drug test, Abel would argue that the findings were inconclusive and, thus, such a case should be dismissed.
"I used to have to whisper that I was a marijuana lawyer. Now I can say it out loud," said Abel, whose law practice on East Jefferson Avenue once housed former FM rock station WWWW (now WDTW), where famed shock jock Howard Stern hosted a morning show in the early 1980s.
"The public attitude has changed markedly in the last 10 years. We've gone 15 points in my direction," said Abel.
When the vociferous barrister switches hats from legal eagle to prospective entrepreneur, Abel sees nothing but opportunity, citing the need for testing labs, transporters, and software companies to facilitate the entire "seed-to-sale" process.
Medical marijuana businesses will be required to be licensed by the state and those employed will be subject to background checks. The state's Licensing and Regulatory Affairs (LARA) agency is overseeing the licensing process.
Grow operations will bring environmental issues, including waste streams and recycled soil, and the need for companies to remediate them, Abel said. Lobbyists will see an increased workload as well.
"The increase in property values can't be overstated," Abel said. "It's just huge, partially because it's in the state. As more and more places pass ordinances, hopefully, there won't be such a challenge finding real estate, but contractor industries, there are all types of ancillary businesses, and the grow shops, people are buying lights and fans and the nutrients and will continue to do that."
Finding a Place
The brimming medical marijuana industry has opened a new vista for Allegan-based Wightman & Associates, a company that provides architectural, engineering, planning, environmental and design services, among others.
The southwest Michigan firm is working with five different clients, designing structures that will serve as future sites for provisioning centers, grow facilities and processing outlets. They range in location from Bay City, Midland and Saginaw to south of Muskegon.
Construction has yet to start, as owners of those respective facilities await state approval and licensing.
The whole process has been an eye- opener for Carl Baxmeyer, the 73-year-old employee-owned firm's business planner. Wightman has offices in Allegan, Benton Harbor and Portage, on the outskirts of Kalamazoo.
Wightman's involvement in the legalized marijuana realm came by happenstance.
The firm's surveying team was working with a client who was having difficulty pinpointing an ideal site. The surveying unit recommended Wightman's planning squad and things took off from there.
"When they first came to see us and we talked to them, (I thought) what is there to this? Some flower pots, some grow lights, you know, come on," Baxmeyer said with a slight chuckle. "I rapidly learned that there is a lot more to it, especially where you're talking about everything from the growing to the processing, as well as the provisioning.
"So part of it was self-education and then we took our plans and showed them to firms that are knowledgeable in the industry and got a lot of positive feedback about how we had come up with the design and how it was laid out and how the whole process would flow throughout the facility."
Wightman did a GIS (geographical informational system) analysis to hone in on suitable sites, and when one was found, the company helped the client navigate the local approval process. Then the company began designing a structure.
"One thing led to another and we were off and running with our first design and their attorney has since recommended us to several people," said Baxmeyer, whose specialty includes the planning and design of K-12 school buildings. "So we continue to pick up clients and, no pun intended, it's a growing portion of our practice here in Michigan, designing these types of facilities."
To get a handle on the marijuana industry, Baxmeyer visited facilities in Colorado, which legalized recreational use in 2012.
Baxmeyer said he was amazed to find one Colorado grow operation nestled discreetly in a business park. "You would never know it was a grow facility," he said.
Today, Baxmeyer, who who started in the field 42 years ago, doesn't give it a second thought that he and his firm have traversed into a culture that was once associated with "reefer madness."
"It's legal," Baxmeyer said. "Heck, we work on casino projects and there are people who have some sort of ethical dilemma with gambling. It is a legal operation. We didn't have any problem with it and a lot of us firmly believe that there truly is a medical reason for marijuana and its use.
"It's a changing view on marijuana in general. If you'd said this 20 years ago, there would've been a huge hue and cry. From everything I've read, learned and discussed with people, certainly overall, people's views are much broader than they were 20 years ago. I can't imagine it 20 years ago … You're doing what!?"
Providing Protection
The contrast between the winged-tip-shoe insurance salesman and the roach-clip holder couldn't be greater, but Eric Ede of Utica-based Green Leaf Insurance seamlessly melds those two stark images.
Ede is a medical marijuana card holder, citing insomnia. Though he's been an insurance agent for 20 years, he started Green Leaf two years ago and is frequently receiving leads for medical marijuana-related businesses by going to events and networking.
"Being a medical marijuana card holder, I felt it was important to be able to offer protection for these people," Ede said. "This is a new market, but this allows them to navigate the process of getting the protection they need.
"I also want to educate people on this—what the product is, how it can be used—and you hear all these amazing medical stories on how it's being used. I think it's awesome what's happening right now."
Ede's business offers crop insurance and commercial property coverage, as well as workers compensation for those in the medical marijuana industry.
"These people have a lot of money invested in it, in the equipment and everything," he said.
For instance, the state will require all licensed facilities to carry at least $100,000 in liability coverage in cases of adulterated marijuana.
"I feel like there definitely could be more education on the process, how to do it," Ede said. "It's not really there."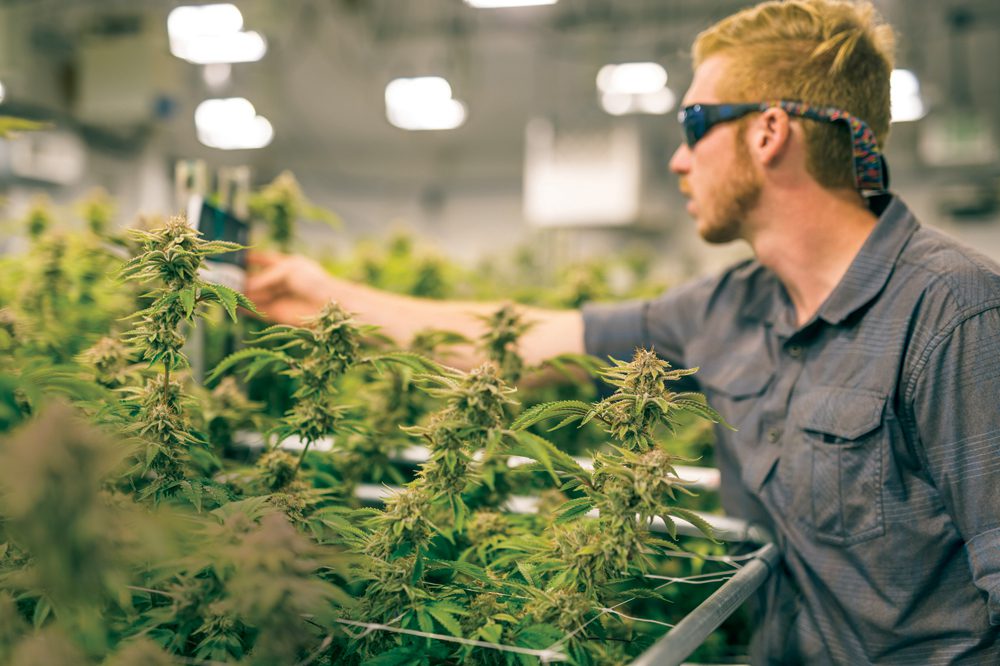 Intricate Details
In drawing up security plans, Cousins has become immersed in the intricacies of Michigan's medical marijuana law.
The "seed to sale" concept will require facilities to use the METRC (Marijuana Enforcement Tracking Reporting Compliance) system, which provides each plant an electronic ID number, so it  can be tracked throughout the entire process, similar to monitoring alcohol or pharmaceutical sales.
The state is also putting parameters on surveillance systems, ensuring recordings are kept for a certain period of time. Cousins recommends clients go with a comprehensive commercial tracking system that specializes in cannabis sales, two options being BioTrackTH or SilverLeaf CBC.
"Michigan's guidelines for regulation aren't as stringent as some other states, but I tell my clients what's going to dictate some of the levels of security are going to be your insurance providers," Cousins said. "Because the insurance company will insure the actual marijuana product itself, but they won't insure the currency — any cash on hand — and the reason for that is going back to the METRC, BioTrack and SilverLeaf systems, whereas, if there's a break-in and you have $5,000 in your safe and may claim there's $50,000 … there's no accountability factor.
"The METRC and BioTrack systems, they provide an accountability to state and local authorities, as well as for auditing and so forth for your internal audits."
Once the state issues provisioning center licenses, those with any lingering anti-pot bias may be compelled to jump in, Abel said. The fact the U.S. Justice Department hasn't been budgeted to go after state-compliant medical marijuana businesses is also reassuring to those who've remained on the sidelines.
In the end, the weed entrepreneur is no different than any business person, Ede said.
"They're people that own other successful businesses and they're just looking at this as another opportunity to have a successful business."