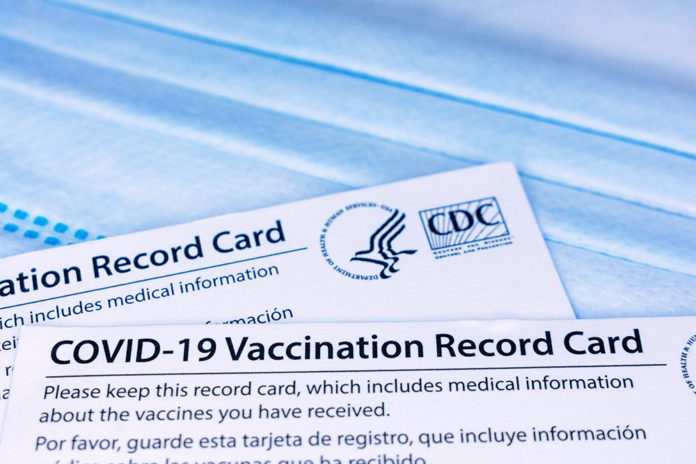 When the U.S. Food and Drug Administration approved the Pfizer/BioNTech COVID-19 vaccine a couple of weeks ago, the thought was that the approval would spur vaccine mandates in companies around the country.
If a survey released this week by Willis Towers Watson, a multinational advisory and insurance firm, is any indication, that is turning out to be the case.
The survey, posted on the firm's website, shows that most companies are now planning on having vaccine mandates for their employees by the end of the year. Some 52% of employers taking part in the survey said they'd have at least one vaccine mandate in place. Right now, some 21% of companies have some type of mandate in effect for employees.
Nearly 1,000 employers employing nearly 10 million people took part in the survey.
"The Delta variant has made employers take new actions to keep their workers — and workplaces — safe and healthy. We expect even more employers to institute vaccine mandates in the wake of FDA approval of the Pfizer vaccine," Jeff Levin-Scherz, M.D., population health leader, Willis Towers Watson, said in a statement. "This is not an easy situation for employers to navigate. For instance, new policies such as tracking workers' vaccinations can improve safety but also bring additional administrative requirements. At the same time, employers will continue efforts to encourage vaccination and communicate regularly with employees."
According to Willis Towers Watson, a Gallup poll recently showed some 52% of employees favors or strongly favors vaccine mandates, and 29% "strongly favor" them versus "strongly opposing" them.
But the Society for Human Resource Management is reporting that breakthrough cases – those who've been fully vaccinated getting COVID – are increasing the skepticism among some employees about vaccinations.
But, according to SHRM, employers are standing firm on the issue of vaccination policies.
"The uptick in breakthrough cases seems to prompt employers, especially those with operations in substantial or high-transmission areas, into significantly increasing their encouragement efforts … or mandating COVID-19 vaccinations altogether," Alex Leiva, an attorney with Greenspoon Marder in Miami, told SHRM.
Companies may be following the lead of federal agencies. President Joe Biden has said federal employees will be required to confirm they are vaccinated or get frequent testing. Likewise, the Pentagon said active-duty service members will be required to get vaccinated.
Here's how a variety of companies nationwide are dealing with the issue, according to published reports:
According to The Hill, CVS Health is requiring COVID-19 vaccinations for all corporate employees and certain clinical workers who interact with patients. These employees must be fully vaccinated by Oct. 31. Pharmacists have until Nov. 30 to get the shot.
"While the vast majority of our employees have chosen to be vaccinated, this decision is in direct response to the dramatic rise in cases among the unvaccinated," CVS Health President and CEO Karen Lynch said in a statement.
The Wall Street Journal reported that Chevron, the nation's second-largest oil producer, is requiring expatriate employees, workers traveling internationally and employees on U.S.-flagged ships to receive COVID-19 vaccinations. It also will require offshore workers in the Gulf of Mexico and some onshore support staff to be vaccinated by Nov. 1. The company is considering mandates for each Chevron business unit as well, and could implement requirements more broadly through its 47,000-member workforce, The Journal reported.
Delta Air Lines announced it will impose a $200 monthly surcharge on employees who do not receive the vaccine. The surcharge will apply to any unvaccinated employee who uses Delta's employer-provided health plan. Additionally, unvaccinated workers will be required to wear masks while indoors, and submit to weekly COVID-19 testing starting Sept. 12. Unvaccinated employees will also be ineligible for pay protection if they contract the illness beginning Sept. 30. The surcharge will take effect on Nov. 1.
"The average hospital stay for COVID-19 has cost Delta $40,000 per person," Delta CEO Ed Bastian said in an employee memo, according to CNBC. "This surcharge will be necessary to address the financial risk the decision to not vaccinate is creating for our company."
According to the New York Times, United Airlines employees must provide proof of vaccination within five weeks of the vaccine's full approval or by Oct. 25, whichever comes first. Those who provide proof by Sept. 20 will get a full day's pay, excluding employees who have already received a union-negotiated bonus for getting vaccinated. Employees who fail to comply with the new policy will be fired. But United will make exceptions for documented religious or medical reasons, as required by law, The Times reported.
The Equal Opportunity Employment Commission has said employers can legally require COVID-19 vaccines as long as they follow requirements to find alternative arrangements for employees unable to get vaccinated for medical reasons or because they have religious objections.
CDC data shows that approximately 61.4% of the U.S. population 12 and older are fully vaccinated, and some 72.2% have received at least one dose.