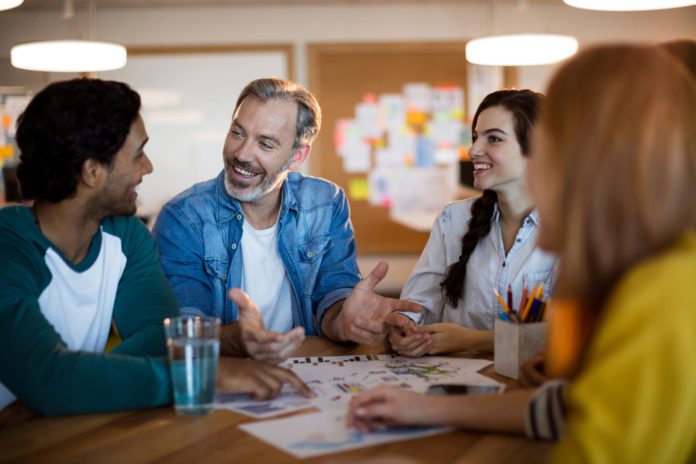 When you're a small company, it may feel like you cannot compete against the Fortune 100 businesses in terms of benefits and compensation. But one such firm, Process Control Outlet, is doing everything it can to keep its employees happy, healthy and well paid within its industry.
How many employees, exactly? About 32, said Sally A. Larrabee, director of Human Resources, Payroll and Safety. But the company's efforts to focus on strong benefits packages and comparable employee compensation within its sector have proven successful: Process Control Outlet has lower-than-average turnover and high scores from workers in key comp and benefits surveys.
The process is relatively simple, Larrabee explained. For example, she does deep dives at least twice a year into what kinds of salaries other companies in its field offer. This ensures Process Control Outlet is competitive with everyone, including larger firms. Larrabee makes sure to also check salary expectations for her local market as well as Texas as a whole.
Process Control Outlet employees also receive raises twice a year, Larrabee added, and they receive regular compensation and performance reviews. Rather than look at how they're doing annually or every six months, the company goes out of its way to review these key areas every 90 days.
"We're right in the middle of (larger businesses) like Exxon and Chevron – we have to work hard and show our employees that we want to keep them here," Larrabee said. "You could go to work for them, but you'd be a number, working the midnight shift. … Here, we work from 8 a.m. to 5 p.m., Monday through Friday. You will get to see your kids."
Workplace happiness
Surveys and studies show paying attention to compensation is all-important in the hiring process. For example, career website Zety did a survey of more than 1,000 people and its findings reinforced what has been true in HR for some time: Most people would opt for a higher workplace happiness quotient if it meant they made less money. Seventy percent said they would rather have a satisfying job that doesn't pay a huge amount of money, while just 30% would prefer a large salary even if it was tied to a dissatisfying role.
Another area where Process Control Outlet looks to stand out is in the way it handles copays for its medical insurance. Its employees have three health care plans to choose from, and all of them receive a kind of stipend to make copays easier for employees to cover, Larrabee said.
"We're trying to cover as much of their out-of-pocket costs as possible" with contributions to employees' paychecks, Larrabee said.
Other benefits include 100% coverages for short- and long-term disability policies and life insurance options. Process Control Outlet also has a partnership with the local workforce commission and colleges that lets its employees take classes for career development – the company covers about $450 per semester for employees to keep learning and growing, Larrabee said.
For example, Larrabee takes online courses in nursing and insurance – skills in her background that help her in her everyday job at Process Control Outlet – through this program. She also can take the classes online, which makes it easier for them to fit into her schedule.
Process Control Outlet also tries to think about what kind of benefits it can offer to parents and families. One unique program allows employees to bring their infants and babies up to age 2 into work with them – as long as their work area isn't in something that may be a safety concern, such as high-traffic tooling.
"You can have a nursery set up in your office," Larrabee said. "We just had two kids finish the program, and they're together in the same school now. It's been kind of quiet around here."