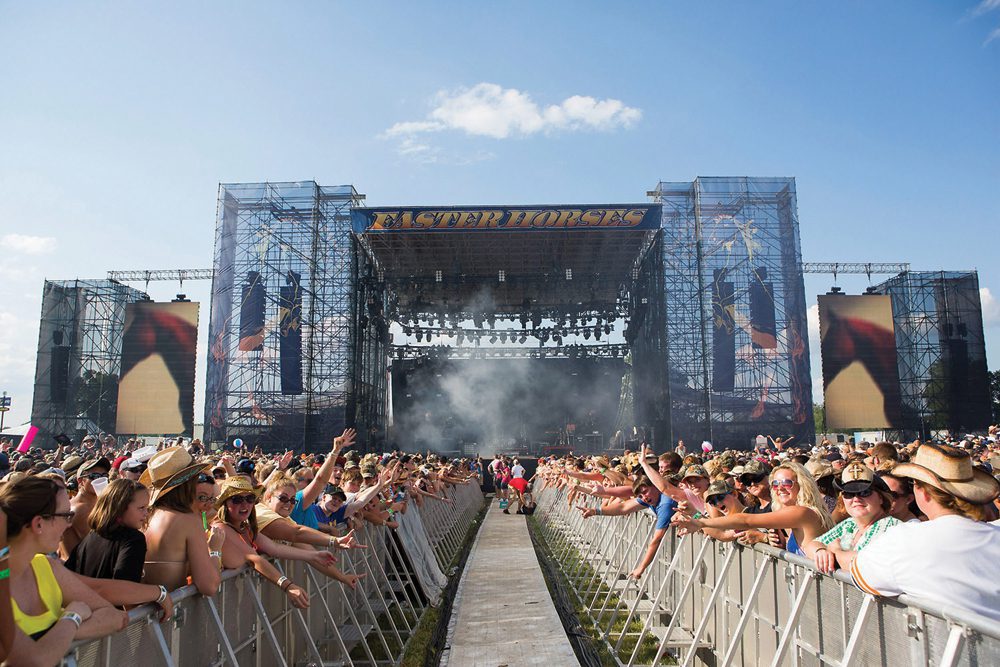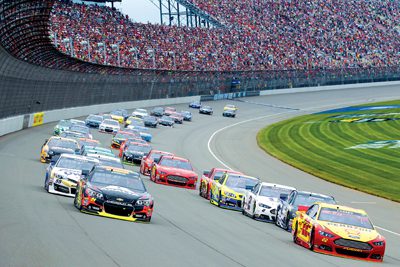 When Roger Curtis took what he now calls his "dream job" as president of the Michigan International Speedway, a 1,400-plus acre facility in the Irish Hills that's home to two NASCAR events every summer – the Quicken Loans 400 and the Pure Michigan 400 – it wasn't long before he realized there were problems.
Not insurmountable problems, but significant issues that had to be fixed.
Those problems eventually were addressed and continue to be solved. But this is nothing if not a complex story that deserves telling in the measured words of Curtis, a music buff from way back, a student who loved science, but hated the kind of high-level complex math that would keep him from becoming a nuclear engineer, and – this is key – someone who remains passionate about motorsports.
Curtis left Purdue "before they kicked me out," eventually earning a marketing degree from Indiana State in 1990.
He then began toying with his other passions, including music, which led to a job with a small record label in North Carolina, the thought being that somehow it might be easier than breaking into the business in Los Angeles.
"It was probably worse," says Curtis.
What made it worthwhile was meeting his future wife, who had been waiting tables at a Mexican restaurant when they met, and who later supported her husband's dream to make it in the business of motorsports. Curtis started with a year-long stint where he worked for a driver for free, his task being to raise sponsorships.
By 1996, Curtis was being paid for his growing expertise, including four years at Watkins Glen International, a track that, along with MIS, is part of the International Speedway Corporation.
Now 48 years old, Curtis had two other assignments with ISC before joining MIS at its top spot at the beginning of the 2006 season.
It was a post he'd been eyeing for some time (not only for its attraction as lead dog at a track, but for the fact that his wife is from Michigan and they and their three sons very much like the area).
And when the incumbent left to return to his native Alabama, the job was his for the taking.
But let's get to those problems.
Traffic backup
One of the major issues Curtis quickly discovered had to do with something seemly mundane, but ultimately critical to the entire operation of a facility that essentially derives 90 percent of its revenue from two major race weeks – the Sprint Cup Quicken Loans 400 in June and the Pure Michigan 400, also a Sprint Cup event in August.
You think you know what a traffic problem looks like?
How about the five hours it would take traffic to exit the MIS facility in 2006 and reach the surrounding public roadways. And we're not talking about getting home. Just getting out of MIS.
"It used to be worse," said Curtis, referring to instances of ticket holders sometimes missing the beginning of a race, entirely due to traffic congestion.
It didn't take long for Curtis to set in motion a solution, beginning with an invitation to Kirk T. Steudle, who had just taken over as director of the Michigan Department of Transportation, to come down and take a look at the traffic problems.
Steudle did so, taking a helicopter around the facility with a bird's eye view of how that perennial traffic problem might be eased.
"We showed him what was going on and what our problem was – that we would have people come here, but they'd only come once," says Curtis.
The helicopter ride took place and Steudle came up with traffic reconfiguration solutions that were almost stunning in their ability to re-engineer traffic flow to the point where MIS can now empty its parking lots in about an hour and 20 minutes.
The obvious question: why did it take a visit from MDOT to fix a problem that was so persistently troublesome?
"The director told us that no one had ever asked," says Curtis.
Capital needs
That issue out of the way, MIS was well positioned to put together a capital improvement plan that its ownership could put on the table – and remember, with 12 tracks in the ISC family, it's a big table.
But the MIS was one hungry little member of the family, the result of years of capital neglect, a second problem Curtis had to solve and to do so as quickly as possible.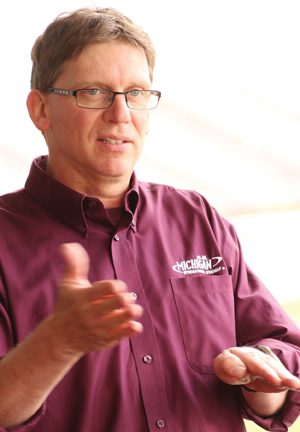 "It was an antiquated facility," he notes. "We'd spent a lot of money building grandstands, but there was very little spent on upgrading the rest of the infrastructure, things like the scoreboard, the public address system, and the price-value relationship wasn't making as much sense as it should from a fan standpoint."
Curtis is smart enough, and perhaps passionate enough about what he felt could be done to improve the MIS experience, that he knew being more like Disney from the perspective of fans was ultimately the way to go if the future of the track was to be as strong as he intended it to be.
That's when the negotiations with the state of Michigan began.
Here's a little perspective to set the stage:
A study conducted by the University of Michigan and released in 2014 showed MIS generates more than $414 million annually in total economic activity and $173 million in direct economic benefit to the state.
Compare that with the $49.3 million economic boost that Super Bowl XL brought to the Detroit area – nearly a tenth of what MIS brings each and every year.
So what was MIS and its ownership able to do in its talks with the state?
For starters, being able to hold back its Michigan Business Tax – perhaps $1 million in money that the state didn't actually lose but didn't receive from MIS – gave Curtis a pretty effective strengthening of his business case that led to a capital improvement budget.
"We ended up spending about $80 million in total," notes Curtis.
Among the improvements was a $7 million resurfacing of the track in 2011, using a polymer-enhanced asphalt compound specially formulated for the racing surface and designed to protect the track from weather changes between the harsh Michigan winter and hot summers.
A year earlier, MIS spent $17 million on a two-story media center building that also features 30 corporate suites and kitchen area. Adding solar energy capability, the building became one of the largest U.S. producers of green energy in American sports.
Those two concerns – traffic congestion and a capital reinfusion – both successfully addressed, Curtis took hold of a third issue that could have had just as devastating an impact on the future of MIS.
Essentially, his audience was shrinking.
Reaching out to a new base
In stark contrast to the exponential growth enjoyed by NASCAR beginning in the 1970s and through the 1990s and even early 2000s, a period when tracks were being built, grandstand seating was measured in 20,000 seat bites and prices were steadily climbing along with demand for sponsorships, Curtis could see trouble brewing.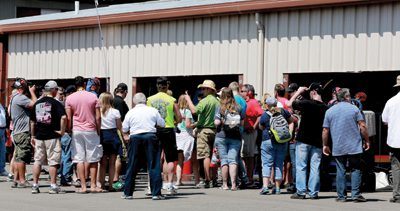 Or more to the point, about to boil over.
"We were ahead of the curve in Michigan," he says, referring to the "Great Recession" that came full bore to the nation in 2008. "We were already starting to lose some fans and auto industry folks were nervous, and layoffs were occurring, albeit at a small level, but we continued to sell out and we still had a wait list."
What became clear and remains clear to Curtis and his team was that holding on to the traditional demographic associated with NASCAR wasn't going to be a long-term successful proposition.
"People were talking about 'lapsed fans' but it was different in Michigan," says Curtis. "Michigan doesn't have lapsed fans. They left when they lost their job and they're now helping to support other tracks throughout the country."
What's changed – and MIS is sailing into that new wind – is that an economy that's increasingly based on the millennial audience is what will help reinvent MIS and the future of NASCAR.
And Curtis has taken that view to heart, first with the 2013 launch of Faster Horses, a three-day music festival MIS has created in partnership with Live Nation.
The 2015 version, which will be held July 17-19 at MIS, will feature stars like Brad Paisley, Carrie Underwood, Dwight Yoakam, and Lonestar (more information at www.fasterhorsesfestival.com).
Snuggled nicely between the June Quicken Loans 400 and August Pure Michigan 400, Faster Horses essentially uses the broad infrastructure and flexible staffing model of MIS to – some might say – "infuse" the spirit of NASCAR into a new generation of racing fans.
But Curtis – remember, music is one of his life's passions – has even more up his sleeve when it comes to helping create that "Disney-like" passion that he believes can continue to feed MIS.
Having realized fairly quickly out of the gate that the culture of MIS would need to change if true transformation were to take hold and be sustained, Curtis had what he calls a "goose bump moment," sitting in the grandstand and realizing that he had gone from being one of those fans himself to someone who was largely responsible for making sure they came away with something at least near to the memories he still held years later.
And then, as sometimes is the case, those thoughts began to crystallize.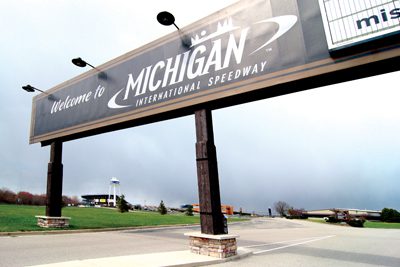 "When it comes to sports in general, the bottom line tends to dictate what's done or not done as far as the fan is concerned," says Curtis. "We thought that we had a good opportunity to flip the model into one that says 'what we do for the fans determines our bottom line.'"
Curtis says that that line represents a subtle change in wording, but one that's potentially light years different in the thinking and what it can lead to for the future of the facility he heads.
"We are making memories here," he adds.
What that would mean as far as a renewed attitude of a staff (some 45 full time, about 150 in the summer and 4,000 workers and volunteers on a race weekend) is finding a way to, as Curtis explains it, "getting them to care about the fans as much as we do."
He admits it took a while, perhaps starting in 2007, before the sense of purpose around that attitude took hold.
But it happened.
"By about 2010 and definitely into 2011, we were seeing security guards smiling, ushers laughing and being happy and treating our fans in ways that were really making a difference," says Curtis. "And remember, these are people who are in some of the most stressful positions we have."
Curtis credits Tim Booth, MIS director of guest services, for much of the change, particularly for his role in adopting the Disney training that has obviously made such a positive impact.
The efforts of the entire team are being noticed, with Curtis being named a "Customer Champion" by 1to1 Media, which is based in Connecticut.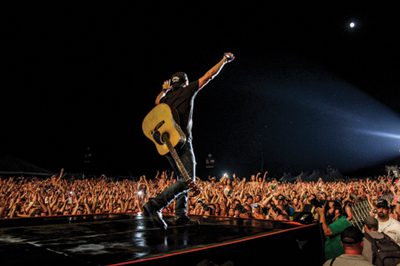 Curtis essentially began immersing himself in the customer experience; in doing so, asking for and acting on feedback that has served to engage MIS staff with fans who, after all, have chosen to make those race weekends a key part of their life.
"We believe it," he says. "And we wear it on our sleeves."
He's not yet done with transforming MIS and the future of the NASCAR racing experience in the state.
Consider not just the Faster Horses event in July but another music event that MIS will be tacking onto its race weekends beginning this year.
Keloorah, a word that Curtis admits he and his staff "made up" from the phonetic pronunciation of a Celtic word for celebration, will include post-race music acts on Friday and Saturday nights of both the June and August NASCAR weekends.
And the Celtic connection? Well, these are, after all, the Irish Hills of Michigan.
The initiatives – Faster Horses and now Keloorah – are part of Curtis' laser-focused view that a "regeneration" of the MIS experience for fans will include bringing children of their own as a way to create lasting family memories.
"We can talk about all the great things that have to do with NASCAR, but kids didn't grow up playing NASCAR," says Curtis. "We're not going to be able to communicate with them if we don't have a shared vocabulary. And we knew we had to communicate with them in a way that would be able to build on that vocabulary."
That's really what events like Faster Horses and Keloorah are all about.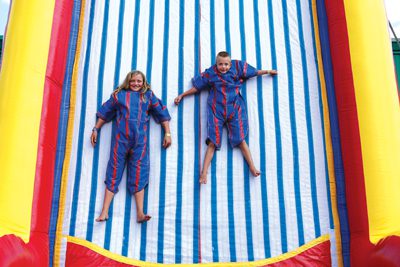 Creating memories and sharing vocabulary as a means to do just that.
By no means is Curtis setting aside NASCAR as the core business he represents at Michigan International Speedway.
Call it a cross-mingling of generations where partners like the state of Michigan and its Pure Michigan initiative are intimately – and financially – involved in the future of MIS.
Factor in the fact that some 60 percent of race-week fans are from outside Michigan (including a 20 percent slice of those coming from Canada), and it's little wonder that Curtis says the opportunity for even more growth for MIS is not only possible but very likely through even more innovation.
"We know it's a bit of a drive, but we believe the experience we offer is second to none," says Curtis, who points to the kind of access fans can experience as being superior to almost any other sport imaginable.
Pointing to access through scanner technology to what is going on inside the racecars is one example of fan access that Curtis says makes MIS and tracks like it so compelling as a form of entertainment.
It's also not a bad deal, looking purely from the standpoint of value for money.
With ticket prices starting at $40, the race-day experience is a customizable one, with campers in particular being able to choose from among nearly 9,000 sites, including more than 2,600 infield sites.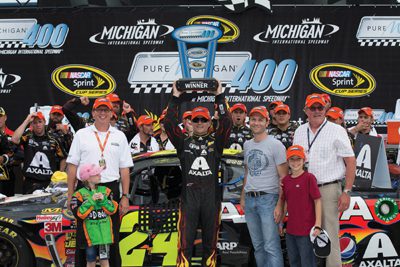 Overall, this results in Brooklyn, a normally sleepy town of 1,200, ballooning to a population of 100,000 on those two race weekends.
The MIS facility came to be in 1968, created by Lawrence H. LoPatin, a Detroit-area land developer who spent as much as $6 million to get things started.
By the early 1970s, however, LoPatin and his American Raceways Inc. were in financial trouble, with the profitable MIS being dragged down by the not so successful tracks that its founder had built.
Bought by Roger Penske out of bankruptcy in 1973 and with a vision of creating a premiere motorsports facility, MIS saw an infusion of capital (Penske had paid $2.7 million for the deed to the property and millions more, expanding the grandstand to more than 125,000 seats).
In 1999, Penske Motorsports was bought by its current owners, International Speedway Corp., the brainchild of NASCAR founder Bill France. There are now a total of 12 motorsports venues that form the ISC stable, including of course, MIS.