The auto industry is going to see more change in the next 10 years than it has in the past half century, predicts General Motors Corp. CEO Mary Barra. Clues to the changes will be on view at Detroit's Cobo Center at January's 2015 North American International Auto Show.
"The auto show is like having a Super Bowl in Detroit every year," says NAIAS 2015 Chairman Scott LaRiche, one of the members of the sponsoring Detroit Auto Dealers Association (a second generation dealer, he's executive manager/vice president of Lou LaRiche Chevrolet in Plymouth, Mich.)
LaRiche, who just returned from the Paris Motor Show, said discussions with auto executives was one of the key reasons for his visit. "When we learn that they're planning a worldwide reveal at our show, we can advertise it."
The 2015 show starts with a press preview Jan. 12-13; industry preview Jan. 14-15, and a Charity Preview Jan.16. The general public can tour the show from Jan.17-25.
"Winter weather for the Detroit show turns out to be a good thing," LaRiche says. "Manufacturers consider our show the start of the season."
LaRiche said a survey of buyers done between October 2012 and September 2013 underscored the event's impact on car and truck sales in the Detroit area: respondents who in total had bought slightly more than 17,000 vehicles said they were directly influenced by having attended the auto show.
Detroit's show, he believes, has two functions. For the more than 5,000 journalists attending (coming from 39 states and beyond—60 countries), helping to spread the word on more than 50 vehicles shown for the first time is part of the attraction.
But the show is also a big consumer draw, says LaRiche, which means exhibitors get that "two for one" bang for their buck when it comes to displaying their wares.
"We're the first show out of the box in the new year, so manufacturers who participate get a lot for their money," he adds. "They're appearing on the world stage where global news is announced."

They're also able to take advantage of improvements to a renovated Cobo Center, including a large outdoor video screen at the Congress and Washington street entrances that will display scenes of happenings on the show floor.
Improvements to Cobo's interior include new carpeting in the concourse, new furniture in the food court and a reopening of upper level meeting spaces, closed for renovation during last year's auto show.
But LaRiche said even last year was an improvement to Cobo over what shows like the NAIAS had experienced in the past.
"Five years ago Cobo Center was in disrepair," says LaRiche. "The team at Cobo Center has worked hard to make it into a world-class facility, and they are succeeding. In addition, the U.S. auto market is doing well, and exhibitors are going to build the best displays they can."
Members of the press will enjoy a newly located Michelin Media Center, thought to be the world's largest for an auto show. This year it will be in the 40,000-square-foot Grand Riverview Ballroom, just across the concourse from the show floor.
Another attendee with reports from the Paris Motor Show is Forrest McConnell, chairman of the National Automobile Dealers Association. When the Honda/Acura dealer spoke recently to the Automotive Press Association, he told Corp! magazine that he's been attending the North American International Auto Show for the past 12 years. "It reverberates to benefit car sales everywhere," he says. He adds that the show's influence on car buyers is felt in his city of Montgomery, Ala.
Following NAIAS press days, dealers, suppliers and other industry representatives will preview the show Jan. 14-15. The industry supplier preview for 2015 could surpass turnout in 2014, when more than 34,000 people representing 2,330 companies from 28 countries attended.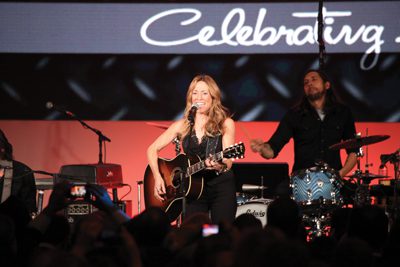 The auto show's traditional black tie gala – the Charity Preview – will be on Friday night, Jan.16. Last year the event brought out nearly 14,000 people who raised $4.8 million for children's charities. This year's event – at $400 a ticket ($390 tax deductible) – hopes to bring total receipts to more than $100 million since the charity preview launched in 1976.
When newly replaced exhibit hall doors open to the public Jan.17, the crowd passing through them during the next nine days is expected to exceed last year's total of 803,451. And the audience watching on MSNAutos.com, the show's official online media partner, may outnumber last year's 28.5 million page views and 485,000 video streams.
Show organizers have also embraced social media in a big way, with last year's effort achieving record-breaking audience engagements through a variety of channels. Working with Embark Digital, the show saw half the participating journalists reporting at least some of their coverage was integrated into various social media sites, the traditional press conference said to be the primary way for 87 percent of journalists to gather their news.
Technology, fuel economy
For tech enthusiasts, the show offers a showcase of displays relevant to advanced automotive technology. Exhibits will include more technology demonstrations than ever before, a clear indication of the importance of the subject to show-goers.
"We will cover items like connected cars and navigation," notes LaRiche. "We'll have activities for college students, educational as well as entertaining, on the lower level."
At the show itself and all other auto shows, passenger vehicles now comply with the National Highway Traffic Safety Administration's mandate that they install rearview cameras, allowing drivers to see a clear view of the road and obstacles behind them while in reverse.
Show-goers will see vehicles equipped with safety features that are gaining in popularity. Many models are equipped with anti-collision systems that use radar and cameras to monitor the road ahead. The growing demand for safety devices utilizing radar and cameras includes blind-spot detection, lane-departure warning systems and parking assist using ultrasonic sensors.
Lower fuel consumption matters to every car owner, and some of the vehicles at the show are setting a record. Figures from the University of Michigan Transportation Research Institute show average fuel economy of new light-duty vehicles through model year 2014 has improved from 25.5 mpg to 30.8 mpg, a difference of 5.3 mpg since monitoring first began in 2007.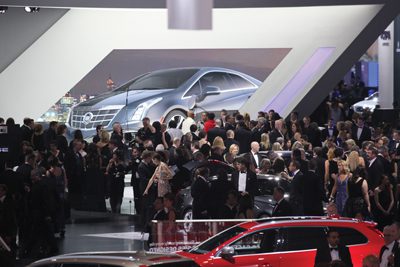 The organization's Eco-Driving Index shows emissions of greenhouse gases per driver of newly purchased vehicles have also improved by 24 percent since 2007. The institute reports that new vehicles in the past seven years saved 15.1 billion gallons of fuel. Among fuel-saving technologies arriving in many 2015 models: continuously variable timing, which adjusts combustion chamber airflow; regulated voltage control, which lowers alternator voltage when the battery is fully charged; six-speed or more transmissions to allow the engine to operate at lower RPMs; and electric power steering, which uses an electric motor in place of an engine-driven belt.
NAIAS also will feature a growing number of hybrids, including an updated Chevrolet Volt. Nearly a third of non-owners of hybrids plan one for their next vehicle, according to research. And when researchers at the U-M institute surveyed hybrid owners, they found 83 percent plan on another one for their next vehicle.
Show-goers will find more luxury vehicles in response to growing numbers of potential buyers. Luxury sales are expected to increase from their previous 10 percent of the total U.S. market. There's even a new segment known as "lux-ute" that includes vehicles like the 2015 Lexus NX200T.
Midsize cars have lost market share, but there will be a proliferation of compact-size sport utility vehicles, making up 12.5 percent of this year's market, according to an analyst for AutoTrader.com. Automotive News reports that 1.74 million compact utility vehicles (CUVs) such as Ford Escape, Toyota Highlander and Hyundai Santa Fe were sold in the first nine months of 2014. In the same period, the industry sold 1.72 million compact cars.
Meanwhile, crossovers are replacing traditional sedans as the fastest-growing segment of the market, now in third place in the U.S. auto industry. "What we are seeing is some growing families adding a little extra space," adds LaRiche. "They like room in the back for gear such as sports equipment."
As for trucks, LaRiche says pent-up demand should provide impetus for further growth. "They are the workhorse of America," he adds, pointing out that the Silverado pickup has sold well at his dealership.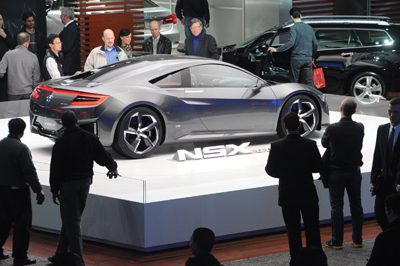 As for self-driving cars, they're at least several years away from showing up at the auto show or dealer showrooms, say experts. And even when they do arrive, they won't offer totally automated driving. "They will need human help," said one expert.
World stage boosts economy
Last year's auto show had the effect of boosting the economy by some $365 million, according to estimates by Loomis Sayles & Co., a figure that will almost certainly be higher for the upcoming show.
Show chairman LaRiche expects the 2015 show will hold more than 40 press conferences (last year there were 37) and more than 50 North American unveilings (compared with 47 last year), the difference being more than one vehicle being revealed during at least one press conference.
NAIAS show organizers say more German- and Japanese-based vehicles were debuted in Detroit than at any other show on the planet, a distinction that comes, they say, from Detroit  being seen as a critical part of an automaker's launch strategy.
LaRiche predicts that German brands will be strong at this year's show. Detroit, he says, remains the world stage for everything automotive and in doing so attracts more top auto executives—a "who's who"—than any other show.
A look at new products
Acura – Honda's luxury brand will introduce the TLX 3.5LSH—an all-wheel-drive sedan with a 290-hp V6 and nine-speed automatic transmission.
Audi – Expects to launch the Q3, a compact crossover, at the end of this year. Plans to double its crossover and SUV lineup.
BMW – New X6 crossover coupe, going on sale here in December. Its 2-series convertible debuted at the Paris Motor Show with a soft top that opens or closes in 20 seconds when traveling up to 31 mph. It arrives in showrooms early next year. BMW is launching
rear-wheel-drive cars on a new "35up" platform beginning next year with a redesigned 7 series.
Cadillac – Will announce major changes coming up to compete with German luxury brands. Included: an electric car, a crossover, a large CT6 technology-loaded flagship, and rear-wheel drive entry-level luxury vehicles to compete with lower-priced luxury segments from Mercedes and Audi. At this year's show, the Caddy display will feature its newly-arrived 2015 ATS coupe with a long list of features, including illuminating exterior door handles, wireless charging for phones, and magnesium paddle shifters that let motoring enthusiasts override the gear selection in an automatic transmission.
Chevrolet – The next-generation Volt plug-in hybrid arrives at the 2015 show. Volt will reportedly be first U.S. car to get the three-cylinder, turbocharged 1.0-liter engine GM is developing. For pickup fans, Chevy launched the midsize Colorado, mate to the GMC Canyon, in September. The pickups are geared to people who like outdoor activities but not a full-size truck. Features include roomy interiors, GM's 3.6-liter 305-hp V6 and 7000-pound towing capacity, plus navigation, voice recognition and Bluetooth connectivity.
Chrysler – A hybrid Chrysler minivan will reach showrooms in 2015, a year earlier than expected. As Chrysler turns Dodge into a performance brand, the company celebrates the 100th anniversary of the Dodge Brothers Motor Car Co. created by John and Horace Dodge. The celebration wraps around new TV spots for the 2015 Dodge Challenger and upcoming muscle cars. The Challenger SRT's supercharged 6.2-liter Hemi V-8 engine revs up to 707 hp.
Fiat – The 500X subcompact crossover arrives next spring with an improved powertrain and interior. With all-wheel-drive, the 500X is larger, more stylish and comfortable than the 500 minicar, according to auto writers who tested it.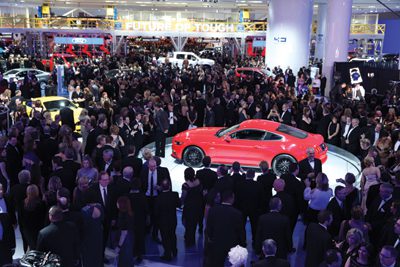 Ford – As announced at last year's show, Ford's popular F-150 models are making the switch to all-aluminum bodies for 2015. Weight reduction is also achieved in the underbody, seats and interior. The manufacturer says the vehicles will be 700 pounds lighter and more fuel-efficient. Gas mileage is expected to improve by 5-20 percent. The vehicles will utilize stop-start technology for a first in a truck. Power choices include Ford's 2.7-liter EcoBoost turbocharged, direct-injection gas engine. There's a lengthy list of driver-assist features never before offered on a truck, including blind spot detection. The vehicles are touring 38 cities until Dec. 21 to offer test-drives to consumers and will arrive in showrooms in late December.
Also debuting at the auto show will be Ford's 2015 Mustang, a 50th anniversary model that comes with a 2.3-liter EcoBoost four-cylinder engine delivering 310 horsepower and a lower, sleeker design.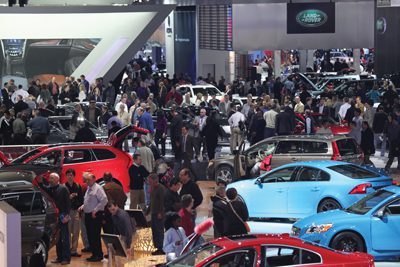 GM – Plans to offer more diesel power to help meet upcoming stricter federal fuel economy requirements. GM is gearing up to tout the 4G LTS wireless Internet service now available across much of its lineup.
Honda – While the compact CR-V has been the country's best-selling crossover, this year's update, Honda claims, has more than 60 improvements, including new grille and upgraded interior. It now has lane departure warning, adaptive cruise control, forward collision warning and LaneWatch, which shows a wide-angle view of the passenger side lane when the right turn signal is on. It also has Honda's lane-keeping assist and collision mitigation braking.
Honda's small Fit is redesigned with a new platform, transmission and hybrid drivetrain. The hybrid is the first using Honda's new dual-clutch gasoline-electric drivetrain.
Lexus – Plans traditional luxury for older buyers and performance-based models for younger customers. The show marks the arrival of the 2015 Lexus NX200T.
Mazda – The fourth generation of the popular MX-5 two-seater roadster rolls out in 2015. It's a shorter drop-top with a 91-inch wheelbase and 49 inches in height.
Mercedes-Benz – Shows its AMG GTS, a low profile, fast sport coupe with a 510-hp biturbo V-8, plus jazzy chrome and carbon fiber interior. Mercedes plans to introduce 11 new models by 2020. By then, the German automaker expects to be the world's best-selling luxury brand. An entry-level GLA250 with front wheel drive arrives in showrooms in first-quarter 2015.
MINI – The first four-door hardtop arrives in January, a longer vehicle with a bigger rear seat that can fit three.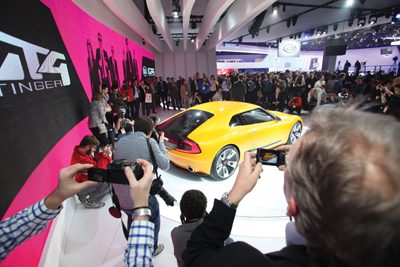 Nissan – Will begin rolling out newer versions of its larger vehicles.
Tesla – The new brand of electric vehicles expects to reveal its Model X luxury crossover at NAIAS.
Toyota – Shows its first hydrogen-engine vehicle, expected in the U.S. by next summer. A follow up to its debut at October's Paris Motor Show, the revolutionary vehicle uses energy created by electro-chemical reaction when oxygen in the air combines with hydrogen stored as fuel. Its drawback: a lack of hydrogen fueling stations in the U.S.
The popular Toyota Camry for 2015 gets restyling inside and outside with better quality materials, and two new sport models with hybrid and six-cylinder engines. Toyota also has upgraded two other 2015 models: the 2015 Sienna van and a sportier Yaris produced in France. The world's top manufacturer plans to adopt accident-avoidance features throughout its U.S. offerings by 2017.
Volkswagen – Brought out the next-generation Golf and Golf GTI this summer and the battery-electric e-Golf this fall.
Volvo – Three hot new turbocharged engines will be capable of high speeds.
The auto show provides yet another benefit to the thousands of members of the general public, press and industry representatives attending. As one of its press releases says, "The new and improving city of Detroit has a chance to show itself off."