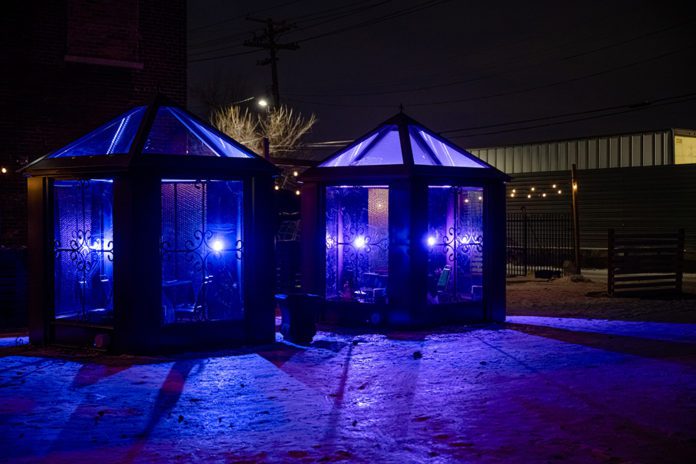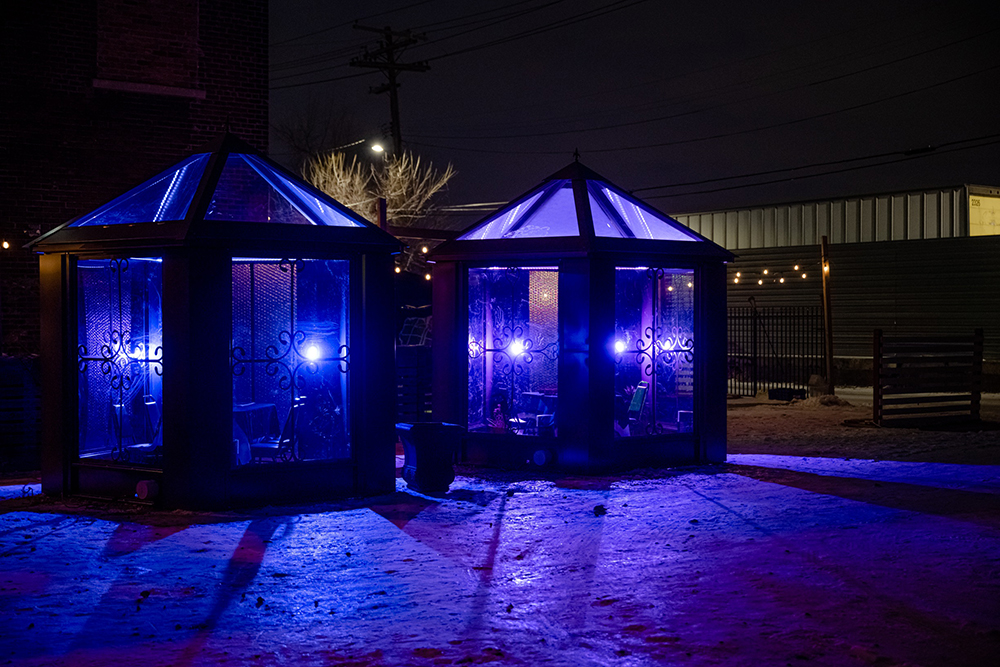 As restaurants create new ways for diners to experience "eating out" during an unprecedented time in food history, the Southwest Detroit Business Association has created a one-of-a-kind way to celebrate a special occasion or everyday meal together.
The Luminarias of Southwest Detroit is a unique outdoor dining experience that kicked off the new year with participating restaurants in Southwest Detroit. Designed to mimic the look of a traditional Mexican luminaria, the full-size, outdoor enclosures will each hold up to six people for a night out of dining and drinks at restaurants. Each luminaria is specially built to endure Michigan winters and are heated to provide patrons with a dining experience that is COVID-19 health and safety compliant.
"The SDBA recognizes the need to provide support to our businesses and restaurant community during these challenging times," SDBA Vice President of Programs and Compliance Jennifer Gomez said in a statement. "This program began as a functional solution for our restaurants, but we are so excited that it now also has become a signature branding opportunity and attraction for the SWD community.
"This exciting program will provide a lifeline to area businesses, helping owners recover a portion of lost revenue while also creating a one-of-a-kind dining experience that can only be found in Southwest Detroit," Gomez added. "We are truly grateful for the generous support from the Hudson Webber Foundation, and partners AptumBuild Solutions LLC and Diseños Ornamental Iron that helped make this program possible."
Luminarias date back more than 300 years in Mexican culture. Traditionally, they are small lanterns that are handmade out of paper bags and line walkways, churches and homes during the holiday season. In Southwest Detroit, the SDBA will work with participating restaurants to construct the five-sided, metal and plexiglass luminarias that are each 8 ft. tall with an 8 ft. diameter. The luminarias will light up in a variety of colors and can be customized for special occasions.
A total of 15 luminarias will be constructed and assembled at participating restaurants from January through February 2021, beginning with Armando's Mexican Restaurant located at 4242 W. Vernor Hwy. In addition to providing a distinctive place to enjoy a night out, the luminarias are designed to create a branded attraction for SW Detroit.
The Luminarias of Southwest Detroit program was made possible through a $50,000 grant from The Hudson Webber Foundation, along with pro bono design, engineering and architectural services valued at $15,000 provided by AptumBuild Solutions LLC. Additionally, Diseños Ornamental Iron accommodated an expedited timeline for manufacturing and reduced its fees to help the SDBA meet budget goals for the program.
Participating restaurants are required to make a $1,000 financial commitment for each luminaria, with the majority of the costs covered within the scope of the program. Limited space is available for Southwest Detroit restaurants interested in the program. For more information, email Jennifer Gomez at [email protected]
"Our roots run deep in Southwest Detroit," said Diseños Ornamental Iron President Nieves Longordo. "In times of great difficulty and daunting uncertainty, we must extend a helping hand to our neighbors. Tumultuous and trying times demand generosity, and Diseños intends to deliver. We will not only be showcasing our rich history and culture through our work but demonstrating that Detroiters stand together. Simply put: we got us!"
The SDBA is a nonprofit organization dedicated to supporting the economic vitality of Southwest Detroit. It annually serves more than 300 businesses and entrepreneurs representing restaurants and other food service providers, retailers, health care, manufacturing and human services industries. The businesses in the Southwest Detroit service area are often immigrant-owned as well as minority- and women-owned enterprises.
The Southwest Detroit Business Association (SDBA) fosters innovation, drive and commitment in the Southwest Detroit community. Established in 1957, it supports the community's vision for a healthy, vibrant neighborhood. SDBA works with local businesses, investors, entrepreneurs, customers and neighbors to develop a place where more and more people are choosing to live, work, shop and play – a place where you find Business Building Community and Community Building Business.