Michigan has a new voice for Detroit-centric stories as well as larger, issue-driven reporting with Tuesday's formal launch of BridgeDetroit, which describes itself as a "multimedia and collaborative nonprofit news platform whose content will be directed by Detroiters themselves," officials said.
BridgeDetroit, which officially started reporting in April, is the local or city-focused journalism project of the Center for Michigan, which also has Bridge Magazine under its umbrella. Former newspaper publisher Phil Power founded the Center for Michigan in 2006, calling it a "think-and-do" tank that is nonpartisan and a 501(c)3 nonprofit organization based in Lansing.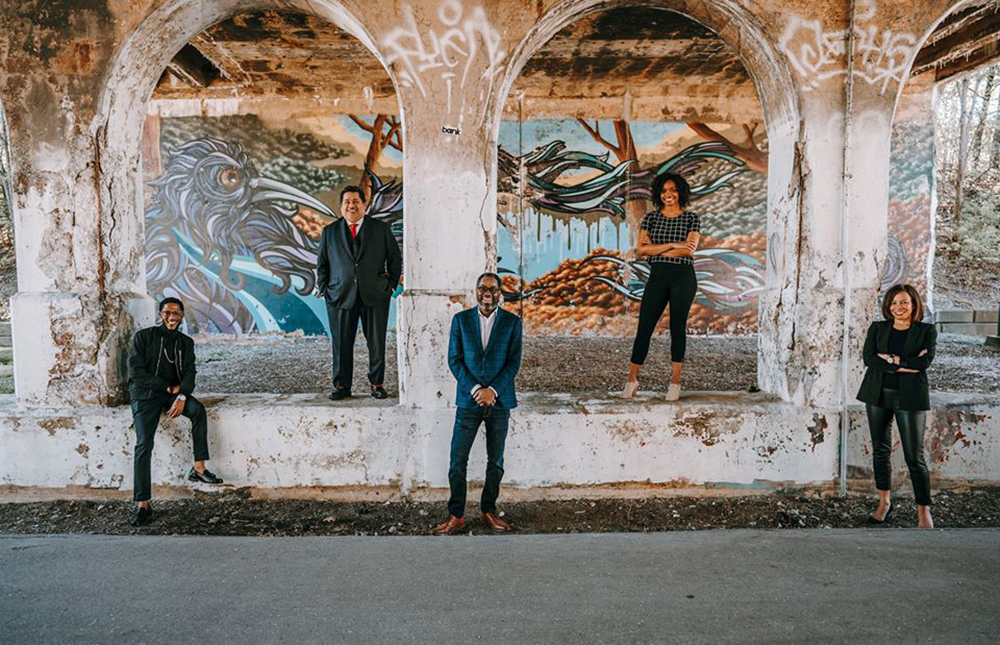 What makes BridgeDetroit stand out among other Michigan media is its staff and mission. Led by Pulitzer Prize-winning Detroiter Stephen Henderson, BridgeDetroit is made up of reporters with long local histories and who more closely connect to Detroit's majority African-American and Latino population, officials said. Henderson also hosts "Detroit Today" on WDET, Detroit's public radio station, and "One Detroit" and "American Black Journal" on Detroit Public Television.
Henderson, who serves as BridgeDetroit's executive editor, said Tuesday that BridgeDetroit "redefines local journalism through technology and engagement." Its mission is "shaped by continuous interaction with Detroit residents about the issues that matter in their civic lives," he added.
In a Zoom call with the media to announce its launch, Henderson also said BridgeDetroit will respond to what Detroiters say they need from a news organization. The staffing, which is reflective of the city's population in real and substantive ways, also is a rarity not only for Detroit but for news organizations nationwide, he said.
"We have a really strong collection of content already published on our website and we have lots and lots coming," Henderson said.
In addition to Bridge Michigan and "Authentically Detroit," BridgeDetroit has formed content partnerships with Detroit Public Television, the Detroit Free Press and WDET, with more to come, officials said. Its news coverage will prioritize eight key subject matters: Emergencies and risks (COVID-19); health and welfare; education; transportation; jobs and economic opportunities; environment; civic and community information; and political and public policy information.
The BridgeDetroit team includes veterans of leading news outlets from across the state who represent Detroit's majority African-American and Latino population:
• Catherine Kelly, former publisher of The Michigan Citizen who most recently served as a strategic communications specialist for Bedrock and the Rock Family of Companies.
• Orlando Bailey, former chief development officer for Eastside Community Network and co-host of the podcast "Authentically Detroit."
• Louis Aguilar, a native of southwest Detroit and an 18-year veteran of the Detroit News who specialized in business and development coverage.
• Bryce Huffman, a former reporter for Michigan Radio and host of the podcast "Same Same Different."
• Olivia Lewis, a former Gannett reporter who most recently worked with the Council of Michigan Foundations as a policy analyst.
A partnership with Detroit-based Outlier Media will help the BridgeDetroit team discover what Detroiters are thinking about through sources such as surveys, polling and social media, and report on it at www.bridgedetroit.com and through its social media channels, @bridgedet313 on Twitter; @bridgedetroit on Instagram; and facebook.com/bridgedetroit.
According to Henderson, BridgeDetroit was two years in the making and will use three types of reporting on its website and social channels. These are engagement-focused journalism; project-based journalism and direct-response journalism, which he said is "directed at Detroiters whose information gaps prevent them from fully participating in the city's civic life."
BridgeDetroit receives its funding from individual donations and area foundations, including a $2.25 million investment from the John S. and James L. Knight Foundation. Other funders include Community Foundation for Southeast Michigan, Delta Dental of Michigan (sponsor), Facebook Journalism Project Community Network, First Draft News, Ford Foundation, Hudson-Webber Foundation, Kresge Foundation, McGregor Fund, Ralph C. Wilson Jr. Foundation and The Skillman Foundation.
"With the economic and health challenges created by the pandemic in our communities, reliable, fact-based journalism is more important than ever. BridgeDetroit is bringing critical, community-informed journalism to Detroit in a way that reaches the city's most vulnerable populations," Jennifer Preston, Knight's vice president for journalism, said in a statement. "By building a news organization that reflects the community it serves, Stephen and the BridgeDetroit team will bring vital information to better serve Detroit's residents."
Since its founding, Bridge Magazine and BridgeDetroit have built up staff with some of the state's best reporters and editors, many coming from the two major newspapers as well as national news services. Its overall leaders are John Bebow, president and CEO of the Center for Michigan and Bridge Magazine.