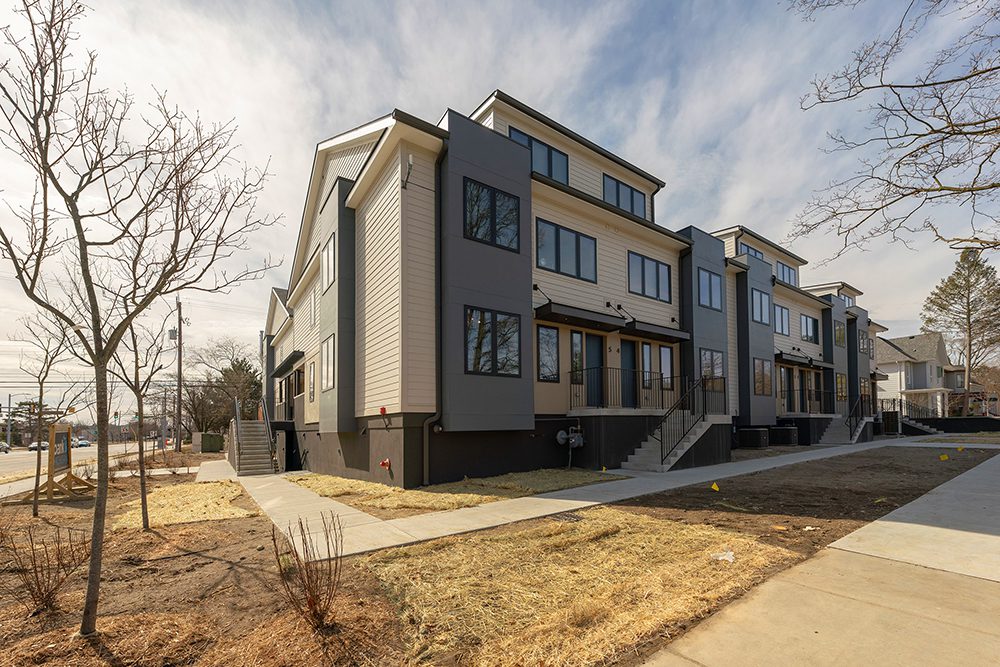 ANN ARBOR – Prentice 4M recently announced the launch of the first 4M campus in Ann Arbor.
The four-story, 37,500 square foot campus features 11 ready-to-move-in co-living townhomes with 63 available furnished ensuite bedrooms. Dedicated and tech-forward co-working spaces are on-site to support individual and team needs. Townhouse amenities include keyless entry from LATCH on all doors, a multi-functional common area, professional grade kitchens and a 1 gig fiber high speed network.
4M, a premier developer of lifestyle assets offering the perfect balance of space, style, cost and convenience, has engaged Stellar Broadband to provide 24/7 network security and technical support. Michigan Solar Solutions designed and installed a 58-kw solar panel array that offsets a significant portion of the building's energy consumption. 4M has partnered with Envoy to provide a fleet of Tesla's for member use, eliminating the need for personal vehicles. Rent at 4M is all-inclusive with weekly cleanings and concierge-style services.
"4M is an innovative lifestyle concept where living, working, and transportation are bundled for the convenience of members in a campus designed to form community and relationships," said Margaret Poscher, CEO and co-founder of Prentice 4M. "We are proud to offer an ecosystem that elevates the experience of our members in meaningful ways."
Features and flexibility
As Michigan's first true co-living, co-working, shared mobility development, 4M was thoughtfully designed from the ground up to provide a cost-effective choice to people seeking new ways to live, work and socialize. 
With the shift to a hybrid work model for most professionals, 4M offers productivity solutions that maximize individual and group work, both in-person and virtually. 4M members have over 6,000 square ft of collaborative open space to take advantage of.
Beyond open workspaces, 4M's campus includes 5private conference rooms featuring ZOOM-enabled 4K teleconferencing televisions with wide angle lenses.

For bespoke creators, 4M also provides members with access to their podcast and video production studio, which includes professional microphones and podcast consoles.
"We've dedicated ourselves to the curation of positive experiences," said Poscher. "Whether our members stay with us for 30 days or a full year, we want to ensure they have everything they need to thrive."
4M also offers a 7,500 sq ft. space they refer to as The Flex in the center of the Campus. An open space for networking, social activities, exercise and fitness classes, and pop-up events, The Flex further demonstrates how 4M maximized every square foot of their facility to fit the needs of their residents.
End-to-End Mobility
Developed steps away from public transit, 4M provides members with multiple on-site mobility services including: 
Campus owned Teslas located onsite in a secure garage, bringing style and affordability to 4M members who need access to a vehicle on a pay-as-you-go basis.
Launch/charge pads for micro-mobility (scooters, bikes) around the Campus grounds can get you easily to that last mile.
4M-sponsored shared transportation shuttles which take the guesswork out of finding your way around town and fighting for parking spaces.
"Our shared mobility services are better for the environment and cost-effective, without a need to sacrifice your mobility. It's a triple-win," said Poscher.
Curating Exceptional Experiences at Scale 
In addition to individual coliving opportunities, 4M has tailored offerings for startups and established companies seeking additional space to grow with the objective to help individuals and teams launch faster.  4M does this by:
Offering the needed insight, perspective, and collaboration from a community of experts
Providing a regional network of investors hungry for opportunity
Scheduling regular pitch demos, meetings, and other mission-critical events
Producing events that will allow teams to enjoy the space, culture, and amenities of the surrounding area
"Our mission is threefold," said Poscher. "First, 4M aids entrepreneurs, freelancers, and creatives to leverage the sharing economy by living and working in a highly affordable, focused, and effective fashion. Second, our 4M team delivers a meticulously curated freelance experience, structured to provide community, a regional network of self-employment resources, and properly managed group events at a regular interval, and third, we use a combination of a high powered, advanced technology network and adaptive Best Practices to create a healthy, safe environment for tenants. We're excited to have brought this concept to fruition."