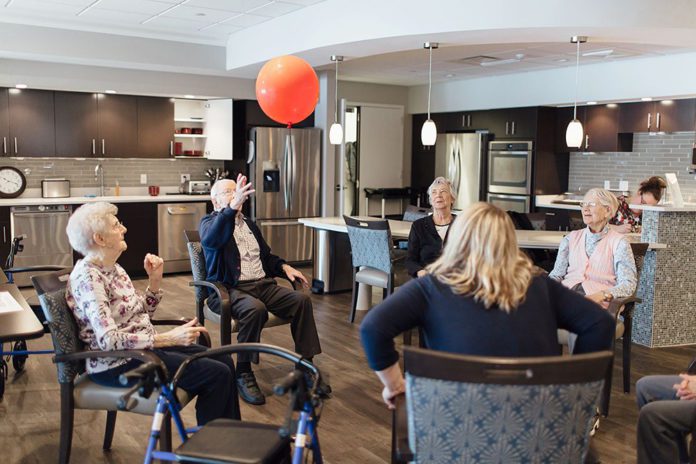 KENTWOOD — Demand for senior living services drove Holland Home to undergo a $5.5 million expansion project at its Breton Woods campus on 44th Street near Breton Avenue in Kentwood. Completed recently, the new facility will provide an innovative 19,000 SF, 15-bed assisted living unit and a 5,400 SF activity center with a gym and exercise area.
The privately funded single-story assisted living unit will be a much-needed addition to the two existing assisted living buildings on the Breton Campus. Each of the existing structures, built in 2015 and 2017 respectively, contain 15-bed units.
"The growth of our assisted living services at Breton Woods is part of Holland Home's overall strategy to meet the needs of our aging population," said Holland Home President and CEO Mina Breuker.
The facility was designed by Post Architects with Erhardt Construction as the builder.
"We are thrilled to partner with Holland Home on their most recent addition to the Breton Woods Campus," said Taggart Town, vice president, Erhardt Construction. "For over three decades, Erhardt Construction has been privileged to work with Holland Home as they provide independent living and continuum of care to the West Michigan senior community. The new expansion is another example of the top-notch senior living and care that Holland Home is known for."
Some key features include:
15-bed, 19,307 square-foot space.
New 5,400 square-foot gathering space where residents and family members can enjoy each-others company. This space will include three wall mounted TV's and a sound system.
Spa/Salon – A spa lift will be accessible for residents to bathe as well as a salon sink for beauty needs.
Exercise Room with mounted TVs and group workout programs.
Den space for activities, movies and dining overflow.
Two kitchens and dining space where live-in residents receive three home-cooked meals a day.
Beautiful outside patio for residents to walk/sit/read.
It's expected that 10 to 15 new positions will be created to accommodate the increased capacity.
"We are excited to offer the additional assisted living building to our Breton Woods property, adding to our full continuum of care," said Breton Woods Campus Executive Director Sara Heethuis.
The new assisted living building is a deinstitutionalized version of the typical assisted living facility and will afford residents the feeling of living in a real home with spacious private rooms and private bathrooms arranged around a communal dining and living area and a residential style kitchen. The building will also house a den, a salon (staffed by professionals) a spa (with a ceiling lift to assist individuals), nurses' station, staff office and clean and soiled linen rooms.
The new 15-bed unit is named "Water View" as the interior design offers various art pieces centered on serene water setting. Various photographs of water-based concepts by West Michigan photographer and artist Steven Huyser-Honig line the halls and rooms. Many of the rooms either face woods or ponds or an outside patio and walking path surrounded by wildlife.
The new building will be staffed by universalworkers along with nursing and social work support.
"Staff will handle any necessary tasks whether it is dealing with personal care, doing laundry, or making the resident a snack," Heethuis said. "It has been shown that universal workers experience less job stress and spend more time engaging with residents."
A study by the Journal of the American Geriatrics Society has shown that the small, assisted living model results in significantly improved quality of life and does not compromise care. In fact, other studies have shown that residents maintained self-care abilities longer with the new model.
The Breton rehabilitation and living centers are rated five stars by Medicare Compare. The facility is part of Holland Home's Breton Campus, which also features independent living facilities, rehabilitation and long-term care services. Learn more at www.hollandhome.org.