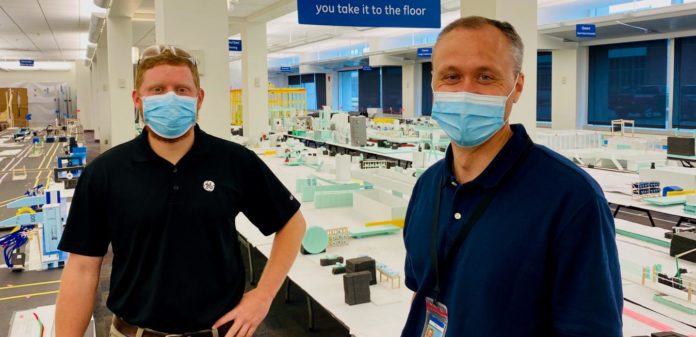 GE Chairman and CEO Larry Culp said the company's first-quarter results "marked a solid start to 2021" despite continued challenges in GE Aviation and a difficult comparison to last year. "I'm confident this sets us up well to deliver on our 2021 commitments and profitable growth for the long term," he said.
While orders were down 8% organically and industrial revenue down 10% organically*, compared to the same period last year, GE's adjusted industrial margin* expanded to 5.1%, up 110 basis points organically. "Notably, we saw organic expansion year-over-year with three of our four businesses improving," Culp told investors on his quarterly call.
He also said GE's backlog stands at $383 billion and "remains a strength with approximately 80% geared towards services where we have higher margins."
Finally, Culp said, while GE's industrial cash flow* was negative $845 million, it was up $1.7 billion compared to last year, excluding GE's BioPharma business sold in 2020. The improvement was driven by better earnings and working capital, Culp said. "In all, we're seeing continued progress, especially on margin and cash flow, and we believe these improvements are sustainable," Culp told investors. "As we look to the second quarter, we expect industrial free cash flow growth of similar magnitude to what we saw this quarter."
The progress comes as GE transforms into a more focused, simpler and stronger industrial company, Culp said. He pointed to the March announcement to combine GE's aircraft leasing business, GE Aviation Capital Services (GECAS), with Ireland's AerCap Holdings N.V. (AerCap) as an important catalyst of that transformation. "This transaction enables us to further strengthen the company for the long term, at closing bringing our total debt reduction to more than $70 billion over three years, while drastically simplifying GE in a number of ways, including our reporting," Culp said.
Another component of GE's transformation involves "fortifying GE's foundation." That means scaling lean management across the company to improve safety, quality, delivery and cost, as well as drive "high-quality growth," Culp said. Coupled with a significant decentralization effort, GE is "maximizing value for customers, while increasing accountability at the businesses," he said.