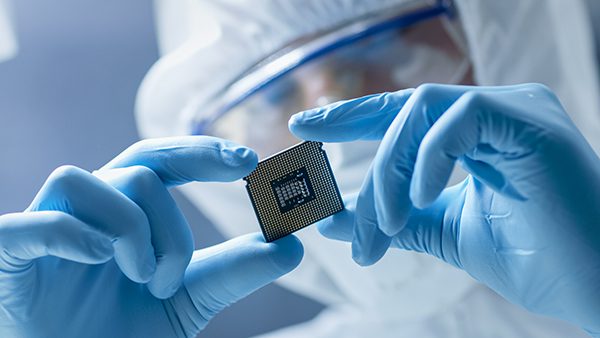 As Russia's incursion into Ukraine brings the world's computer chip shortage into even sharper relief, tech company executives, trade associations and governors are urging Congress to pass a bill that would allocate $52 billion in subsidies to expand domestic semiconductor manufacturing.
On Wednesday, Intel CEO Patrick Gelsinger testified before the U.S. Senate Commerce Committee, arguing that federal lawmakers should approve the subsidies. Gelsinger told Fox Business ahead of his testimony that the public funding is needed to "reverse this trend" of domestic chip makers accounting for a small portion of global supply.
Gelsinger and others have made the case on the heels of Intel's announcement that the company plans to build a $20 billion semiconductor plant outside of Columbus, Ohio. The 1000-acre site would become "the largest semiconductor manufacturing location on the planet," he said in a previous statement.
The majority of semiconductors used by domestic manufacturers and other U.S. businesses are built in Asia. But how much would Intel's new Ohio plant reduce the country's reliance on foreign chipmakers?
"The general public must recognize the chip shortage is most severe for cheaper, older chips," said Jason Miller, a logistics professor at Michigan State University's Broad College of Business. "The new plants Intel is building in the U.S. won't be making those types of chips. The U.S. cannot produce cheap chips in a cost effective manner relative to countries like Malaysia."
According to Miller, U.S. manufacturers have already been using virtually all the domestic semiconductors they can get their hands on during the pandemic. Adding the new plant – which Intel executive Keyvan Esfarjani described in a Columbus Dispatch column as a "mega factory" – would only increase U.S. computer chip output by about four to six percent, according to an analysis of Census Bureau data of semiconductor firms and the expected number of employees promised at the yet-to-be-built facility.
Intel did not immediately respond to a request for comment on Wednesday. But Esfarjani wrote in the Dispatch that the plant has the potential "to grow to more than $100 billion over the next decade" and could "restore U.S. leadership in semiconductor manufacturing."
The biggest competition to domestic companies like Intel comes from Taiwan and Korea, where the Taiwan Semiconductor Manufacturing Company (TSMC) and Samsung are located, according to the North Carolina State University's Supply Chain Resource Cooperative. TSMC is the world's largest chip maker.
Intel CEO Gelsinger said in a previous statement that the Ohio facility would mark a major milestone in restoring domestic chip leadership.
"Intel's actions will help build a more resilient supply chain and ensure reliable access to advanced semiconductors for years to come," Gelsinger said. "Intel is bringing leading capability and capacity back to the United States to strengthen the global semiconductor industry," adding that the new factories would "create a new epicenter for advanced chipmaking in the U.S."
Intel, the trade association for chip makers and President Joe Biden are all still pushing for Congress to approve funding meant to boost domestic chip manufacturing.
Governors, including Michigan Gov. Gretchen Whitmer, and U.S. Commerce Secretary Gina Raimondo also have urged Congress to act on the "CHIPS Act" to usher in a new era of U.S. competition with other chip makers.
Thirty years ago, the U.S. made a far larger proportion of the world's semiconductors. But that number has declined to 12 percent, Raimondo told the Detroit Economic Club in 2021.
In addition to Intel, other companies are doing their part to reduce their need for foreign semiconductors. GM is working on new designs with seven chip suppliers to reduce the number of chips needed for vehicles, the Detroit Free Press reported. The Washington Post reported that Ford Motor meanwhile signed a deal with the Malta, N.Y-based GlobalFoundries to produce more chips for the auto manufacturer.
At the same time, the war in Ukraine could make the global chip shortage even worse — particularly for Detroit automakers, according to Moody's Analytics and other economic experts.
"The situation now in America is urgent," Raimondo told Senators Wednesday, Reuters reported. "We have to decrease our dependence on other countries including Taiwan on chips and the way to do that is to make more chips in America."