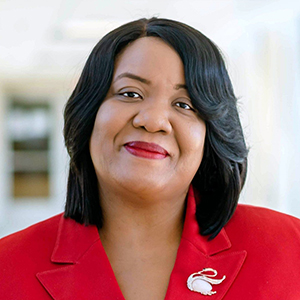 Detroit Medical Center CEO Audrey Gregory is leaving the group after two years. Her departure is effective Oct. 22.
Gregory will become president and CEO of Florida-based Advent Health. She will be replaced at the DMC on an interim basis by Brittany Lavis, the organization's CFO.
Gregory takes over at Advent Oct. 25, reporting to Randy Haffner, president/CEO for the Central Florida Division, according to a statement on the group's website.
Gregory joined DMC in October 2019 as president and CEO of DMC Detroit Receiving Hospital, DMC Harper University Hospital, DMC Heart Hospital and DMC Hutzel Women's Hospital. Before joining DMC, she was market CEO of DMC parent company Tenet Healthcare's Saint Francis Healthcare System in Memphis, Tenn. and CEO of St. Francis Hospital – Memphis.
"Audrey is a dynamic and transformational leader who understands how to lead provider and care teams toward operational excellence," said Terry Shaw, president/CEO for AdventHealth. "She is a champion of health equity and committed to ensuring all members of a community have access to equitable health care, which connects seamlessly to AdventHealth's mission and promise of wholeness."
In her new role, Gregory will oversee the strategic direction, development and execution of key strategies that support the total network of care and will help build influential relationships with key constituents, community partners and consumers in Flagler, Lake and Volusia counties. AdventHealth operates six hospitals in these three counties, with a seventh hospital under construction in Palm Coast. Nearly 8,000 AdventHealth team members work in this tri-county area.
"Audrey is a highly respected health care leader whose passion for patient-centered care shines through from the moment you meet her," said Haffner. "With her leadership and expertise as a clinician, I am confident we will be able to further our delivery of faith-based, whole-person care in the communities we serve in Volusia, Flagler and Lake counties."
Gregory earned both a bachelor's degree and a master's degree in nursing and a master's degree in healthcare administration from Georgia Southern University Armstrong Campus in Savannah, Ga. In 2011, she completed her doctorate in global leadership from Lynn University in Boca Raton.
She served on the Michigan Health & Hospital Association's board of trustees and was appointed by Michigan Gov. Gretchen Whitmer to the Michigan Coronavirus Task Force on Racial Disparities. Gregory also served as a member of the American Heart Association's Go Red for Women Executive Leadership Team and as a board member for the Detroit Regional Chamber.
In 2020, she was recognized by Modern Healthcare as one of the nation's Top 25 Minority Leaders in Healthcare and was named one of 70 African American leaders in health care to know by Becker's Hospital Review.