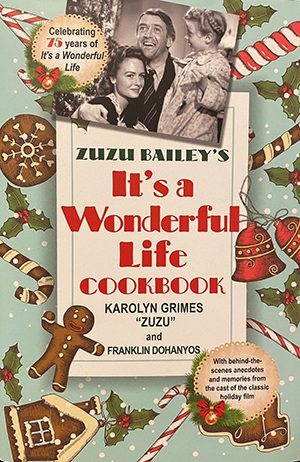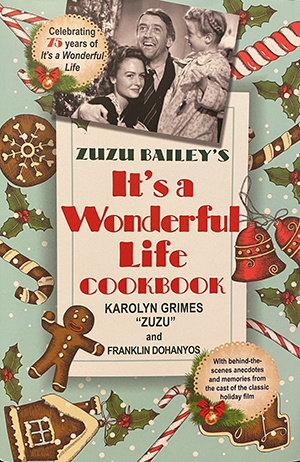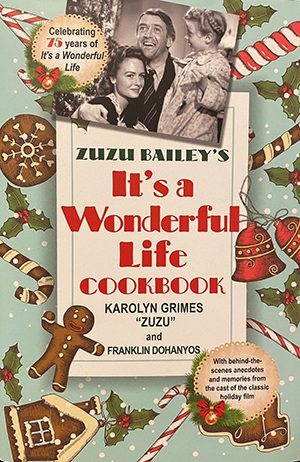 OAKLAND COUNTY – In 1946, people all over the country fell in love with little Zuzu Bailey, played by Karolyn Grimes in the Christmas classic It's a Wonderful Life, starring Jimmy Stewart and Donna Reed.
In celebration of the 75th anniversary of the movie, Citadel Press in New York has just released "Zuzu Bailey's It's A Wonderful Life Cookbook," a collaboration between Grimes and local publicist and author Franklin Dohanyos.
The cookbook is filled with delicious stick-to-the-ribs family recipes from both authors and some of the actors from the movie, plus interviews with people from the movie, trivia, anecdotes and stories, all new photos, memories, and more. From savory main courses to festive desserts, there are 250 recipes inspired by life in the fictional town of Bedford Falls, including Zuzu, My Little Ginger Snap Cookies, Violet Bick's Spicy Chicken, Henry Potter Pot Pie, Fifty Cents On The Dollar Chuck Roast, Harry Bailey's Hero Sandwich, Buffalo Gals Beef Stew, and more.
"I've known Karolyn for over 26 years and every time she is in town for a movie screening and discussion about the movie we have a blast," Dohanyos said. "Her first visit to Detroit was something I arranged for Decades Nostalgia Store in Royal Oak in November of 1995. People were lined up for four blocks waiting in line in the cold just for a glimpse, to share heartwarming stories, and get a photo or autograph – some people were actually crying! I can't tell you how many people brought in rose petals for her to sign.
"This book is actually a complete overhaul of the first version that was published in 1996," Dohanyos added. "The first book was pretty good, but the new one – celebrating its 25th anniversary – has more interviews with people from the movie, plus Frank Capra's granddaughter, Donna Reed's daughter, and others. It also has all new stories and memories, trivia, behind the scenes photos, and more. It's a fun book and the recipes are delicious! One year Karolyn was here for a gig at the Redford Theatre and the night before we had a party at Shield's Pizza in Troy with her as the guest of honor. It was surreal to see her in person while her movie scenes with Jimmy Stewart were playing on a large screen TV in the corner of the banquet room. She still has that little girl smile and there wasn't a dry eye in the house."
Grimes has been to Detroit many times for movie screenings and such and enjoys the city very much, especially the Fisher Building. "I've always enjoyed Detroit and I hope to return someday soon," she said. "Folks there have always treated me very well and I now have some friends there from my many visits. People in the Midwest are the kindest people I've ever met – they have real heart. The new cookbook really captures that spirit, as it has many family favorite recipes and a ton of fun and memorable stories and photos. It's fun to travel around the country with other actors from the film signing autographs. The movie will certainly live on forever."
"Zuzu Bailey's It's a Wonderful Life Cookbook" is available throughout North America at Walmart, Target, Barnes & Noble, Amazon, Hudson Booksellers and more. https://www.kensingtonbooks.com/9780806541679/zuzu-baileys-its-a-wonderful-life-cookbook/