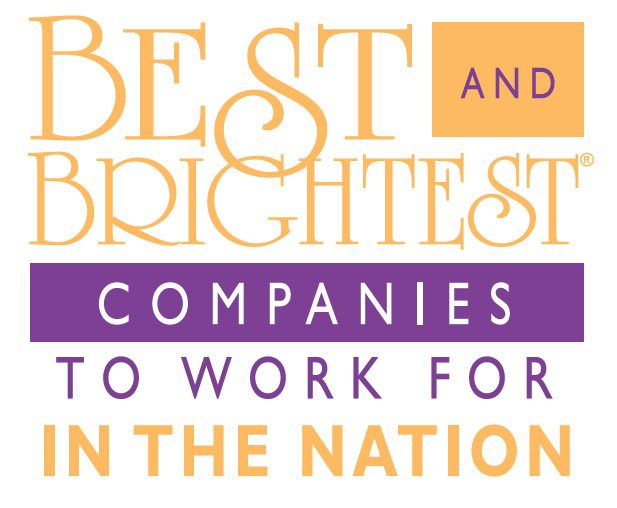 The National Association for Business Resources has named the Best and Brightest Companies To Work For in the Nation.
The 2019 national winning companies were assessed by an independent research firm, which reviewed a number of key measures relative to other nationally recognized winners. The Best and Brightest Companies to Work for winners are not ranked.
"With the war on talent hitting the door steps of the Best and Brightest, this achievement means even more than it did a year ago," said Jennifer Kluge, President and CEO, Best and Brightest Programs. "As we continue to raise the bar, these companies rise to the challenge through cultural innovation, maximizing their workforce potential."
The Best and Brightest Program honored 540 national winning organizations from across the country out of 5,000 nominations. In addition to honoring all national winners, the top 101 highest scoring national winning companies were also announced.
Elite awards are presented to the highest winning companies that demonstrated exceptional innovative human resource practices and set high standards for all businesses during this year's National Best and Brightest Summit. The elite categories include: Compensation, Benefits and Employee Solutions; Employee Enrichment, Engagement and Retention; Employee Education and Development; Recruitment, Selection and Orientation; Employee Achievement and Recognition; Communication and Shared Vision; Diversity and Inclusion; Work-Life Balance; Community Initiatives; Strategic Company Performance, and the Best of the Best: Small Business, Medium Business, and Large Business.
With more than 20 years of experience conducting the Best and Brightest competitions, the National Association for Business Resources (NABR) have identified numerous best Human Resource practices and provided benchmarking for companies that continue to be leaders in employment standards.
The winners:
Elite Winners
"Best of the Best" Large Business
"Best of the Best" Medium Business
"Best of the Best" Small Business
Community Initiatives
Compensation, Benefits and Employee Solutions
Diversity and Inclusion
Communication and Shared Vision
Employee Achievement and Recognition
Employee Education and Development
Employee Enrichment, Engagement and Retention
Recruitment, Selection and Orientation
Strategic Company Performance
The Pinnacle Group
Work-Life Balance
Top winners
Access Development
Blue Cross Blue Shield of Michigan
Institutional Wealth Consultants
Jacobs Marketing Solutions, Inc.
Kinetics
Marsh & McLennan Agency | Michigan
Pinnacle Insurance & Financial Services
Prudential Advisors, Great Lakes Financial Group
360 Live Media
6AM City LLC
7Summits
ABD Engineering & Design
Acquire
Acro Service Corporation
Adam Leitman Bailey, P.C.
Adobe Associates
Advanced Services for Pest Control Inc.
Advancial Federal Credit Union
Advia Credit Union
AGS
Aimark, Inc.
ALDI Inc.
Aledade
Allied Business Services
Allied Electric Inc
Ally Logistics
Ameresco Inc
American Academy of Pediatrics
American Licorice Company
American Residential Warranty
American Society of Anesthesiologists
American Technologies, Inc.
AmeriFirst Home Mortgage
Ameriflex
Anistar Technologies
AnnieMac Home Mortgage
APCO Holdings LLC
APG&E
APi National Service Group
Arbor Financial Credit Union
Aristeo
Arlington Resources, Inc.
Arrow Strategies
Aspire
Associa
Austin Benefits Group
Automated Business Designs
Avante Partners
AVB
Aventis Systems, Inc.
Axxess
Bald Hill Builders
Barker Consulting INC
Baudville Brands
Bell's Brewery Inc.
Benchmark, A Global Hospitality Company
Billhighway
BioMatrix
Birkman International Inc.
BizStream
BlackBerry
Blaisdell's Business Products
Brandt Information Services
BrightTree Studios
Brilliant
Broder & Sachse Real Estate Services
Bswift
Bulbrite Industries
Burwood Group, Inc.
Butterball Farms Inc
C-4 Analytics
Cakebread Cellars
Camden Kelly Corporation
Cancer & Hematology Centers of Western Michigan
Cape Classics
CapGrow Partners
CasterDepot
Champion Painting Specialty Services
Charles IT
Charlotte Marketing Consultants
Choice Schools Associates
Choptank Transport
Cielo
Cira Infotech
Clarus Commerce
Client Command
Clinical Resources
CloudBolt Software
Codexis, Inc.
College Hill
Collin College
Comfort Research
Community Choice Credit Union
Community Financial Credit Union
Community Health Centers
Contract Professionals, Inc. (CPi)
Conway MacKenzie, Inc.
Coretek Services
Crawford Thomas Recruiting
Creative Plan Designs, Ltd.
Credit Acceptance
Credit Union Home Mortgage Solutions
Crossmark Global Investments, Inc.
CTS Telecom
Cultura Technologies, LLC
Cvent
Daugherty Business Solutions
Davenport University
DC Housing Finance Agency
Dean's Professional Services
DELPHON, Inc
DeMaria Building Company, Inc.
Devbridge
DeWys Manufacturing Inc
DFCU Financial
Digital Third Coast
Dipasqua Enterprises Inc.
Discover Hope Behavioral Solutions
DK Security
DMC Atlanta, Inc.
Donlen A Hertz Company
DWM Facilities Maintenance
Dynamic Inc
Ecentria Group
Eckert Wordell
Educational Data Systems, Inc.
Eenhoorn
Eight Eleven Group
eMindful
EMKAY Inc.
EmPower HR
Engagio Inc
Epitec
EPMA
ES3, Inc.
ESG Automotive, Inc.
EventSphere, LLC
Evia
Excelas, LLC
Exchange Physical Therapy Group
Express Employment Professionals
Farbman Group
Fastmore Logistics
FBC Remodel
Feniex Industries
Feyen Zylsttra
FieldEdge
First Option Mortgage
First State Bank
Flagstar Bank
Fleis & VandenBrink Engineering, Inc.
Flexco
FONA International Inc
Force Marketing
Framework Communications
Fraser Communications
Freedom Truck Finance, LLC
Gallant Construction Company, Inc.
Gateway Sales Consulting Inc.
Geneca LLC
Genesis Technologies
GGT Worldwise
Ghafari Associates, LLC
Giftcard Partners
GMB Architecture + Engineering
GNS Holland, Inc.
GoHealth
Good Foods
Grand Rapids Label Company
Gray Television
GSTV
GT Independence
Guy & O'Neill, Inc
H2I Group
Hancock Askew & Co., LLP
Harley Ellis Devereaux
Health Catalyst
Health Designs
Health Payment Systems
HealthFlex Home Health Service
Helping Hand Center
Heritage Community of Kalamazoo
Highland Reserve
Holland Hospital
Homebot
Honigman LLP
Hooker DeJong Inc.
House of Kaizen
HRPro/BenePro
Humanetics Innovative Solutions, Inc.
Hupy and Abraham
HVJ Associates
HydroChemPSC
Ibericus Inc
IDR, Inc
IGEL Technology Inc
imageOne
iMarket Global inc
IMPACT
Impact Networking, LLC
Incredible Technologies
Infinity Consulting Solutions
Infosemantics, Inc.
InfoTrust
Insightin Health
InsITe Business Solutions, Inc.
IST Management Services, Inc.
IT Works Recruitment
Jabian Consulting
Jackets for Jobs, Inc
James Marketing Consultants
Kapnick Insurance Group
Kelly S. Matthews
Kent District Library
Kenway Consulting
Kesslers Diamond Center, Inc.
KIRCO Management Services, LLC
Koops Inc.
Kuraray America, Inc.
LABUR
LaFleur Marketing
Lake Michigan Credit Union
Lakeshore Recycling Systems
Lakewood Construction
LASSO
LECMPA
Ledson Winery & Vineyard
Legal Copy Services
LGS Staffing
Life EMS Ambulance
Line Drive
List Partners, LLC
Logical Innovations, Inc.
Logicworks
Lola.com
Lormax Stern Development Co LLC
Lynx Technology Partners
MacGregor Partners
Manifest
Marco
Martin Brower
MCM CPAs & Advisors
Medix
Mel Trotter Ministries
Memphis Meats Inc
Merchants Fleet
Metro Health University of Michigan Health
Michigan Financial/Platinum Wealth
Michigan First Credit Union
Michigan Office Solutions
Michigan Planners
Microfiber Products Online
Millcraft
Miller Grossbard Advisors
Mobile Labs
Moffitt Cancer Center
MonoSol, LLC
Morae Global Corporation
Morrey's Contracting
Morrison Healthcare
Mortenson Construction
Motivation Excellence
MSU Federal Credit Union
Mutual Trust Life Insurance Company
MyEmployees
N2 Publishing
National Futures Association
National Heritage Academies Inc
Navint Partners, LLC
New York Presbyterian Hospital
Next College Student Athlete
NFP
NHK International Corporation
Nine 26, inc.
North American Solutions
NOW Health Group, Inc.
NTH Consultants LTD
Nuspire Networks
NVISIA
OCuSOFT, Inc.
Office Revolution
OHM Advisors
OLN Inc
OMNI Community Credit Union
Omron Automation America
One Park Financial
One Source Provider
OneDigital Health & Benefits
OneMagnify
OpenRoad Lending
OpTech
OptiMed Health Partners
Orbus Exhibit & Display Group
Origami Risk
Orren Pickell Building Group
OST
PageGroup
Paradigm
Paragon D&E
Parasol Alliance
Paymerang
PBD Worldwide
PCO Div II, Inc DBA Process Control Outlet
Pcubed Inc
Pegasus Technology Solutions
Pevida Highway Designers, LLC
Phaidon International
Pivot Point Consulting
Plante Moran
Plex Systems, Inc.
Postcard Mania
Potestivo & Associates P.C.
PPI Technologies Group
Predictive Index
Premiere Property Services, Inc.
Presence Marketing
Prestige Business Solutions
Prince Castle Inc
Process Stream
Progressive AE
Prominence Advisors
Protiviti
QiiGo
Quality IT Partners
Quest CE
R3 Continuum
Rabine Group
Rapid Finance
Rational Cooking Systems
Real Estate One, Inc.
Redwood Logistics
Rehmann
REI Network L.P.
Reink Media Group
Reliant Medical Group
Relutech
Resolution Media
Resurgens Orthopaedics
RHiiNO Corp
Ripple Effect
Riskonnect
Robert Half
Rocksteady Promotions
Royal Cyber
Rural Sourcing Inc.
Saggezza
Salem Media Group
Salo LLC
ScholarshipOwl
Schupan & Sons, Inc.
SecurAlarm Systems, Inc.
Secure-24, LLC
Service Express, Inc. (SEI)
SFL Companies
Shift Digital
Shoemaker Financial
Simplus
Six Flags Entertainment Corporation
SlightEdge
Smashtech
SME
Social Driver
Soils & Structures, Inc.
Soliant Consulting
SPACE, Inc.
SpartanNash
Specialty Eye Institute
SpendMend
St. Ann's Home
Stand Up Management
Star Mountain Capital, LLC
Starcom USA
Starkweather & Shepley Insurance Brokerage Inc
STARRDESIGN
State Bank Of Southern Utah
Strive Consulting
Stuart Mechanical
SWC Technology Partners
Switchfast Technologies
Swoon
Syntasa
TA Digital
TATA CONSULTANCY SERVICES
Taylor's Special Care Services Inc.
TCG
Terryberry
TetraVX
Thacker Sleight PC
The American Board of Anesthesiology
The Channel Company
The Frontier Project
The Good Life Companies
The Granite Group
The Intersect Group
The Nitsche Group
The NRP Group, LLC
The SMB Help Desk, inc.
The So Cal Group, Inc.
The Starr Group
The Taubman Company
The Wiser Financial Group
Therapia Staffing
Thompson Technologies Inc
ThoughtWorks Inc
ThrivePass
TopSpot Internet Marketing
Topstep Trader LLC
Total Quality Logistics
Tovar Snow Professionals, Inc.
Townsquare Interactive
TRELEVATE
Trendway Company
Trevelino Keller
Triangle Associates
Trillium Staffing Solutions
Trion Solutions Inc.
Twisthink
UCHealth
United Shore
University of Michigan Credit Union
USA Triathlon
Vector Choice Technology Solutions
VelocityEHS | Humantech
Verity Credit Union
Vertikal6
Vigon International, Inc.
Virtue Group LLC
VisionQuest
Vivid Resourcing LLC
Walbridge
WambaTech Inc.
Wespath Benefits and Investments
Willis Law
Windemuller
Wingstop Restaurants, Inc.
Wi-Tronix, LLC
Work Skills Corp
Worksighted
WOW! Internet, Cable and Phone
WRH Realty Services, Inc.
WSI
XINNIX, Inc
York Solutions, LLC
Zeigler Auto Group
ZF North America, Inc.
Zolman Restoration
ZoomInfo