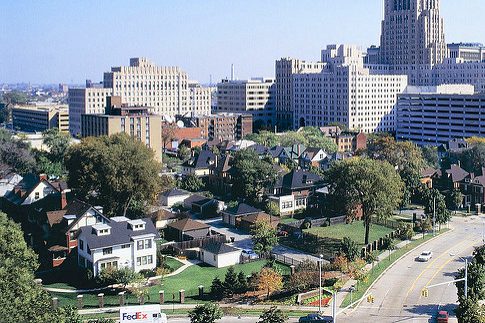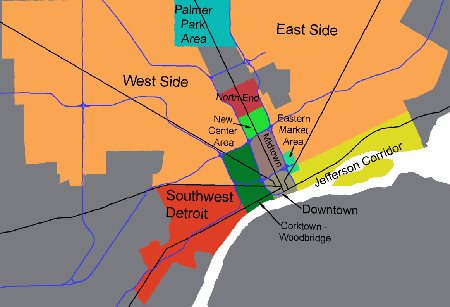 Through a major funding boost from seven companies, Detroit's neighborhoods will receive a record-setting $35 million investment to do commercial-storefront rehabilitation, streetscape improvements, affordable-housing development and more across the city's Strategic Neighborhood Fund areas, city officials and business leaders announced today.
The seven companies committing $5 million each are: AAM, Blue Cross Blue Shield of Michigan, Chemical Bank, Fifth Third Bank, Flagstar Bank, Huntington Bank, and Penske Corporation. Their $35 million commitment is the largest corporate donation to neighborhood development in Detroit history.
City officials, including Mayor Mike Duggan, said this investment is expected to leverage another $70 million in private investment, for a total of $105 million of new investment that will bring physical improvements to neighborhoods.
The coalition of partners came together over the last year, in an effort led by Mayor Duggan and Chairman of Chemical Financial Corporation Gary Torgow, as well as Huntington Bank CEO Steve Steinour and Blue Cross Blue Shield of Michigan CEO Dan Loepp. Torgow, Steinour and Loepp all met with a number of other corporate leaders to share the city's vision for neighborhoods and recruit the seven partners announced Monday.
"It is an honor to be involved in this vital commitment to the neighborhoods that make up our great city," Torgow said in a statement. "The fine organizations in this coalition recognize the importance of stepping up and playing a part in the revitalization of these critical areas of the city. It is this kind of creative collaboration that brings about great opportunity and change."
Blue Cross Blue Shield of Michigan agreed. "Blue Cross CEO Dan Loepp is thrilled to partner with the city of Detroit to help improve the neighborhoods of Detroit as part of our commitment to healthy communities," officials said Monday.
The seven corporate partners join a growing list of philanthropic organizations that have committed to inclusive neighborhood development, and highlights the importance of partnerships between the public, private and philanthropic communities to the revitalization of neighborhoods. Following an initial $15 million contribution from the Kresge Foundation, additional foundations and organizations have made significant contributions to the expansion of the Strategic Neighborhood Fund.
There are five main initiatives planned for this corporate commitment. They are:
• Park improvements, including the creation of new parks and improvements to existing parks by adding amenities based on residents' needs.
• Commercial development to fill vacant storefronts and lots, with mixed-use and multifamily projects along commercial corridors.
• Streetscape improvements, including street and sidewalk repaving and redesigns to create walkable, beautiful streets that are attractive to businesses and pedestrians alike.
• Single-family home stabilization to renovate and preserve existing vacant houses, build density and create affordable housing in these neighborhoods.
• Affordable housing development, to fight displacement where there is growth.
"Today, we are seeing a major shift within the corporate community toward investment to our neighborhoods, and residents can expect real, physical changes coming in the next few years," Mayor Mike Duggan said at the event announcing the investments.
"With the help of our partners and this record-breaking commitment, we are taking the strategy that worked in Midtown and scaling it citywide to bring more development to neighborhoods across our city," Duggan said.
The City will drive these neighborhood developments based on the model of development in the first three Strategic Neighborhood Fund areas, Livernois/McNichols, Southwest/West Vernor and Islandview/Greater Villages.
Improvements are already underway, including the new 2.5 acre Ella Fitzgerald Park in the Fitzgerald neighborhood of the Livernois/McNichols area; the Coe development in Islandview/Greater Villages, where 12 new units of housing were built on a vacant lot, including 30 percent affordable housing; and new and improved lighting and planned improvements to Clark Park in Southwest Detroit.
With this commitment from the corporate community, city officials said the Strategic Neighborhood Fund will expand this work from three areas to 10 and implement the new Affordable Housing Leverage Fund to fight displacement as the neighborhoods grow.
Over the next five years, these types of improvements will be coming to the next seven SNF areas: Grand River Northwest, Jefferson Chalmers, Russell Woods/Nardin Park, Campau/Banglatown, Warrendale/Cody-Rouge, Gratiot/7-Mile and East Warren/Cadieux.
With the record commitments from the seven corporate partners, the investment is expected to help leverage additional public dollars in neighborhoods.
Each of the 10 areas are made up of clusters of neighborhoods, and the effort will ultimately bring development to more than 70 individual neighborhoods across the city. Affordable housing investments will be made citywide.
The Strategic Neighborhood Fund is a $130 million neighborhood investment strategy. The SNF invests in improving parks, streetscape improvements, commercial corridors and single family housing, guided by residents' input through the city's planning processes. The fund was piloted with a $42 million investment in the three initial neighborhood areas, Livernois/McNichols, Southwest/West Vernor and Islandview/Greater Villages. Now, the fund has expanded to $130 million in seven more areas, touching dozens of individual neighborhoods across the city.