Out of an abundance of caution, the United States and most industrialized nations precipitously shut down major sections of the economy in response to the COVID-19 pandemic, but with little perspective or projections of the middle to longer-term impacts of these decisions.
Additionally, federal and state governments enacted significant economic stimulus packages that simultaneously paid employers to maintain jobs while also paying employees not to work. The unintended consequence has been titled the "big quit" or the "great resignation" as millions of employees have changed jobs, companies, and industries – and even left the workforce altogether.
Speakers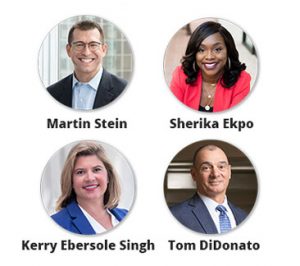 Martin Stein, founder of Blackford Capital will moderate a panel of experts from industry, technology and government to explore some of the greatest strategic talent and employment questions facing business today.
Tom DiDonato: SVP and Chief People Officer, Lear Corporation
Kerry Ebersole Singh: Chief Talent Solutions & Engagement Officer, Michigan Economic Development Corporation (MEDC)
Sherika Ekpo: Interim Chief People Officer, Anaplan
Together, they will share their understanding of the trends and emerging solutions to the question: where did all the employees go, and what will bring them back to work?
*"This Program is pending 1.00 HR (General) recertification credit hours toward aPHR™, aPHRi™, PHR®, PHRca®, SPHR®, GPHR®, PHRi™ and SPHRi™ recertification through HR Certification Institute® (HRCI®)."
*"This program is valid for 1.00 Professional Development Credit (PDC) for SHRM-CP® or SHRM-SCP®. For more information about certification or recertification, please visit https://www.shrm.org."