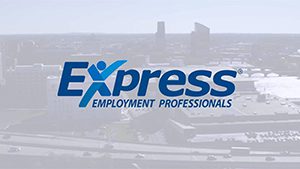 GRAND RAPIDS – Express Employment Professionals of Grand Rapids is hosting a week-long "JOB FEST" in Grand Rapids from December 6 to December 10 to recruit for over 500 Light Industrial positions. Express represents over 100 employers in the greater Grand Rapids area and is recruiting on their behalf for over 500 positions. They will be doing phone interviews and in-person interviews all day, every day during the week of December 6. This is part of their annual Job Fest event, targeted to help people find a new job before the end of the year!
The goal of the Grand Rapids JOB FEST is to connect more people with a new job in a single week than ever before.
Those seeking employment have multiple options to participate:
David Robb, Director of Operations, said, "As we move into the end of the year companies are continuing to ramp up their hiring efforts as they look towards 2022. This year we are seeing more hiring demand than ever before for this time of year. It is a great time for someone to find a job if they are not currently working or to potentially move to a better job if they are employed. We are helping connect people to full-time permanent jobs at some of the best companies in Grand Rapids. Job Seekers working with Express will likely be able to choose between dozens of different job opportunities to ensure they get the best job, pay, location, and schedule for their needs!"
Top Jobs
Machine Operator – $15-$18.75/hr
CNC Machine Operator – $16-$17.50/hr
CNC Machinist – $17-$20/hr
Production Worker – $15-$17/hr
Wood Production Team Member – $17.29/hr
Mechanical Assembly – $15-$17/hr
Electrical Assembly – $15-$17.50/hr
Press Operator – $17.50-$20/hr
MIG/TIG Welder/Fabricator – $17-$18/hr
Shipping & Receiving – $14-$16/hr
Warehouse Worker – $14-$18/hr
Forklift Driver – $15-$20/hr
Delivery Driver – $17-$20/hr
Print Production Specialist – $15-$19/hr
Plastic Extrusion Operator – $15-$16/hr
Bindery Assistant – $16/hr
Saw Operator – $15-$17/hr
General Labor – $14-$16/hr
Apartment Maintenance Technician – $15-$19/hr
Maintenance Technician – $24-$28/hr
Electrical Technician – $18-$25/hr
Sanitation Technician – $15-$17/hr
Secondary Operator/Finisher – $17.25/hr
Quality Inspector – $14-$17/hr
Sewer/Upholsterer – $16-$20/hr
Racker/Packer – $15-$16/hr
Grounds Worker- $14-$15/hr
Cleaner – $14-$15/hr
Seasonal Snow Shovelers – $14-$15/hr
+ More!
More job fair details are also available on Facebook at: https://www.facebook.com/events/489800022321965