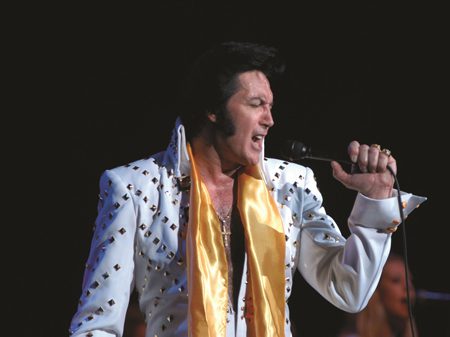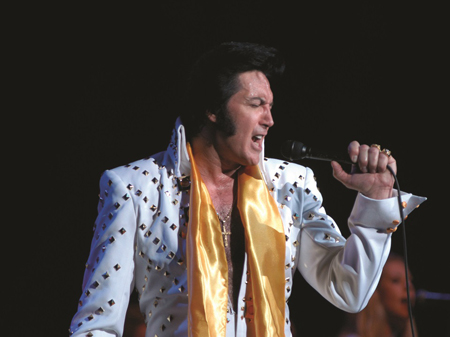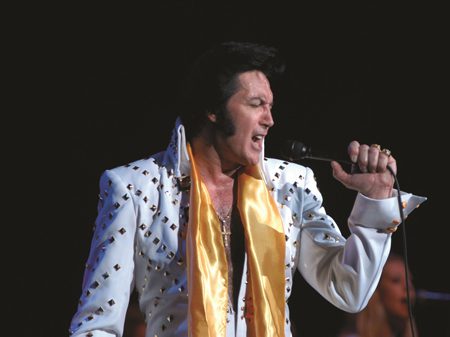 Talk about a sweet event: A legendary restaurant on Lake St. Clair in St. Clair Shores is honoring the King of Rock and Roll with an event and a special treat.
On Wednesday, Brownie's on the Lake will host its first Elvis on the Lake event, a free party complete with a live performance by Elvis Impressionist Max Pellicano, an Elvis-themed costume contest for staff and customers and a new dessert inspired by Elvis's love of peanut butter and banana flavors.
Chef Brad Bardell of Brownie's on the Lake has developed The Elvis Pie just in time for this upcoming party. It features peanut butter mousse layered with caramelized banana and whipped cream, all inside a Nutter Butter crust and garnished with candied bacon.
Brownie's on the Lake is hoping its customers will go with its staff back in time to an era where The King ruled the airwaves and rock n' roll culture was born. Elvis on the Lake will celebrate all things Elvis Presley – from his iconic music, style and penchant for peanut butter and banana sandwiches.
If you want to participate, you should make your way to the Nautical Mile dressed as either Elvis Presley or Priscilla. Enter a costume contest for prizes and enjoy the sounds of Pellicano – a world-renowned Elvis performer who also happens to be part of the team at Brownie's on the Lake. The party starts at 8 p.m. Get out your blue suede shoes.
Brownie's on the Lake offers Detroit's finest lakeside views, indoors and out. This year the restaurant will remain open for an extended season – through Dec. 31, 2017. A destination on Lake St. Clair, Brownie's on the Lake welcomes guests for happy hour, lunch, dinner and special events.
Brownies on the Lake
Elvis Pie recipe – for Elvis on the Lake event Aug. 30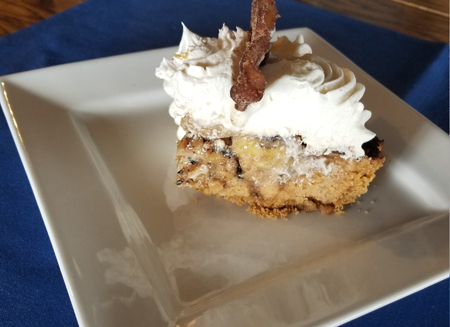 Recipe by Chef Brad Bardell
Crust
12 Nutter butter cookies (crushed in food processor)
2 ounces of unsalted butter (melted)
Combine the ground cookies and butter, and place in a 9-inch pie tin.
Bake at 350 for 5 minutes, let cool
Filling
2 cups of crunchy peanut butter
1 ounce of unsalted butter
1 cup of whipped cream (whipp to stiff texture)
Place peanut butter and butter in a mixing bowl and mix until light and fluffy. Fold in the whipped cream using a rubber spatula. Place the peanut butter mousse on top of your crust, chill.
Slice 4 bananas and toss with sugar. Place the bananas in shingle formation on top of the mousse, in a single layer. Using a crème brulèe torch, caramelize bananas, layering the bananas until all your bananas are used. Top with whipped cream and chill.
Cut pie into 6 pieces. Garnish with candied bacon. To make, cook bacon until almost done. Toss bacon in cinnamon, sugar and a pinch of cayenne pepper. Cook another 2-3 minutes until bacon is crisp and then cool to use as topping.