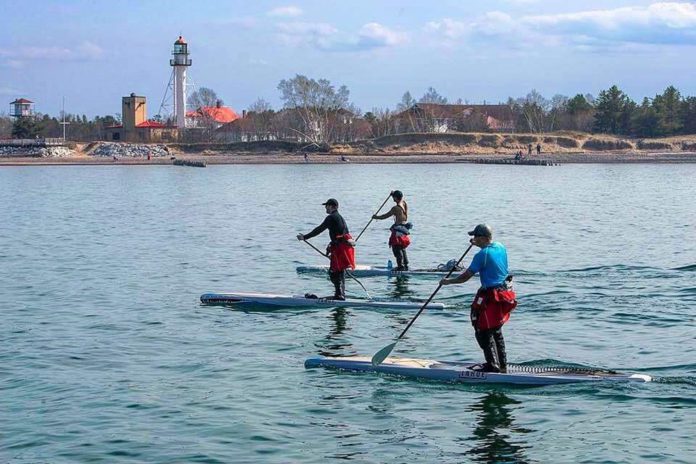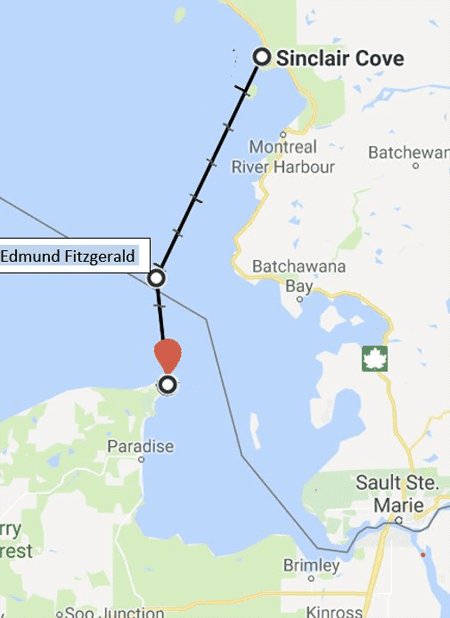 While most people will be enjoying fireworks, eating hot dogs and celebrating July in Michigan in traditional ways, a group of three friends are doing to do something that blends their passion for water sports and their love of Great Lakes history.
Those friends – Joe Lorenz, Kwin Morris and Jeff Guy – will attempt something that has never been done before. Their goal is to paddleboard across Lake Superior, the largest, coldest and, some say, the most dangerous of the Great Lakes. The goal of this trip is to raise more than $10,000 for the Great Lakes Shipwreck Historical Society.
"It can pick up like crazy out there in a matter of seconds," says Morris. Superior's weather and waves have taken thousands of sailors and their ships to the grave.
He and the two other paddle boarders are co-founders of Stand Up for Great Lakes, a nonprofit organization set up to protect the Great Lakes and educate others about our freshwater resources.
"We're working on a route where we cross over the site of the Edmund Fitzgerald, and we can stop and give respect to all of the shipwrecks and sailors that have gone down," says Morris, age 31, and a teacher in the Elk Rapids School District.
The crossing will take place in July. Dressed in their dry suits, these men will battle the lake known for 38-foot waves, fog that has brought down freighters, and water temperatures in the thirties.
"We have a weather window between July 9 and 20th," says Corey Adkins, an award-winning documentary Director of Photojournalism at 9 & 10 News, a CBS affiliate in northern Michigan. He will film the paddle boarders' journey from the safer (and drier) position aboard a boat. "The crossing itself will only take between 24-32 hours, but we need that weather window."
They will finish up at Whitefish Point in Michigan's Upper Peninsula, the site of the Great Lakes Shipwreck Museum—if all goes well.
The idea of paddling across Lake Michigan first struck the guys when Kwin and Jeff were doing a standup paddle together. They later met Joe Lorenz at a Christmas party, who had a similar idea. He said, "Let's do it!" So, they put together the team and a plan, formed a nonprofit and from that point forward worked to make it a reality.
"They were originally going to try it alone and that wouldn't have been a good idea," says Adkins. "Then they talked to seasoned boat captain Ryan Matuzak, who is with North Country Sportfishing in Frankfort, MI. Ryan encouraged them to wait a year. They researched and became much better organized."
Their first crossing was Lake Michigan in 2015, a 60-mile and 23-hour journey in 37-degree water. They raised $10,000 for the Great Lakes Alliance. In June 2017 they crossed Lake Huron and raised $7,000 for Thunder Bay National Marine Sanctuary. The 90-mile paddle journey took over 28 hours to complete. Now they are attempting the most dangerous paddle yet across the lake known as 'Gitche Gumee.'
Each paddle boarder carries all of his supplies on his own paddleboard: food, extra clothes, and straws that filter drinking water from the lake. There are many dangers they'll face, aside from hypothermia and fatigue. High winds can crop up, leading to big waves, and they will pass through shipping lanes in the dark.
"Fog can happen very quickly," says Corey. "That's what caused a lot of the shipwrecks on Lake Superior. We don't want to lose anyone in the fog."
To give their families peace of mind, they have taken precautions, such as having a boat follow them with an emergency medical technician on it.
"The first trip (on Lake Michigan) was a lot of unknown," says Scott Lorenz, Joe's father. "But they planned it out thoroughly. Their success has given us as family and parents much more confidence. Their paddle boarding journeys are an incredible accomplishment."