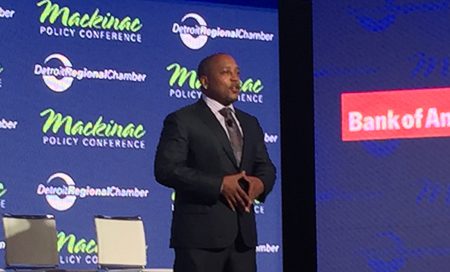 After Daymond John started his internationally known fashion brand FUBU in the basement of his mother's house, she took a loan on her house to help scale his business. And she was the biggest believer that he could grow a hip-hop brand to greatness.
John, a keynote speaker at this year's Mackinac Policy Conference on Mackinac Island, credits his mentors in hip hop, on "Shark Tank" and among his family for helping create his entrepreneurial spirit. He shared a variety of tips in his wide-ranging talk, which included everything from an impression of LL Cool J to Gap ads to insights on the Kardashian phenomenon.
On Thursday morning John shared some of what he has learned about music, customer service, advertising and believing in yourself and your products through FUBU, his book and his television appearances.
• Your customers are part of your company's ecosystem. Create trust with the people who buy your products and make them invest in you and your business. Their belief in what you do will result in returns beyond imagination.
• Investing in your staff is the best dividend. As a boss you don't have to be mean or cruel. Rather, you need to learn about them as individuals, inspire them with your own hard work and encourage them to try to contribute to the company's overall success.
• Don't rank your success in terms of money. John's mother, who divorced and had three jobs to support the family, was happy despite the family's financial challenges. "Money just drives you up to your problems in a limousine," John said.
• Look around you for inspiration. When John attended hip-hop concerts he noticed that everyone seemed to have a uniform of sorts on when they attended. But companies, including one famous shoe company, wasn't interested in this market. FUBU grew about of John's love of this culture and every culture.
• Don't buy from others when you can make it yourself. His mom told him he could spend the same money on a bolt of fabric and make his own products. Eventually, FUBU had to scale up, but John still listened to others and kept his ideas and fabrication true to those early roots.
• You have to be local. LL Cool J told John that if he was going to wear the FUBU brand, that had to mean something to him because he represented his hometown and the people living there. You need to lift your community up first and then it will lift you up as well.
• You have to love what you do. "The day you stop loving what you do, stop doing it," John said. And even if you fail, keep at it. That 1 percent of the time that you have success, you'll likely knock it out of the park.
• Be relatable. One thing that makes Kris Jenner so bright in terms of how she markets the Kardashian women is that she looks at how each one relates to the female marketplace. Each woman has a way that engages her audience, and that works for their brand.