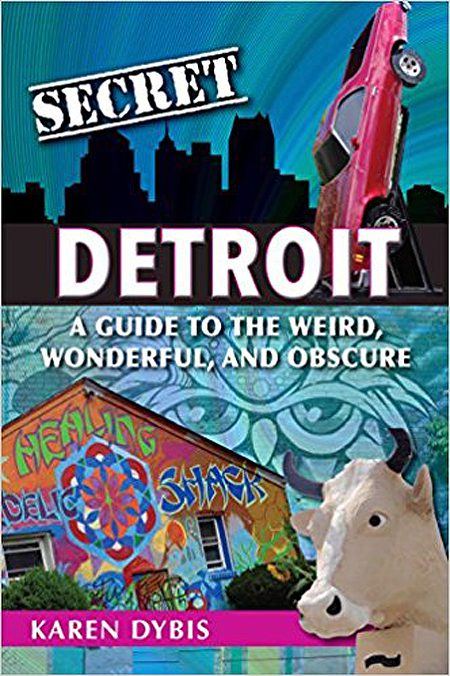 At 142 square miles and more than 300 years of history, learning everything you can about the city of Detroit is a sizable challenge. How do you create a travel guide for a place so diverse and culturally relevant?
That was the challenge of writing "Secret Detroit: A Guide to the Weird, Wonderful and Obscure." The book, published in April by The Reedy Press, was written by Corp! Magazine Digital Editor Karen Dybis. It is her fourth local history book.
Dybis describes the book as a tourism guide meets Detroit trivia. There is a plethora of information in "Secret Detroit," a compilation of 90 items to see, experience and visit around the Motor City and its neighboring Hamtramck.
As a reporter in Detroit for more than 20 years, Dybis said the hardest part of writing "Secret Detroit" was narrowing down the places she included in its pages. Some of her favorite spots include the Michigan Theatre, the ornate movie house turned parking garage with a grand stage looming over its cars. Picturesque Alfred Brush Ford Park has the remnants of missile radar towers that connected to their Nike counterparts once buried on Belle Isle. Then there are incredible landmarks like Detroit's massive salt mines, a monument to urban graffiti known as the Dequindre Cut as well as Baker's, the world's oldest operating jazz club.
Secret Detroit explores this great American city to investigate everything that is odd, unexpected and extraordinary. Detroit is the kind of city you need to see and experience to understand why locals brag about being from the Motor City. Full of stories and tall tales, this book is a must-have for urban explorers, history buffs and travelers of all experience levels.
Q: What kind of book is this?
A: I'd call it a guide to Detroit adventures. If you live in the city, there's lots of new places to check out as well as some historical monuments that are worth visiting. If you're new to Detroit, you'll find many places to drop into for a one-of-a-kind experience. I recommend people throw the book in the car, plot a route and head out to see something new each time they drive around the city.
Q: Is "Secret Detroit" kid friendly?
A: Absolutely! I took my two children, ages 9 and 11 at the time, with me to most of the spots in the book. They loved the museums, the "Man in the City" scavenger hunt to find these little statues around town as well as the great restaurants. My kids know that Detroit is their hometown and they love seeing the growth of the community. They also now appreciate the history a bit more after visiting places like Henry Ford's Piquette Avenue plant, where he first started mass manufacturing his vehicles. Kids can sit in the cars, check out interactive displays and imagine themselves in Ford's office. It's a great spot.
Q: What did you learn from writing this book and your other books?
A: I've discovered a love for history that I didn't know I had! I started with "The Ford-Wyoming Drive-In," and that gave me a sense of how family-owned businesses such as the Dearborn drive-in theater worked. I then wrote "Better Made in Michigan," a book about Detroit's impressive potato chip manufacturing industry – and I was amazing at the kind of entrepreneurism that took place alongside the automotive giants. My third book, "The Witch of Delray," introduced me to Detroit's heroes and a few villains in our past that were remarkable people. Plus, I really enjoy true crime, so that story about Rose Veres and her 1931 murder trial resonated with me. "Secret Detroit" was the icing on the cake – a fun book about a city I love.