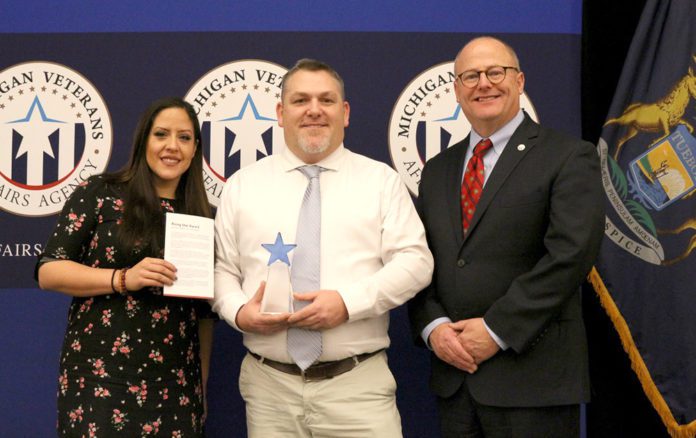 Recruiting employees from Michigan's population of U.S. veterans is a daily task, finding the right hires and getting them on the job. That daily grind and the rewards that come with it is worth honoring, and that is exactly what the Michigan Veteran Affairs Agency recently did.
A record 157 job providers were honored in December during the Michigan Veterans Affairs Agency's (MVAA) 2017 Veteran-Friendly Employer Awards and Recognition Breakfast held on the campus of Oakland University.
Organizations were recognized for earning either bronze-, silver- or gold-level status as participants of the MVAA Veteran-Friendly Employer program. Award levels are determined based on participants meeting certain criteria. The number of program participants has grown exponentially since its start in 2014, having more than doubled in size over the past year alone.
"The Veteran-Friendly Employer program has been a great success, helping veterans to find good jobs and employers to find qualified workers," said MVAA Director James Robert Redford. "Through this growing program we are not only helping Michigan's veterans identify job providers who value and want them, but we're also working with those job providers to develop internal processes and programs to support employees who are veterans and active military members and their families."
The Veteran-Friendly Employer program helps veterans to more easily recognize job opportunities in a variety of industries and identify employers committed to hiring and supporting veteran talent in their workforces. The program also recognizes organizations for their dedication to recruiting, hiring, training and maintaining veteran talent. In 2017, Veteran-Friendly Employers hired nearly 2,000 veterans.
For 2017, eight organizations were certified as gold-level Veteran-Friendly Employers: Consumers Energy, DTE Energy, General Motors, Michigan Department of Transportation, Michigan State Police, Quicken Loans, Roush Enterprises and Whirlpool Corporation.
To receive gold-level status, employers must retain at least 75 percent of veteran hires over the past 12 months, implement internal veteran support networks and create either a hiring rotation or leadership development program within their organization, in addition to meeting all other requirements under the Veteran-Friendly Employer program.
Herman Miller was the recipient of this year's Rising Star Award. The award is presented to an employer that exhibits new and novel approaches to veteran recruitment and hiring. The company was selected for its growing Inclusiveness Resource Team, which in part works to recruit veterans and assist in veteran outreach through programs, partnerships and events. It was also recognized for its stated goal of increasing spending with veteran businesses by $1 million.
Fifteen organizations were honored as silver-level employers for meeting or exceeding their veteran hiring goals and implementing internship and on-the-job training programs for veterans, including AlixPartners, Beaumont Health, Cooper Standard, Express Employment Professionals of Grand Rapids, Fiat Chrysler Automobiles, Ford Motor Company, General Electric, Kalamazoo County, Kellogg's, Michigan Department of Health and Human Services, Move Systems, OpTech, Prestige Engineering, Uniform Color Company and Verizon.
A total of 134 organizations were certified as bronze-level Veteran-Friendly Employers for their veteran hiring policies and practices.