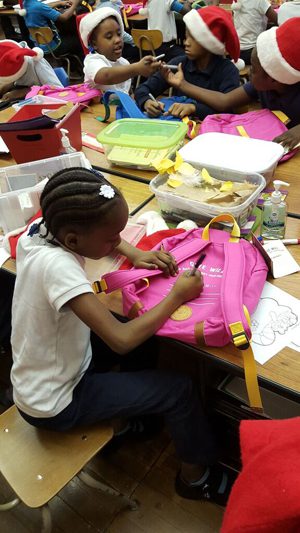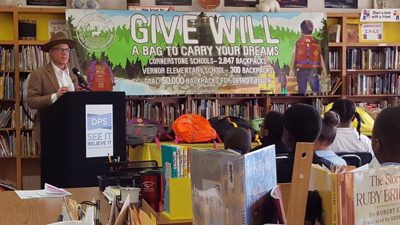 When you sit down to talk to kids, many entrepreneurs find inspiration, creativity and ideas brewing from these young thinkers. That certainly was the case this week when Native Detroiter Will Adler, founder and creative director of Will Leather Goods, came to town.
Adler was here for special assemblies at two Cornerstone Schools on Monday and Vernor Elementary on Tuesday to provide backpacks to their entire student body. This initiative is part of the "Give Will" program, which is providing over 500,000 backpacks in the next five years to students across the United States.
Adler didn't just give away backpacks. He sat down with students to discuss what these kids dreams are with them in hopes of inspiring them to achieve those dreams.
These students are the first recipients in Detroit of Give Will, a program established by Will Leather Goods designed to support students in underfunded schools across America through in-kind backpack donations. Each Cornerstone student in grades K – 12, totaling about 3,000 students, will receive a specially-designed Give Will backpack. Each bag includes a space for the child to write his/her future aspirations, with the backpack intended to serve as a, "bag to carry your dreams."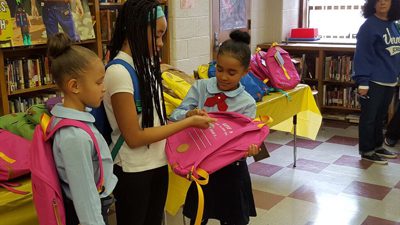 Adler reignited his love for Detroit a little more than two years ago. The founder and CEO of Will Leather Goods in Eugene, Ore., was in town to visit his brother, Robert. Robert lived in Royal Oak, and his ill health had Adler visiting him monthly. The two had a lifelong bond, created by their mutual drive, creativity and love of entrepreneurship. The two had grown up in Detroit. Back then, they were just Bill and Bob, hanging out at James Vernor Elementary School on Pembroke near Seven Mile.
Robert insisted that they go into Detroit that day – he wanted to show Will Adler everything that had changed. The city that their father and grandfather worked and lived as retailers in was no longer a hollow shell. There was life – growth and development abounded, especially in the downtown area. Robert wanted to take Will into Midtown in particular.
"He took me around the city. He said, 'There a lot of things happening here. You've got to get into it. Let's open in Detroit,'" Adler recalled. "I met with Sue Mosey (executive director of Midtown Detroit Inc.) and I was impressed."
Adler recently opened up shop in a former Tomboy grocery store at 4120 2nd Avenue in Midtown, and the store is a visual stunner. Not only are the products impressive with their quality and attention to detail, but the merchandising at the retail location is simply beautiful, full of color and movement. The little touches, such as vintage wood, fixtures and the like, also make the place feel very Detroit.