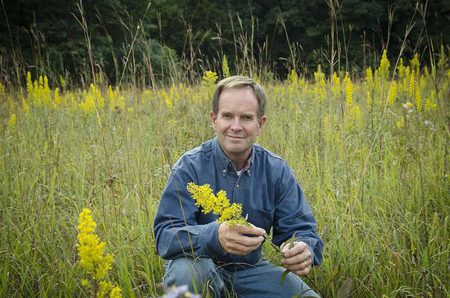 Every industry has its honors – singers receive Grammys, actors covet Oscars. And gardeners? They hope to become members of The Garden Club of America.
Recently, Robert E. Grese, Theodore Roosevelt Chair of Ecosystem Management at the University of Michigan and director of the Matthaei Botanical Gardens and Nichols Arboretum, was named an honorary member of The Garden Club of America, one of its highest accolades. Grese was recognized during a presentation at the GCA's annual meeting.
Maura Campbell, President of The Garden Club of Michigan, noted how special this designation truly is. Since The Garden Club of Michigan was founded in 1911, this is the first time someone the Club nominated has become an GCA member. The Michigan club is one of the original member clubs of the GCA, helping to found it in 1913.
"Bob has been a great friend to our club and is a great resource for our new native perennial garden project on Belle Isle, graciously sharing his extensive knowledge to help us realize our vision for Sunset Point – the most western tip of the island," Campbell said.
Honorary members of the GCA are men and women of distinction in in fields such as horticulture and conservation who are not, nor ever have been, members of a GCA club. Honorary membership is limited to 95 individuals, and a maximum of four are selected each year. The Garden Club of Michigan nominated Grese for honorary membership.
Named along with Grese were Kris S. Jarantoski, executive vice president and director of the Chicago Botanic Garden, and Douglas W. Tallamy, professor and chair, Department of Entomology and Wildlife Ecology, University of Delaware.
Grese's research and teaching revolve around ecologically based landscape design and management sensitive to a region's cultural and natural history. In honoring Grese, the GCA hailed him as an "extraordinary leader, designer, researcher, teacher and guide, a true Renaissance man in his field."
Grese's particular focus has been on restoring urban wilds, specifically prairie and oak savanna ecosystems, integrating and connecting people to nature and fostering volunteer stewardship. Grese has documented the work of early designers Jens Jensen and O.C. Simonds, who pioneered the prairie style of landscape architecture and advocated the use of native plants.
A leading authority on Jensen, Grese demonstrated how Jensen's early work directly contributed to the fields of restoration ecology and conservation biology. His book, "Jens Jensen: Maker of Natural Parks and Gardens," is regarded as the seminal scholarly work on this important landscape designer. A second book, "The Native Landscape Reader," is a collection of writings by early American conservation leaders, landscape designers and horticulturists.
As a practical extension of his interest in historic ecological landscape design, Grese is considered a leader in documenting Midwestern landscapes and has helped develop national landmark nominations for both the Edsel & Eleanor Ford House and the Henry Ford estate, Fair Lane.
Grese is a prolific author and speaker and has held positions on numerous local and national boards and committees, including serving as an honorary director of the Wild Ones, an adviser to the Library of American Landscape History and a member of the Natural Areas Technical Advisory Committee for the Washtenaw County Parks and Recreation Commission.
The GCA is a nonprofit national organization composed of 200 clubs with some 18,000 members who devote energy and expertise to projects in their communities and across the United States. Founded in 1913, the GCA is a leader in horticulture, conservation and civic improvement.