You know that moment at an awards show when the camera pans to an actor or singer who doesn't expect to win but is suddenly named the best at what they do professionally? It is magical – it is the moment when shock, appreciation and happiness blends into a sublime expression captured for all time.
That is kind of how Ellyn Davidson and the staff of Birmingham-based Brogan & Partners felt when their names were read at Adcraft's Ninth Annual "D Show" this month for their work with the Michigan Women's Foundation on a very special and very personal project.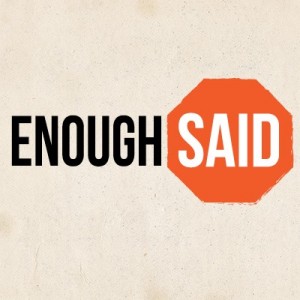 The two groups along with PublicCityPR helped to create and promote the Enough SAID brochure and campaign. SAID stands for "End Sexual Assault in Detroit." The brochure, website and related items, which they developed and launched in January 2015, drew awareness to the 11,000 untested rape kits found in Detroit in 2009, contributing to $1.3 million in funds raised for the foundation from the private sector.
Let that number sink in for a second. $1.3 million. Read it over one more time. That's "million." All from a group of people who cared enough to donate their time and talent to something that needed a spotlight and needed it on a budget. Because before Brogan & Partners stepped forward, there was no money to spend on this extremely important effort. Before PublicCityPR came on board, there was little publicity out there about this shocking lack of funds.
It was a shining moment for Davidson and the rest of the Enough SAID team. Using strong words and images, they were able to share how important the effort was to get these rape kits tests. The pamphlet incorporated the USB code that labels each rape kit as a design element to emphasize that each code represents the suffering of a real victim without justice.
Incorporating the bar codes with female faces was inspired. And it showed how inspiring this brochure and related efforts were. People cared, deeply.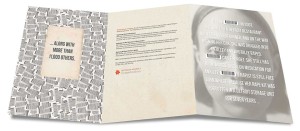 "We felt so strongly and so passionately about getting justice and finding justice for the wrongs against them," Davidson said. "(This project) is so meaningful, so incredibly meaningful – to see the difference we made was specacutalr."
So was winning nationwide attention; CNN, The New York Times as well as industry publications such as PR Week highlighted the campaign, brochure and PR efforts. Additionally, the money raised by local women including Davidson, Wayne County prosecutor Kym Worthy as well as international celebrities such as Facebook executive and author Sheryl Sandberg to test the rape kits was outstanding.
But to also gain the admiration of your peers, particularly within the highly competitive Detroit advertising market, was simply wonderful, Davidson said. That's because the Adcraft Club of Detroit includes huge advertising agencies, large companies and big spenders who put a ton of dough behind their work. And that's work that tends to include automotive companies, television commercials and other impressive items that Enough SAID just didn't have.
"The campaigns that typically win are fantastic television spots with large budgets," Davidson explained. But not this year! "We were just blown away. We knew something was up, but obviously no one would tell us. We thought maybe we'd win best in print, maybe another award. But as people's names were called and we got down to it, it became clear we had won Best in Show. That was an awesome moment."

The D Show recognizes the best creative work in Metro Detroit from the past year with categories including print, TV, integrated branding, digital media, social media, graphic design and innovative marketing. Winners were selected from a record 651 entries of projects and campaigns from Metro Detroit-based agencies or clients.
"Our winners reflect the strength and versatility of the Detroit advertising community," said Brian Yessian, chairman of Adcraft's D Council, which organizes the D Show each year. "We are proud to showcase our roots and expertise in the auto industry and also to demonstrate our creativity for different industries, including non-profits and robotics."
This isn't the first time Brogan & Partners has done something pro bono or got involved in a cause the business deeply cares about; for example, it is a major contributor to the Susan B. Komen organization and its "Race for the Cure" events locally. Working with Enough SAID and these other groups is energizing, Davidson said.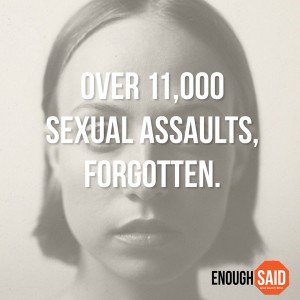 "It's about giving people tangible tools to help them make a difference," Davidson said. "People want to get involved; you just have to make it easy for them.
"We love to help raise funds" for these and other causes, Davidson added. "Everything you do has to be rooted in two things: It has to create an emotional connection so people want to give and you have to get ambassadors for your cause. You need foot soldiers who will fan out your fundraiser to their friends and family. If you can successfully do that, you can make money for your cause."