One thing that stands out about the Mackinac Policy Conference this year is how relaxed and convivial everyone seems to be.
Welcome to MPC15, business-casual style. And it's a good thing, according to the guest speakers at the "Mackinac 101 Attendee Orientation," a panel discussion to help newbies get the most out of this networking Super Bowl, noted facilitator Matt Friedman, co-founder of Tanner Friedman, a strategic communications firm.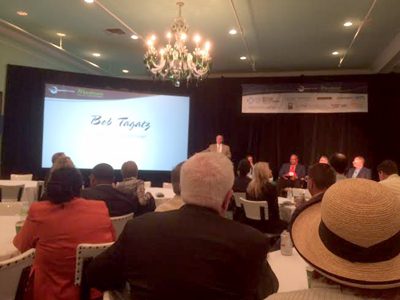 Friedman is a PR pro who knows his way around a conference. He's being doing it for 15 years, after all. He reminded all of us that this is a place where no tie symbolizes open communication. But just because you show up on the Island, you shouldn't expect to walk away from the three-day Schmooze Fest with lots of new deals and contracts. It's more about the mood than getting the goods, Friedman said.
Bob Tagatz, the Grand Hotel historian, noted that this conference is unique for a variety of reasons, including the fact that it creates a conversation starter and gets you moving forward in networking your brains out.
Speaker Andy Hetzel, the vice president of Communications for Blue Cross Blue Shield of Michigan, also is in his 15th year at the conference. He reminded all of us about the importance of having an agenda here. Yes, it is tempting to pig out on the well-appointed buffet tables. Sure, you want to wander the downtown area for souvenirs. But you can't and you shouldn't, Hetzel seemed to advise. Rather, the best way to take advantage of this conference or any conference is to treat it like a normal business day. Set priorities. Create momentum. Work your goals.
Terence Thomas, a lawyer and consultant, may have put it best when he described the conference as a three-day wedding. Lots of stuff goes on that probably should remain in your family, let's just say. But at some point, the conference transforms into a family reunion, Thomas said, a place where you sit a spell, laugh about old times and plan get-togethers for the future. That is why conference participants should reach out, to talk to every power broker like he or she is just another person, to get introductions. It is your time to shine, no matter who or what you are, Thomas said.
The final big takeaway from the orientation was this: Don't be a downer. Don't get all hung up in where you are, what you are  supposed to achieve or who is sitting next to you at lunch. Get out there and get busy meeting people – all the people.