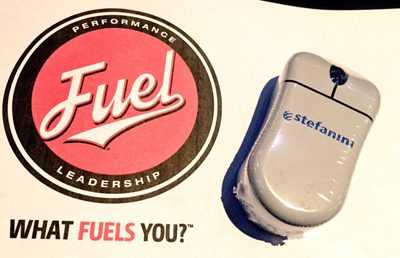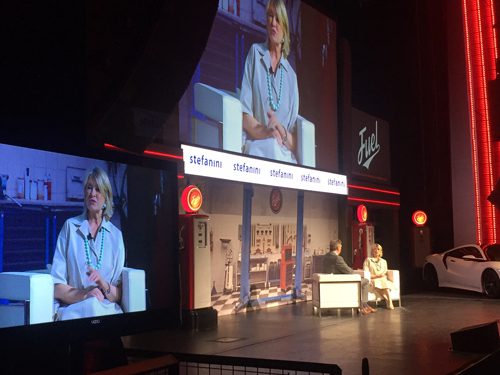 Everyone finds their inspiration in difference ways – maybe it is through music, through relationships with others, perhaps through…shoes.
That was one of the many revelations from Thursday's FUEL Leadership conference at the MotorCity Casino in Detroit. The one who is inspired by shoes? Acura designer Michelle Christensen owned that statement, explaining that having fabulous footwear not only gives her a boost but helps her see things more creatively.
FUEL Leadership is a business conference unlike any other. It starts with all-star speakers, including Martha Stewart, astronaut Mark Kelly, television personality Michael Strahan, clothing designer John Varvatos and Shinola executive Jacques Panis. But it also is about the huge energy in the room, the straight talk about what it takes to be a leader and the inquisitive nature of everyone in the room, which was packed with about 1,300 people throughout the day's event.
The idea, organizers said, is to provide a high-energy, live business conference with original content – things you cannot hear anywhere else than in this Detroit location. These powerful people shared insights into their personal business success, practical advice on how they created great brands and suggestions for how others could follow in their path or break out into their own greatness. People from all stages of their careers benefitted, from millennials to the Greatest Generation.
Corp! magazine was on site Thursday, both as a sponsor and participants. Here are some highlights of the conversations heard there:
• Astronaut Mark Kelly: "How good you are at the beginning of any new endeavor is not a good indicator of how good you can become." Kelly created a powerful narrative of his own career, his time at NASA and the shocking moment when his wife, Congresswoman Gabby Giffords, was shot in 2011. He spoke about how "None of us is as dumb as all of us," meaning that it is imperative that you always stand by your decisions and demand accountability rather than trust or go along with a "group think" mentality.
• Detroit-area author Mitch Albom talked extensively about his charity work, why he decided to write for a living and how he tries to think beyond his own needs. He noted that his writing is a gift, and he was encouraged to use that gift to help others. Success, he said, came after he stopped thinking about what he could gain from his talents and how he could be of service to others. Once he put others' needs ahead of his own desire to achieve, he started to see traction in his career and that put him in the position he is in now to help others in many ways.
• "Living" publisher Martha Stewart: This was about as unedited and as unfiltered as it could be. Stewart was great fun, riffing about her time in prison, talking about how she build her billion-dollar brand powerhouse of a company and gushing about the good food and people she met in Detroit over the years. Her key message (among many) was this: She wanted, above all, to use her name and brand to empower people. Her goal as an individual is to "learn something new every day," and that became the foundation of her helpful empire.
If you were unable to attend the FUEL event, Josh Linker and his team have a way for everyone to become involved in this inspirational effort. The team there has put together a "Daily Fuel" segment, which is available at Daily Fuel website. These two-minute videos are designed to be short, easy to watch and fun. But they'll also offer quick insights and ideas for doing something new or different in your business each day. Check it out if you need a boost of energy from thought leaders in and around Detroit and Michigan.