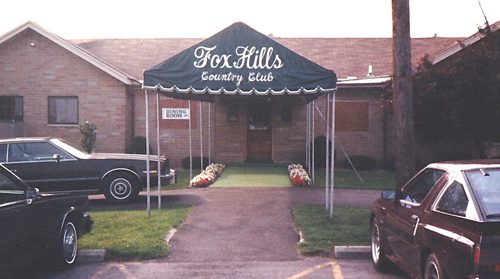 To look at it now, you'd never know that Fox Hills Golf and Banquet Center once was a neglected Country Club – the clubhouse was in disrepair, there were dandelions everywhere and animals roamed the course as freely as the golfers did.
Today, the 63-hole golf course and banquet facility between Plymouth and Ann Arbor is known for its award-winning facilities, pristine events and family-owned business charm. Whether it is a wedding, corporate meeting or first-time golfer, Fox Hills has grown considerably over the past 40 years.
Throughout 2014, Fox Hills will offer specials and events honoring the 40th Anniversary including monthly giveaways, special discounts, new programs and more. Owners and sisters Sandy Mils and Kathy Dul Aznavorian say Fox Hills will continue to add new and innovative programs, technology and opportunities to the golf community in Michigan.
The Dul family story starts in 1974, when Alexander and Estelle Dul purchased the 18-hole Fox Hills Country Club. The family immediately started to rebuild the course and the clientele. Estelle purchased merchandise for the pro shop while Alexander oversaw maintenance and improvements to the property.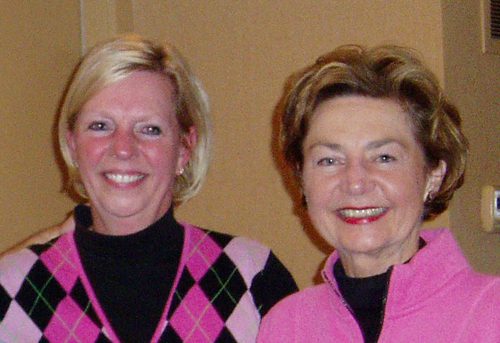 Their daughters, Sandy and Kathy, began to assist in the running of the course at a young age. They moved into managerial roles and have remained loyal to the family business throughout their lives.
"That's how you learn every aspect of the business," Sandy said, and understanding what customers wanted gave them strong business sense and love for the game of golf.
By 1983, Fox Hills had 45-minute waits for tee times and Sandy asked her father to build her another nine holes and expand to another course. Alexander hired Jim Lipe, who had previously worked for Jack Nicklaus, to build and restructure the course to fit the additional holes. The Woods opened shortly after and the business of Fox Hills Golf Course began to grow.
In 1986, after the passing of their father, Alexander Dul, the sisters took the reins of Fox Hills carrying on their fathers' vision and legacy. Sandy and Kathy added on the Golden Fox by 1989 and their vision of a "Private Country Club for the Public" was a reality.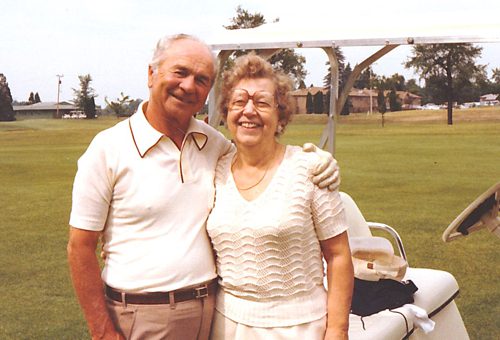 "Since the day my father purchased this course back in 1974 I have loved every minute of it. This has been not only a business for our family, but really a legacy that my parents started and now my sister and I get to carry on, build and grow our father's vision. It's amazing to see the changes and improvements we have made year after year," Sandy said.  "Forty years ago, I would have never thought we'd be here looking at a beautiful facility that offers everything from golf lessons to programs, tournaments, fundraisers, weddings and now we've even added FootGolf!"
FootGolf is a combination of the very popular sport of soccer and golf played on a golf course on shortened holes with 21-inch diameter cups for 18 holes. Fox Hills recently hosted its first ever FootGolf Tournament in Michigan partnered with the American FootGolf League, and more than 100 people registered, the sisters said. They hope to create leagues and more in the future.
Fox Hills offers more 50 course programs through their Learning Center, from beginner leagues to junior golf camps and women's instructional leagues. The Learning Center is now undergoing a renovation, and it will bring more lessons and more clinics, Kathy said. The Learning Center was founded in 2007 and offers private, group and corporate instruction for students beginning at age 3 that are taught by eight PGA/LPGA professionals.
Having a place where people can learn the sport – whether they're 8 or 80 years old – is an essential part of Fox Hills, Kathy said.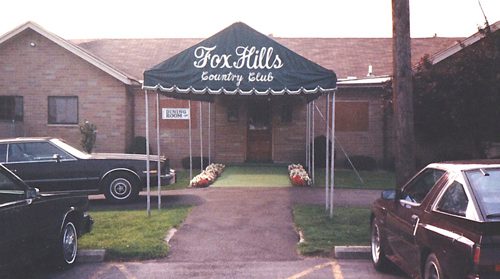 "A lot of people don't realize that golf is a lifelong sport. We also have 80- and 90-year-olds out here playing. There's not many sporting games or events that you can do when you're 80 or 90," she laughed.
It's an ideal sport for families as well, Sandy said.
"Golf really lends itself to being a family affair. The younger kids come out with their parents and together they teach the kids how to play," Sandy said. "It's also a great date night for mom and dad. They can have dinner and the game."