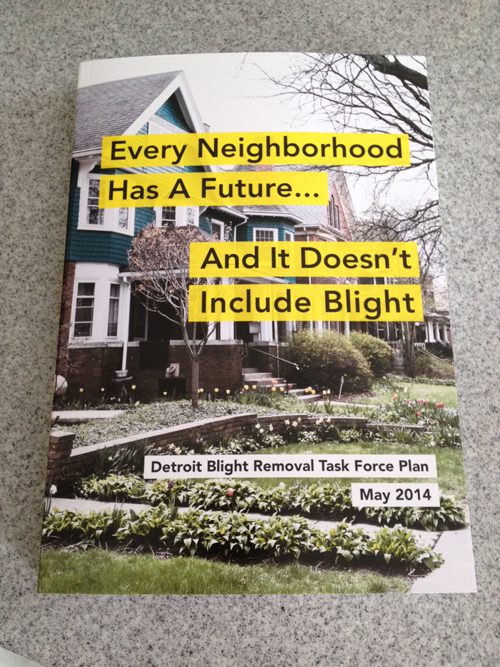 An eight-month effort to figure out the monetary, emotional and practical aspects of Detroit's blight problem has resulted in a 330-page book and a comprehensive action plan that the Detroit Blight Removal Task Force hopes will set a path to remove all of the dilapidated houses, commercial buildings and vacant lots within the city's 139 square miles, the group said Tuesday.
The Task Force's efforts, which started last September, also have resulted in the creation of a revolutionary website devoted to categorizing blighted properties across the city. This data will provide an accurate picture of what buildings and vacant lots need help and why.
There's your hard lead. Here's what else you need to know: The Detroit Blight Removal Task Force, which includes "City Benefactor" Dan Gilbert of Quicken Loans, and city leaders including Mayor Mike Duggan announced during a two-hour meeting that they collectively believe it is possible to remove 99 percent of Detroit's blight in the next five to seven years. Really. Realistically.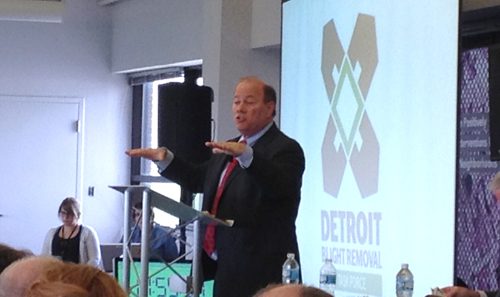 Since coming together last September, the Blight Task Force has taken on the Herculean effort of figuring out exactly how much of Detroit is blighted, what to do about it and who should fund its removal. The results are an impressive book that outlines the issues at hand and suggests what to do next. It also includes the introduction of a website – www.motorcitymapping.org – that will provide endless data to residents, business owners, visitors and anyone else interested in invested in Detroit.
"It's a big day for us," said Matt Cullen, who is president and CEO of Rock Ventures LLC, effectively the right-hand man to Dan Gilbert's huge plans for Detroit and a huge Detroit booster in his own right. "A tremendous amount of work has taken place (with this report). … We want to get this done and get it done now."
Cullen defined blight as "a destructive force" and "an active force in our city" that will "choke the life" from Detroit. He called the Task Force's work as "profound," "impactful" and "an unprecedented attack on blight" within Detroit.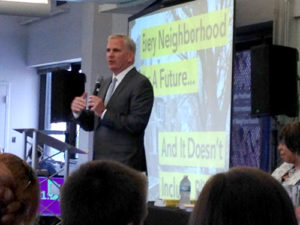 In summary, the Detroit Blight Removal Task Force found:
There are 84,641 blighted parcels that meet the Task Force's definition of blight or exhibit blight indicator. Of those, 73,035 are residential structures. Another 6,135 are lots that require clearing. The rest are 5,471 non-residential structures such as churches and commercial buildings.
To remove all this blight, the Task Force projects the total cost will be as much as $2 billion. It is focusing its main work now on the neighborhood blight, which will cost about $850 million to remove. Neighborhood blight accounts for about 93 percent of all blighted parcels in Detroit.
There is a $394 million funding gap – but that is the least of this plan's challenges, Gilbert said. He believes that once the first years of blight removal begin, the money will flow into the city, particularly among those who see an investment return on their money going forward. "We're going to find the money and get this done," he said.
The Task Force is suggesting the city increase its staffing in its blight-related departments, reduce the number of demo deferrals from three to one and create a new demolition review board that would act independently of the city council to ensure this process moves quickly and efficiently, said Glenda Price, one of the three-member Task Force board with Gilbert and Linda Smith of U-SNAP-BAC.
All of the data collected through Motor City Mapping, the comprehensive data project to find and catalog all of Detroit's blight, will be available to the public. This site will evolve over the next three months to become even more useful and inclusive. Residents will be able to add to this database, which is available at www.motorcitymapping.org.
The Task Force also recommends the city work with residents, neighborhood groups, Preservation Detroit and the Michigan Historic Preservation Network throughout this process. It also believes many of the targeted properties could be "deconstructed" so that a majority of the structure in question can be recycled.
Gilbert, who said he has been working in the business world for 29 years next month, said he has never seen the collaboration on a project like this one. "There was no resistance" across the board from the city, its residents, volunteers and data-collection partners, including Data Driven Detroit and Loveland Technologies.
"Once in a millennial, you get the opportunity to get it right," Gilbert said, and this is it for Detroit. "Our city's best days are head of it. … It was an honor to be a part of this."
Kevyn Orr, Detroit's emergency financial manager, said he believes the city via this Task Force and mapping project "have the tools to address (Detroit's blight problems) now ready to go." He said the city has been fighting blight for more than 80 years – and that this is the kind of cooperation necessary to ensure the issues at hand are addressed in a real and sustainable way.
Orr has set aside $368 million via the city's proposed "Plan of Adjustment" to address blight issues over the next five years. This funding is part of the larger $456 million now available for blight removals.
"It's the right time, the right commitment, the right leadership in the city," Orr added.