There are so many hot spots opening up in Detroit these days it can be hard to figure out how to fit them all into your schedule.
So here is a cheat sheet of sorts to get your palate and your plate ready for these upcoming or newly opened eateries around the city.
The latest is Central Kitchen + Bar, which is opening July. It will feature contemporary, American cuisine in a welcoming and casual environment. Central focuses on dishes that encompass fresh, local and seasonal ingredients alongside culinary-inspired cocktails. Among its entrées, the chef-inspired menu offers a selection of crisp, colorful salads, gourmet burgers, and handcrafted sandwiches that are sure to satisfy even the most discerning foodie. It will be a hot spot for for anything from a casual lunch to a night out on the town, set against the backdrop of Detroit's iconic First National Building.
• April 11: Jolly Pumpkin Pizzeria and Brewery will open to the public next month showcasing a brand new, casual order-and-eat Midtown concept. Large picnic tables set the scene in this 5,000 square foot space meant for communal dining after visitors place their orders from a menu filled with gourmet pizzas, salads, sandwiches, burgers and desserts. A full bar will feature more than 30 taps flowing with Jolly Pumpkin Artisan Ales and North Peak brand beers, both of which are brewed in Dexter, Mich. as part of Northern United Brewing Co."High quality fresh ingredients and focusing on very local products is always important to us," said Jon Carlson, co-founder and co-CEO, Northern United Brewing Co. "The menu we developed in Detroit was no different." It is located at 441 W. Canfield.

• Kuzzo's Chicken and Waffles is a southern cuisine restaurant offering breakfast and lunch in an urban-chic designed space with a casual dining atmosphere. If you are a fan of chicken and waffles made famous by Southern California's Roscoe's House of Chicken and Waffles, you will love Kuzzo's Chicken and Waffles. Offering dishes coined after vernacular heard on the streets of Detroit such as the "What up Doe," a waffle combination served with three pieces of brined and seasoned buttermilk dipped fried chicken, served on top of two signature thin waffles with a side of slow cooked grits and two eggs. On Kuzzo's "southern comfort" menu sections is the "Belle Isle Basket," your choice of either crispy fried shrimp or fried catfish filets served with a basket of chips or "Hazel's Southern Platter," salmon croquettes served with your choice of sides from red beans and rice, collard greens, candied yams, string beans, fried corn, mac and cheese, and biscuits or cornbread. If the incredible-edible-egg is your thing, Kuzzo's has you covered with build your own omelet or "The Avenue of Fashion," an egg white omelet served with spinach, onions, mushrooms, tomatoes and pepper jack cheese with your choice of home style potatoes or grits. "Kuzzo's executive chef Laditra Jackson takes great pride in being a 'scratch-kitchen' where the freshest ingredients arrive daily and are prepared in-house," said owner Ron Bartell. Kuzzo's is located 19345 Livernois in the Avenue of Fashion district on Detroit's northwest side.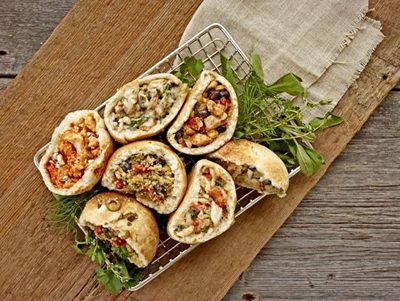 • Bozii recently opened its first Detroit location in the Renaissance Center food court. The location is the fourth in the metro Detroit area, with other locations in Dearborn, Auburn Hills and Clinton Township. New to the quick casual food industry, bozii Restaurants focuses on made-from-scratch, portable entrées and menu selections."Our one promise we make to each of our guests is that there's nothing fake in our food," stated Michael Steffke, director of U.S. operations for bozii. "We take tremendous pride in the fact that we offer what most can't – natural ingredients with no preservatives or chemicals. All of our poultry is organic, and we use nothing but premium ingredients to make our food." The bozii menu at the Renaissance Center will include four breakfast boziis (quiches), four dessert boziis (treats) and nine entrée boziis. Salads, soups, smoothies and a variety of organic soda will also be available.  Prices for a bozii range from $2.49 for a treat to $4.69 for a premium selection, like roasted tenderloin or crab cake. Vegan and vegetarian options are also available.The restaurant will boast items from local companies as well as nationally recognized organic brands. The Great Lakes Coffee Roasting Company's 313 Blend will be the featured coffee, used for all coffee drinks, including espressos and cappucinnos. Six flavors of Maine Root organic soda as well as two varieties of Jackson's Honest organic chips will be featured.
• Brew Detroit has a mission within the city. The first objective is to create jobs and bring manufacturing back to the City of Detroit. The second is to provide Michigan breweries a collaborative partner to brew with to help pay down debt or expand their projects. By collaborating with Brew Detroit other breweries can grow sales from their brands without increasing their debt load for expansion. The facility serves as the brewing home for four brands from Michigan already (Atwater Brewery, BADASS American Lager, Motor City Brewing Works and Big Red Beverages) with additional 2-3 collaborations to follow shortly. The facility also houses a 7,000 square-foot Tasting/Tap Room, which allows guest to always BYOF (Bring Their Own Food) and will have local food trucks on weekends to feed customers. The Brew Detroit two-barrel brewing system allows them to keep batches small and ever-changing, allowing for true seasonal and creative brewing. It is located at 1401 Abbott St. in Detroit.